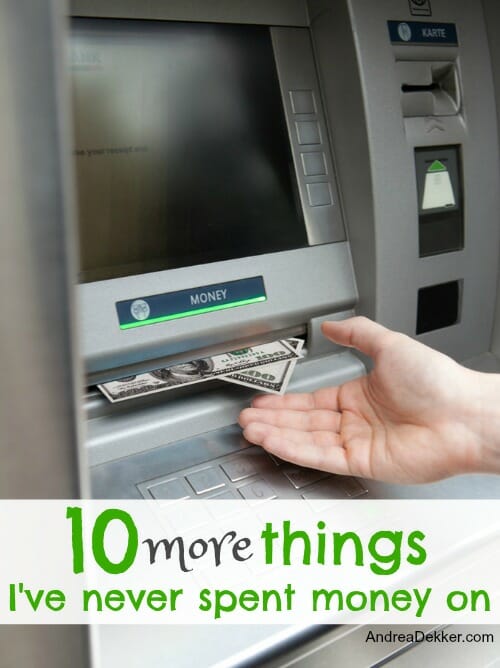 Over the past 7+ years of blogging, I've shared a few "Things I've Never Spent Money On" posts (here's the most recent one from 2013) and they are always SO fun to write and so fun to read the comments!
I recently thought of several more "things I've never spent money on" so I figured it was time for another post!
1. ATM Fees
Believe it or not, I've never even used an ATM machine — I know, it's crazy for me to even type that. I rarely have a need for cash, and if I do, I just walk to the bank with the kids and withdraw it at the counter. I like dealing with our bank personally and the kids get candy if we go inside 🙂
2. Waxing, or any form of hair removal:
Well, obviously I've paid for razors from the store — but I've never paid to have my eyebrows waxed or for any other form of hair removal.
3. Fake anything (nails, eye lashes, hair extensions):
I do have my hair highlighted every once in a great while (it's been almost a year since my last hair color)… but other than that, I'm fairly confident I've never spent money on any "fake" cosmetic or health and beauty product.
4. Haircuts for Dave or our kids:
Speaking of health and beauty — since I started dating Dave, back in 2004, we have never spent any money on haircuts for him or for our kids. I've always just cut their hair myself (even though I really have no idea what I'm doing!)
I'm thankful that Dave doesn't care much about what his hair looks like as I've definitely learned as I go along… and our kids think it's totally normal for moms to cut hair (they don't even realize kids can go to salons!)
For those of you who feel badly that you pay to have your children's hair cut, it might make you feel better to know that our family probably makes up for any savings due to the fact that I get my hair cut every 4-5 weeks!
5. A brand new vehicle:
Dave and I are not "car people". We do prefer black vehicles, but other than that, as long as they aren't super old and rusty, we really don't care what we drive.
So, for us, it seems like a complete waste of money to buy a brand new vehicle. We have several friends and family members who always drive new vehicles (without a payment) and it IS fun to ride around in such nice cars, but we'd rather spend our money on home renovations versus driving a brand new vehicle (at least right now).
6. Illegal Drugs:
I about died of laughter when one person commented on my previous post asking if I had ever spent money on illegal drugs.
I would hope anyone who knows me (or reads my blog) would realize I'm WAY too cheap to do illegal drugs, but I figured it would be a fun one to mention on this updated list!
7. Public Transportation:
This might be another shocking one for many of you… but I've truly never spent money to travel by train, bus, subway, or taxi. I've also never paid for Uber or any other forms of public transportation.
I've always lived in smaller towns that don't even have public transportation. Plus, I've always been walking distance (or at least biking distance) from church, school, friends, neighbors, etc.
Someday, I'll go on vacation to a big city and try out all forms of public transportation — until then, I'll just keep walking or driving.
8. Tattoos:
No illegal drugs and no tattoos for me 🙂
9. High heel shoes:
I have gotten a few pairs of high heel shoes as gifts (like for a bridesmaid dress) but to the best of my knowledge, I have never purchased high heel shoes.
I almost always wear flats… and I have a couple pair of low wedges for when I want to dress up a bit.
10. A New TV:
As I was writing this post, I realized we have never spent any money on a new TV — we've always gotten hand-me-down TVs from others.
In fact, up until we purchased the flat screen TV in our living room (from people at church a couple years ago) we had never actually spent any money on a TV. We got a couple of the box TVs free from relatives who were upgrading, and the previous owners of our house left a couple older wall-mounted TVs when they sold us the house.
Now, we only have the 1 TV in our living room, and even though it's an older flat screen, it meets our needs just fine.
Keep in mind Dave and I DO spend a considerable amount of money on home renovations, landscaping, entertaining, nice computers, and our kids' education — many of which are things you might not spend money on.
I honestly don't think there are any right or wrong ways to spend YOUR OWN money — but I do really enjoy reading posts like this and I thought it might be fun to make another list!
Now, I'm dying to know…
What's something you've never spent money on?