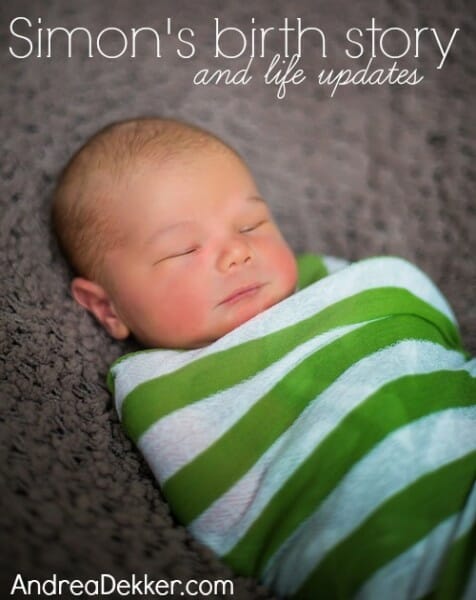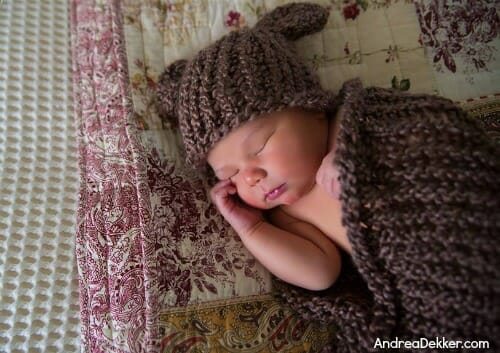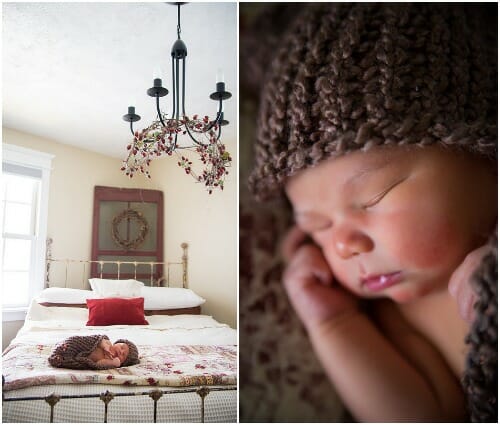 Can you believe Simon is 3 weeks old today!
Yes, the time is going quickly, but I'm not one to bemoan the fact that the tiny baby phase is passing!
If I had a dollar for EVERY time someone has said, "you'll miss this when you get older" I'd be filthy rich by now. And while I agree that I probably will miss SOME of the tiny baby stage, I guarantee I will NOT miss the sleepless nights, the crying for no apparent reason, the extreme exhaustion, etc. etc. I just won't!
I'm not trying to rush the time (and I am enjoying it MUCH more the 2nd time around), but I'm also not sad that it's passing — especially since I know how fun the toddler stage is with Nora 🙂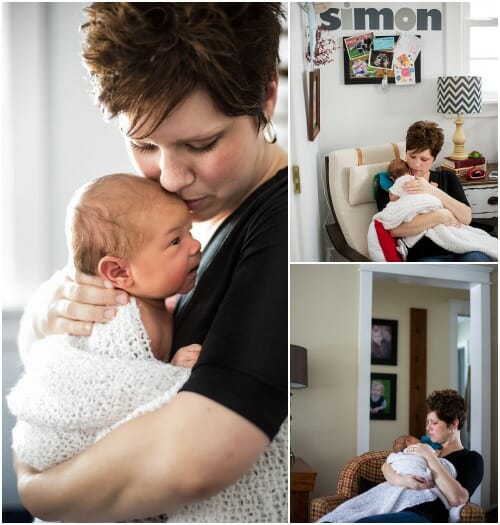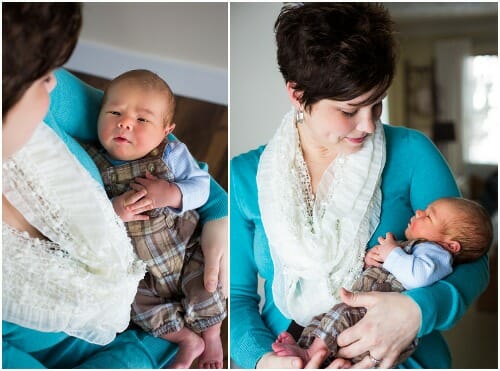 As promised, I'm going to share Simon's birth story today. Thankfully, it's nothing crazy or super eventful — just a pretty normal (and pretty quick) labor and delivery.
Contractions…
Tuesday, March 4, was his due date — and although I was fairly confident I would go late like I did with Nora, I was ready… MORE than ready!
I actually started feeling contractions around 11:00pm Monday night. They were pretty regular so I called my sister (a labor and delivery nurse who lives just down the road) so she could come stay with Nora. I actually did NOT tell Dave because I wanted him to get a good night of sleep and I figured I'd have to wake him up at some point to head to the hospital in the middle of the night.
I rested on the couch until about 3:00am when I apparently fell asleep until about 5:30 when Dave woke up. I told him about the contractions — but also, that they had died down enough for me to sleep for a couple hours.
I figured it was a false alarm, so Dave decided to go to school… and literally within 30 minutes of him leaving for school, the contractions picked up again.
He ended up coming home from school around 9:30am and we were at the hospital shortly after 10:00am.
Labor and Delivery…
Things were progressing very rapidly so they moved me right into the delivery room.
I really wanted an epidural, but since my labor and delivery with Nora was super fast (and I was told the 2nd baby goes faster) I figured I probably wouldn't have time… and I was right.
By the time we got in the L&D room and they were FINALLY able to get a needle into my veins (I apparently have small veins) Simon was almost here.
My doctor, on the other hand, was not almost there. We had a resident doctor and a med student on his FIRST day of training… as well as another doctor from across the street and a bunch of nurses, so there were plenty of knowledgable people there, but I was hoping my doctor would make it.
Thankfully, she got there about 5 minutes before Simon was born — just in time to break my water and tell me to push twice 🙂
And then he was here…
Less than 2 hours after stepping foot in the hospital doors!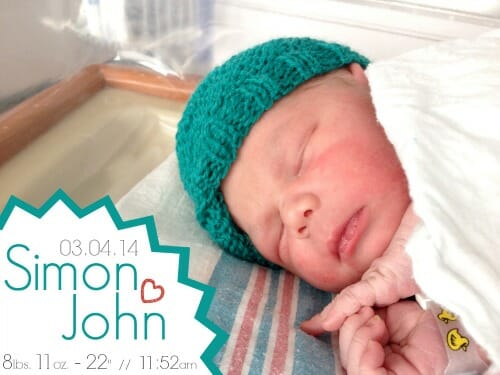 And for those of you who think I got off easy with a quick labor… I will just tell you that he was initially face-up (which means very painful) and the doctor had to manually rotate him at least twice (which means very VERY painful).
I've purposely skipped over all the laboring details because I don't like to talk or read about that — so I'm not going to write about it either!
All I'll say is that physically, I was in WAY more pain after Simon's birth than after Nora's — and it was VERY painful for a good 10 days after I got home too.
But he's worth it though… right 🙂
One thing I'm really glad I remembered to do (and that I wish I had done with Nora) was to take a picture right before I left for the hospital and then exactly a week later — in the same outfit and the same pose.
It's amazing how much life (and my body) changed in that week!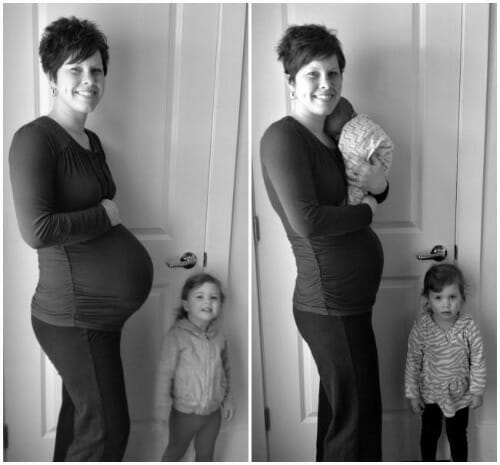 This is Simon at exactly one week old.
And yes, Nora LOVES him!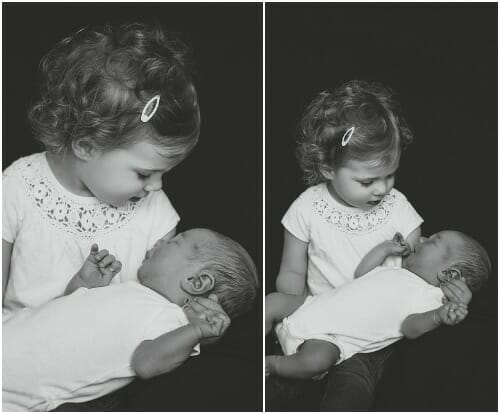 If Nora isn't listening or is ignoring my instructions, I can always bribe her with holding baby Simon, giving him a "check up" or letting her watch me change his diaper! And no, I'm totally not above bribing my 2 year old to make my life a little easier right now.
And just like that, we were a family of four!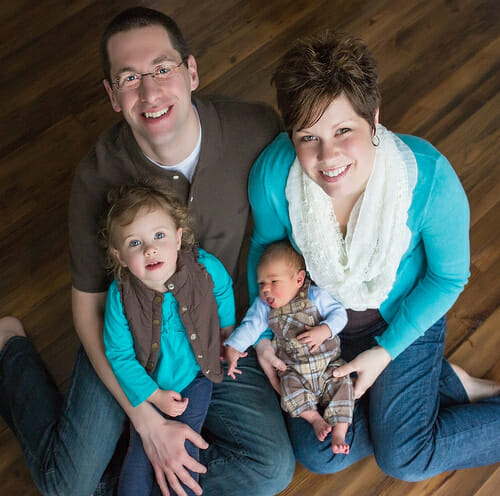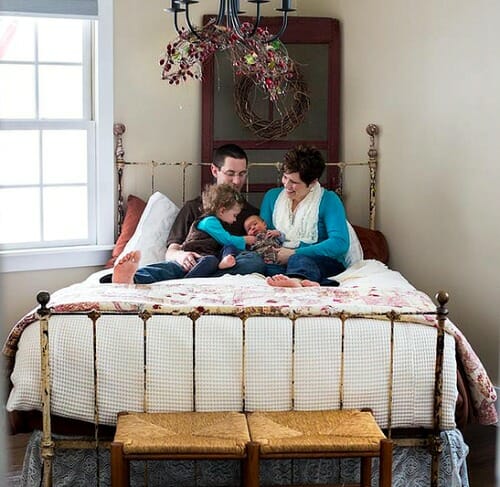 It's honestly so crazy — and although I tried to mentally prepare myself for life with two kids, I still wasn't prepared (I don't think you really can be prepared).
I realize that anyone with more than 2 kids will most likely look back on 2 kids and remember how "easy" life was with ONLY two little people to care for — but right now, we're doing some major adjusting as life with another schedule and personality to work around is a pretty big change.
We'll get there eventually.
For the most part, Simon has been a pretty "good" baby. He sleeps A LOT more than Nora ever did. Of course, he still wakes up several times each night to eat, so I'm still not sleeping much, but that's pretty normal for only 3 weeks.
He really does not like being on his back — so the carseat, swing, and bouncy seat haven't been super helpful yet. We'll keep trying though!
Nora vs. Simon…
Several people have asked if Nora and Simon look alike — and the answer is "yes" and "no". When their eyes are closed, their baby pictures look very similar.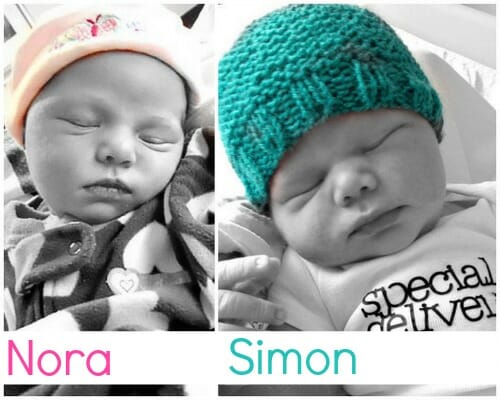 But Simon has my squinty eyes while Nora has Dave's BIG round eyes, so eventually, as his eyes are open more, I doubt they will look much alike… but who knows!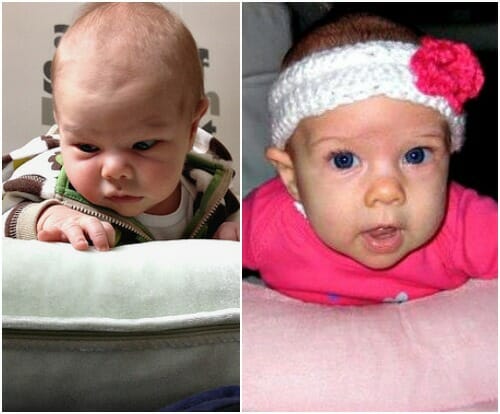 Either way… they're both pretty cute if you ask me 🙂
So that's Simon's short birth story and our life for the past 3 weeks. I honestly haven't been doing much of anything besides pulling meals out of the freezer, monitoring blog comments, and posting a few cute pictures on Facebook. I've been laying low — and it feels wonderful!
I'm so glad I was able to plan ahead so far in advance before Simon was born. It's definitely making life much easier and much less stressful right now!
Dave's Spring Break starts next week Friday, and I'm hoping to use that week to plan ahead for the month of April and May — and then he'll be off for the summer (Hallelujah!) and we can tag-team, two against two!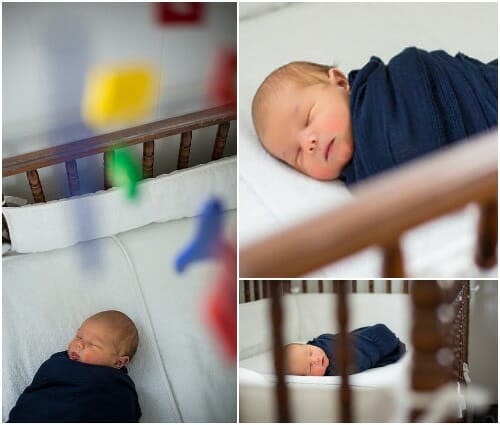 In the mean time, thanks for baring with me as I transition into this new phase of motherhood and figure out just how to balance working from home with two little kiddos!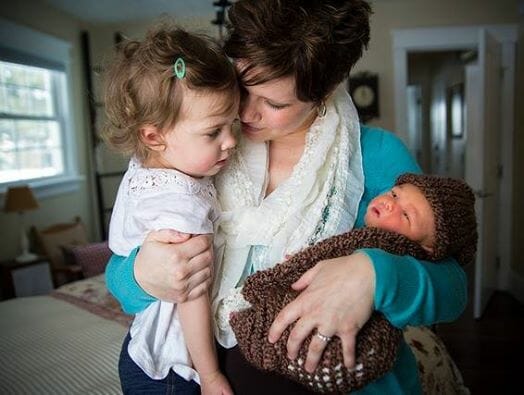 All professional pictures were taken by Zander & Breck Photography — a high school friend and amazing photographer! I can't wait to get some of these pictures on our wall!