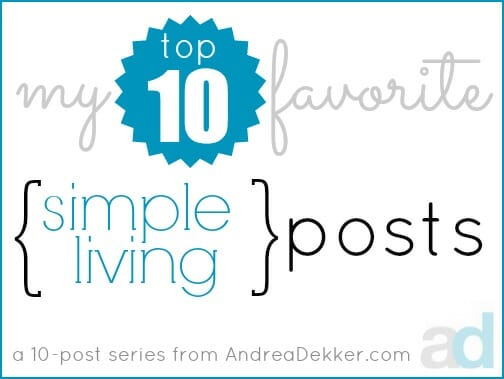 As I planned ahead for the arrival of baby Simon, I thought it might be fun to resurrect some of MY favorite posts from the past 3.5 years of blogging. I'll be publishing this 10-post series during the 4 weeks after his birth (read all the posts here).

I hope you enjoy reading (or re-reading) these posts as much as I'll be enjoying the extra snuggles, books, smiles, and naps with Nora and Simon!
Simple Living is obviously the over-arching theme of my entire blog and all the blog posts I write; however, there are a handful of my favorite that didn't fit into any of the other categories I wanted to share — so I made the executive decision to share the following Simple Living posts with you 🙂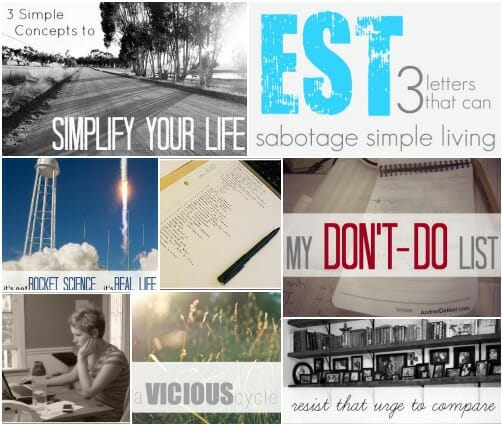 Here are my Top 10 Favorite Simple-Living posts — in no particular order.
Although I'm always striving for "better", I also know that "perfect" is unattainable. So "good enough" is often the place I find myself at — better, faster, cleaner, kinder, stronger, wiser, more organized, more efficient than before — but still plenty of room for growth.
.
One of the ways I've REALLY been able to simplify is by cutting out tasks that aren't absolutely necessary. This is really difficult for me since I love to say "yes" and be helpful — but making a 'don't-do list' has been fabulous for my productivity, my over-all happiness, and my stress level!
Also, if you frequently feel discouraged and feel like you get NOTHING done during the day, try making a Done List — I'm fairly positive it will help you to instantly feel more productive!!
.
Although this post was technically written as a public response to a very rude email I received, it was actually REALLY fun to write!
It was right after I announced my new AndreaDekker.com blog and business name — and I was elated with with all the positive responses and encouragement I got in the comment section.
.
My motto has always been "progress, not perfection" and while it is tempting at times to want to be the bEST (or any of those other 'EST' adjectives), I continually need to remind myself that striving to be better is a lot healthier than striving to be the bEST… especially since the bEST is usually unattainable.
If you struggle with perfectionism or always trying to achieve the impossible "bEST", I have a feeling this post will help you to put things in perspective and simplify your expectations and your life.
.
Such a simple concept — but I think that often, when it comes to getting organized, meal planning, making a daily schedule, etc. we can get too caught up in finding the perfect or best system that we don't realize our current system is working just fine.
Just because Martha Stewart does something one way, doesn't meat that's the BEST way or the RIGHT way for us.
.
Have you ever felt like you're totally overwhelmed with life and literally can't move forward? This post is filled with encouragement for those of you who are desperately striving for a simpler, more organized life.
.
So this post might seem a little out of place with all the others on my list — however, having short hair is one way that I MAJORLY simplify my life. Not only does it take less than 10 minutes to air-dry, I also spend approximately 3-7 minutes doing my hair every morning (no, I'm not exaggerating).
If you've ever considered having short hair — or if you just want to read a fun post about my different hair styles over the years — definitely read this post!
.
One way to totally ruin a simple life is by continually criticizing others because we are envious of them. We often end up hurting ourselves more then the other person — and it's just a vicious cycle that continues over and over again.
In my opinion, one reason we often feel envious of others (and then feel discontent with our own lives) is because we constantly compare our short-falls with other people's strengths. If you've struggled with this (and who hasn't), then you'll also want to read my post about Resisting the Urge to Compare.
how.
This post was obviously written before I changed my blog and business name — however, the point of the post is still very valid — and it's one of my favorites.
Living a simple organized life is NOT easy… it takes hard work and a lot of effort to continually maintain organized spaces, organized schedules, and to consciously choose to live simply. However, as I discuss in this post, it's totally worth it!
.
Finally, I wanted to end with this post — because the 3 VERY simple concepts I discuss really will go a long way in helping you to simplify all areas of your life.
Obviously it won't happen overnight, but with continual practice and effort, these 3 simple concepts can basically be applied to every area of your home, schedule, and life to help you simplify and get more organized!
.
So that's my list…
Which simple-living posts are your favorites?