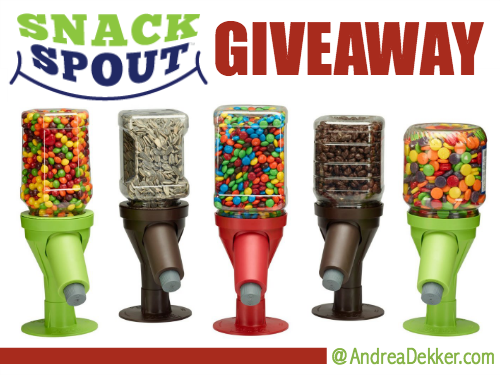 I have a REALLY fun giveaway for you today — something that normally might not fit my blog themes of "simple" and "organized" — but it's just so cool I couldn't pass up the opportunity to share it with you!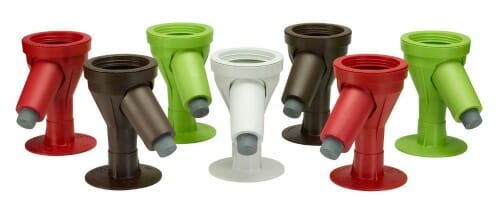 Those colorful objects in the image above are called Snack Spouts. They are literally just a threaded base with a spout — but they are really REALLY handy to have around!
The threaded base screws onto almost any 25 oz. (or more) candy or nut container you already have in your house and with a quick flip, your container of nuts, candies, snacks, etc. is quickly and easily transformed into a portion-controlled, sanitary snack dispenser.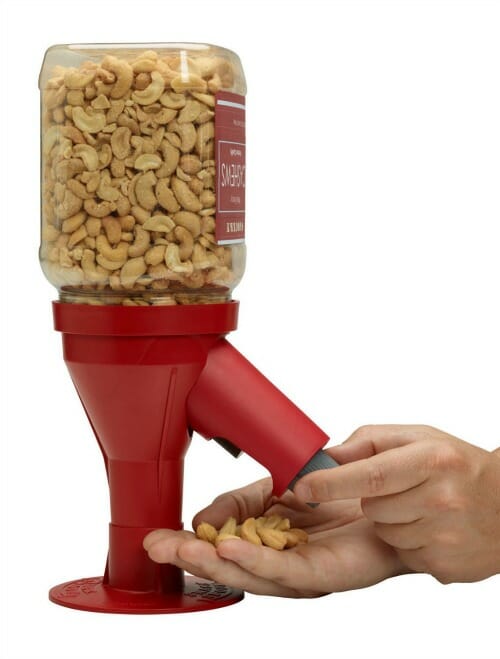 Yes, that means no more dirty kids (or spouse) hands digging in your snack jars after playing outside. It means fewer germs passed around at your holiday parties, when you bring a treat to the office, or when you have friends over to watch the game. And it means (at least for me) less munching all day long because you aren't just "grabbing a few nuts out of the bowl".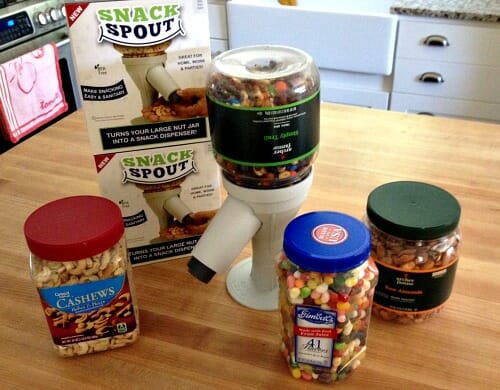 The Snack Spout is extremely simple to use and, as I mentioned above, works with virtually any 25 oz or larger jar of snacks. Plus, if you're like me, you can simply re-use those containers and fill them with whatever snacks you want to dispense (like Goldfish crackers, sunflower seeds, M&M's, homemade Chex mix, or even dry cereal!)
The Snack Spout has so many uses, and I figured this was the perfect time of year to feature this product as a giveaway on my blog.
With all the Fall sporting events, school treats, lunch packing, tailgate parties, and holiday events coming up, the Snack Spout could really help to simplify your snacks!
It's also reasonably priced at $10.99, so it would make a great clutter-free gift if paired with a few of the recipient's favorite treats (see below for a coupon code too)
think college student
mom or dad's office
nut-loving grandpa
snack-loving coach
potty-training toddler (ahem, Nora loved the Snack Spout for her special potty reward treats!)
the gender-neutral gift you need for your neighborhood party
a door prize for a bridal shower
etc. etc.
More about the Snack Spout:
The Snack Spout turns large-size plastic food storage jars, that are found in almost all U.S. grocery stores, into the perfect food dispenser. Instead of screwing back on the jar's lid, you screw on the Snack Spout! Presto!
Quick, easy, and sanitary dispensing of peanuts, almonds, cashews, nut mixes, chocolate covered raisins, jelly beans, cereals and much more! Dispenses perfect portions directly into your hand!
Visit Snack Spout on the Web:
Visit their website: http://snackspout.com
Facebook: Snack Spout
Twitter: @snackspout
Pinterest: Snack Spout
Instagram: SnackSpout
YouTube: SnackSpout
Visit their Amazon Store: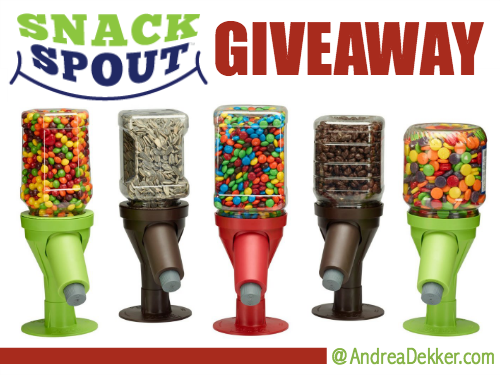 Enter To Win This Giveaway!
Today, TWO lucky readers will win a Snack Spout gift package:
Prize Package #1 = 2 Snack Spout dispenser and the choice of 2 snack products.

Prize Package #2 = 1 Snack Spout dispenser the choice of 1 snack product.
Also, all AndreaDekker.com readers will get $2.00 off EACH Snack Spout using promo code "ADE21SSA" (offer valid through Oct. 31, 2014)
To enter, simply use the Rafflecopter widget below (it might take a second to load).
a Rafflecopter giveaway

This giveaways ends at 11:59 pm EST, Monday, 10/13/2014 and is open to US residents, 18 years or older. The winner will be randomly selected via Rafflecopter and notified via email. I received a duplicate prize package in exchange for hosting this giveaway — all opinions are 100% my own. Please see my full disclosure policy and contact me with any questions you have. Good luck!