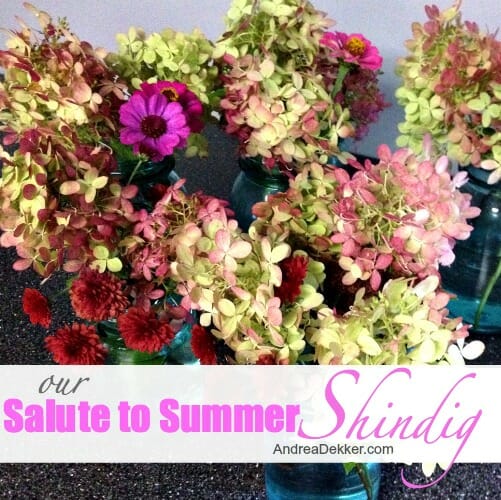 As I mentioned in last week's post, we hosted a big "salute to summer shindig" at our house to celebrate the end of the summer and the end of all our summer projects.
It was a great opportunity for us to see many of our extended family members again and an opportunity for them to see our home renovations as many of them had never even been to our house before.
The party was planned for our backyard with the food set up on our new Trex deck… but, in fine Michigan form, the Fall weather did not cooperate. It was only about 50-55*F with strong winds, blowing rain, and even a bit of hail at one point.
Needless to say, the party ended up in our garage!
Thankfully, our garage is pretty large and looks a lot nicer thanks to our garage renovation project from last summer!
It definitely would have been nice to have the party outside (especially since we did a bunch of yard work earlier in the week to prepare), but our garage had plenty of room for all the yummy foods, the delicious desserts, and (of course) the people.
Yes, we ate well! (the picture below doesn't even include all the desserts and sweet treats!)
We figured that since the garage is conveniently located right across from our brand new deck and our backyard, everyone could at least see where we were SUPPOSED to be partying through the garage windows!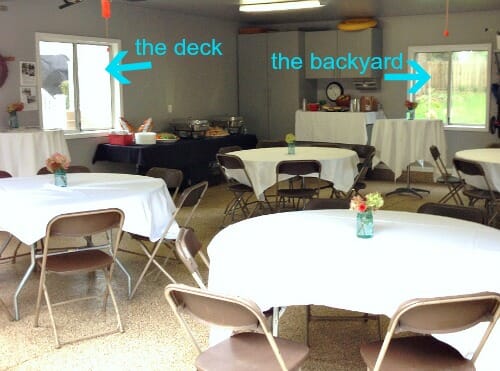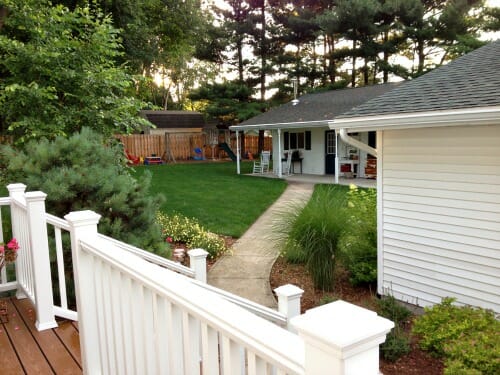 The garage is also connected to our new mudroom by a covered walkway, which meant everyone could get inside for a house tour without getting wet.
(note: I shared our full house tour in this post last week)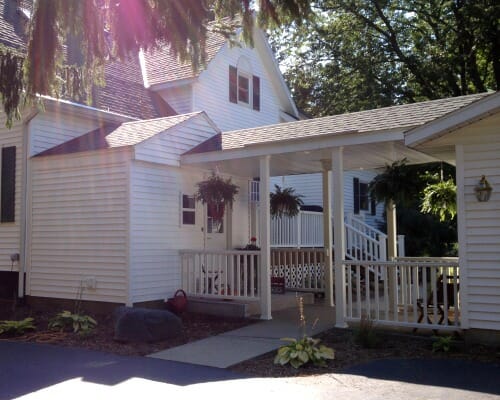 Anyway, back to the party…
Although we were honored to be the party hosts, the food and other supplies were actually provided for us courtesy of Trex and Zeeland Lumber — the two companies we worked closely with to build our new deck.
They contacted me after our deck was finished and asked if we'd like to throw a party to celebrate the finished deck with family and/or friends. Of course, we were super excited and eagerly sent an email out to our "in-town family" asking what dates would work.
We put October 3 on our calendar and started the planning process.
Unfortunately, I didn't get any pictures of the actual party — mainly because I chose to socialize and give home-tours versus spending all night taking pictures — but I can assure you we had a great time (and I think most of our guests did too!)
Aside from a few containers of food in our refrigerator, this is all that was left at the end of the night…
Not only was this party a great opportunity to get together with family to enjoy a great meal, it was also an opportunity for ME to meet some of the people from Trex and Zeeland Lumber — many of whom I've been working with over email but never met in person before (this happens a lot in the blog world!)
A few of the Trex Sales Reps. and the Zeeland Lumber Marketing Manager came out to meet me — even the CEO of Zeeland Lumber stopped by with his wife to see the deck! It was fun for me to put a face with the names in my email Inbox — and of course, to thank them in person for helping us with the deck and the party.
Side Note: We have purchased many supplies from Zeeland Lumber over the past 4 years (including our new front door that is on it's way to our house as I type) and we have always been impressed with the quality. My dad has also done TONS of business with Zeeland Lumber over the past 20 years, and we would highly recommend them to anyone looking for quality building materials in the West Michigan area.
.
And just like that… our summer of projects is officially over.
We are thrilled with all the outdoor projects we tackled this year (yes, I know I still need to share some photos of all our landscaping projects) and we are SO excited to have a nice, new, low-maintenance deck that we'll be able to enjoy for many summers to come (see all the deck before and after pictures here).
After we install our new front door, we're planning to pack up our house project to-do list until next spring — and yes, we've already been talking about the first projects we want to do!
Just for kicks, here are a few more "before/after" pictures of the deck and mudroom areas.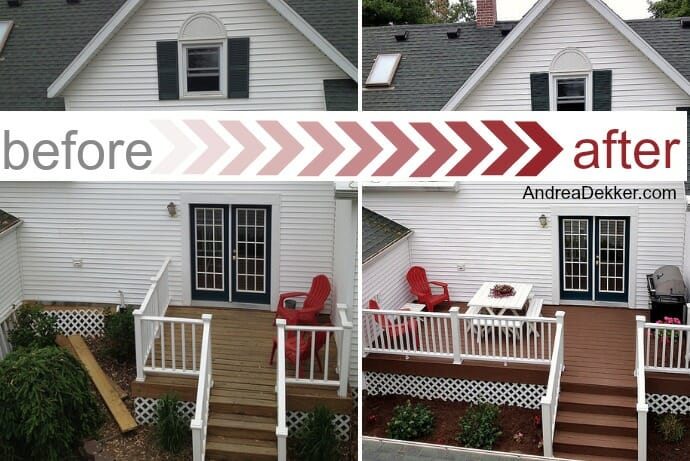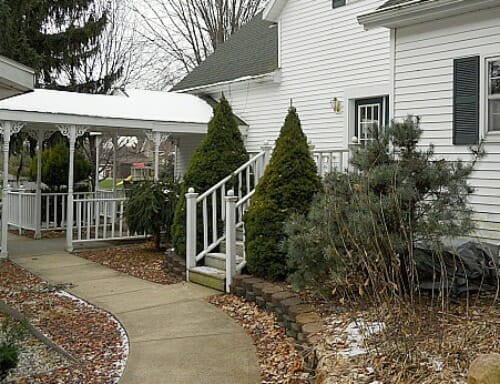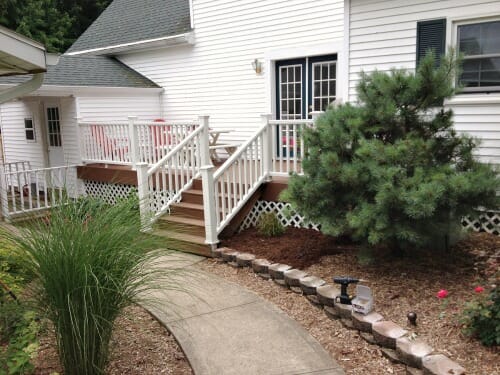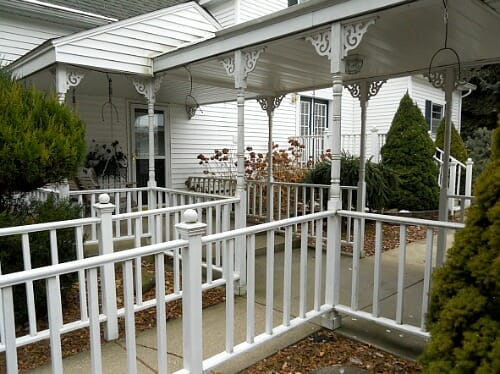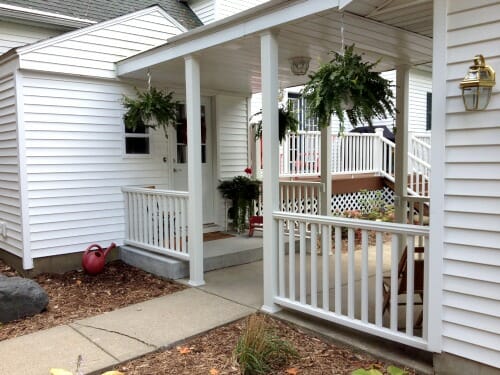 A HUGE thanks to Trex and Zeeland Lumber for working with us over the past six months — first on our new deck project, and then for our party. We are ecstatic with our new deck (I still can't believe how perfectly the deck plans fell into place) and we had such a great time celebrating with our family last weekend — even if we were in the garage!
Cheers to another summer filled with projects, vacations, family, friends, food, and fun!