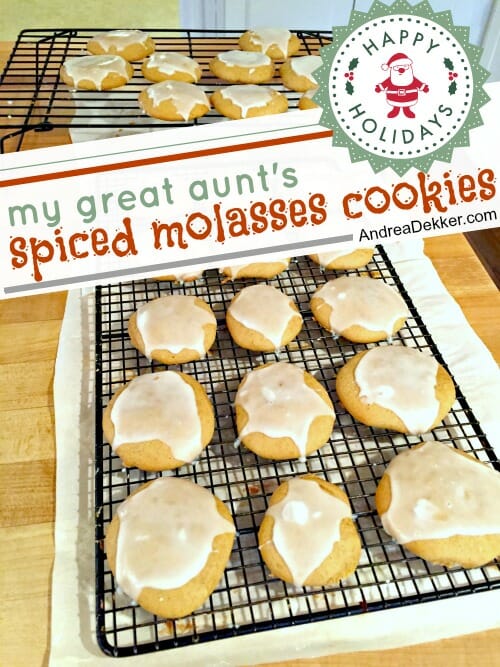 Growing up, one birthday tradition I loved more than most was when my great aunt Hilda (my mom's aunt) brought us a huge platter of her delicious homemade spiced molasses cookies.
She was unmarried and spent a huge amount of time with my Grandpa's family — and since she only lived a mile or so away from my family, we saw her a lot. She often picked me up from school or brought me to various extra curricular activities when my parents couldn't, for whatever reason.
We spent many afternoons baking with her, and we enjoyed her homemade cookies every single birthday (she even brought them over after I was married)!
My great aunt died several years ago, and after she died, I realized I never got her cookie recipe.
For years and years, I've wanted this recipe — and thanks to a conversation with another distant relative 2 weeks ago I finally have it!
I had to laugh when I read that her recipe specifically required "Grandma's Molasses"! I'm not 100% convinced this brand is required, but for the sake of nostalgia, I've included it in my recipe too!
That said, her recipe calls for "shortening" and I tried both butter and shortening in various batches of these cookies with good results. I'll probably stick with butter (pun intended!) as I don't keep shortening in the house anymore.
If you're looking for an old-fashioned recipe for spiced molasses cookies, this is one of the best around (although I might be slightly biased!)
Recipe for my great aunt Hilda's Spiced Molasses Cookies!
makes 30-36 cookies
INGREDIENTS for Cookies:
1/2 c. butter or shortening
1 c. sugar
2 eggs
2 T. Grandma's Molasses
1/2 c. sour milk**
2 c. flour
1/4 t. ground cloves
1 t. cinnamon
1/4 t. salt
1/3 c. chopped walnuts (optional)
**I didn't know what sour milk was, so I Googled it. Apparently you can make "sour milk" similarly to how you'd make buttermilk. Pour 1 T. white vinegar into a 1/2 c. measure cup. Add 1/2 t. baking soda and fill the rest with milk. Stir together and add to cookie batter.
INGREDIENTS for Frosting:
1 c. powdered sugar
1 tsp. vanilla
1-2 T. milk
a few drops of food coloring to make them festive 🙂
DIRECTIONS for Cookies:
Preheat oven to 350ºF.
In a large mixing bowl, cream together butter and sugar.
Add eggs, molasses, and milk. Mix until combined.
Mix in flour, cloves, cinnamon and salt until combined.
Stir in walnuts (optional).
Scoop heaping Tablespoons of batter onto parchment-lined cookie sheets (it will feel more like brownie batter than cookie dough).
Bake in preheated oven for 10 minutes.
Let cool before frosting
DIRECTIONS for Frosting:
Mix all ingredients together, adding a very small amount more milk as necessary.
Spread thin frosting over cooled cookies and let "harden".
Store frosted cookies in an airtight container with wax paper between the layers.
As I mentioned above, my great aunt (my maternal grandfather's oldest sister) never married, so she spent most of her holidays with my grandparents, their children, grandchildren, and great-grandchildren.
She almost always brought these cookies for every holiday party, and the plates were always empty by the end of the party.
Since I just so happened to finally get this recipe a couple weeks ago, I made a big batch of these cookies to bring to that same extended family's Christmas party this past weekend.
They were a huge hit and everyone enjoyed reliving old stories about Aunt Hilda and her famous cookies! In fact, there were plates and plates piled high with sweets, but at the end of the night, my plate of "Aunt Hilda Cookies" was the only one completely empty!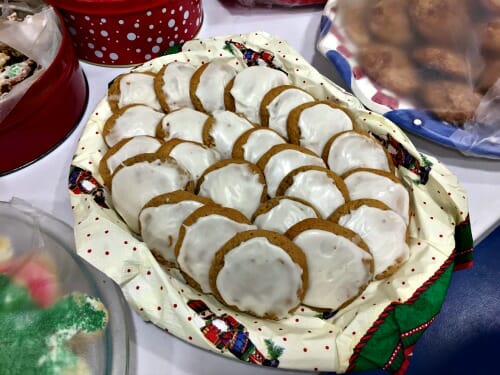 I'm thrilled to finally have this recipe in my virtual recipe box and I'm certain I will make them regularly — especially during the holidays!
Do you have a favorite recipe passed down from a loved one?
Visit my virtual recipe box for more simple, delicious, family friendly recipes!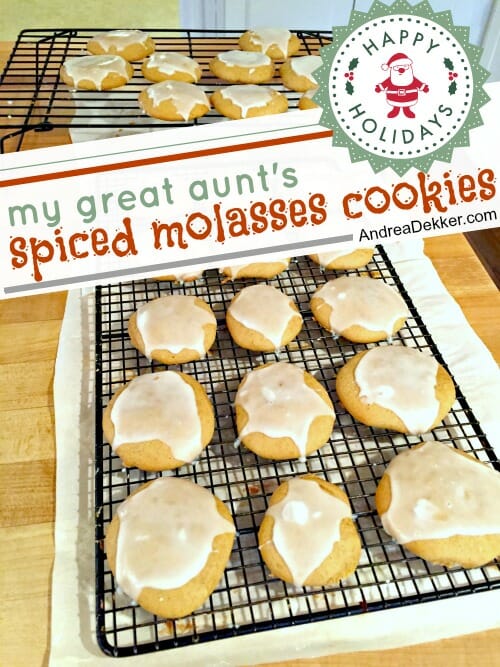 .