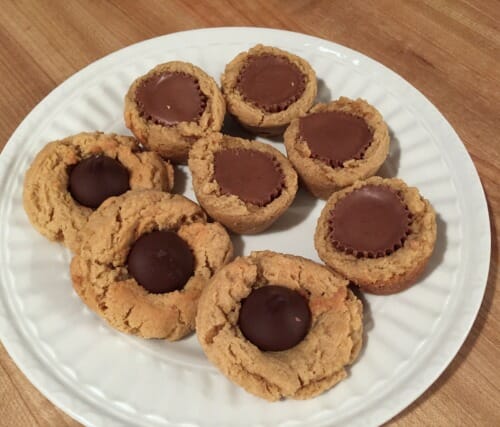 We love cookies and we love peanut butter, so I make peanut butter cookies a lot.
Sometimes I make them from scratch, but often, I use a bagged store-bought mix and pair it with Hershey's Kisses and Reese's Peanut Butter cups for a super fast, super simple baking time with the kids.
When I use the bagged mix, there is almost no measuring required, very little mess, and I can literally have the cookies ready for the oven before it finishes preheating. Plus, I'm able to make TWO different cookies at the same time!
Of course, my kid's favorite part about this recipe is that they get to help me unwrap the candies! Nora unwraps most of them — Simon usually takes forever to get one open and then pops it in his mouth. 🙂
I'm not sure if there is an official name for either of these cookies. We call them "Peanut Butter Blossoms" and "Peanut Butter Cup Cookies", but either way, they are delicious.
Of course, if you don't love using a bagged mix, you can simply substitute your favorite peanut butter cookie dough recipe instead. And if you're allergic to peanut butter, just swap in one of the many peanut butter substitutes on the market these days (I've had good luck using Biscoff Spread).
If you love "fast" and "simple", you'll definitely want to give these cookies a try!
Recipe for TWO of Our Favorite Peanut Butter Cookies
makes 3 dozen cookies
INGREDIENTS:
1 bag peanut butter cookie mix (or make your own favorite peanut butter cookie dough)
egg, oil, and water called for on the back of the bag
Hershey's Kisses
Reese's Peanut Butter Cups
DIRECTIONS:
Preheat oven to 375ºF. Grease a mini muffin tin and line 1 cookie sheet with parchment paper.
Mix up the cookie dough according to instructions on the back of the bag
Scoop out 1″ balls of dough into mini muffin tin and/or onto cookie sheet
Bake in preheated oven for 10 minutes (or until cookies are slightly brown)
Unwrap chocolate candies while cookies bake.
Press Hershey's Kisses and Reese's Peanut Butter Cups into cookies immediately after they come out of the oven.
Let sit for 5 minutes, then remove to cooling rack to cool completely.
See… told you they were easy!
What's your favorite cookie?
Visit my virtual recipe box for more simple, delicious, family friendly recipes!