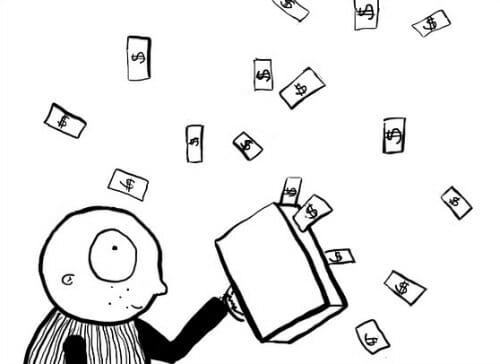 I talk a lot about saving money, budgeting, and frugal living — mainly because those are topics I'm passionate about. Plus, there's just so much to say!
However, one topic I don't talk a lot about is SPLURGING. As far as I can remember, I've only written two posts about splurging — you can read those posts here and here.
For the most part, I would not consider Dave and I to be big "splurgers". We save much more than we spend, and we can almost always talk ourselves out of buying something — especially if it isn't really necessary.
I certainly don't think our frugal nature is a bad thing; however, I don't think that occasional splurging (especially small splurges) is a bad thing either. In fact, I think splurging is a healthy habit everyone should do from time to time!
My computer's dictionary defines "splurging" as: an act of spending money freely or extravagantly.
And while I do agree that often-times, splurging can get out of control, I also believe that splurging doesn't have to be extravagant… or even always viewed as such a negative thing. I feel that splurging is simply a way to occasionally treat yourself to something that might not really be necessary.
For example:
Dave and I will occasionally "splurge" on fruit smoothies from McDonald's, shakes from Arby's, or concreet mixers from Culver's (only when I have BOGO coupons… but it's still a splurge!)
I also recently purchased a cute wristlet from Amazon.com. It cost me $36 — which is more than I would normally pay for something like that, but I used some of my Amazon.com credit so it was essentially free. Sure, I could have used the Amazon.com credit for groceries or diapers, but this little splurge was WAY more fun!
When we were looking for appliances for our kitchen, I REALLY wanted to splurge on a "dual-fuel" 5-burner range with a double oven. However, they are normally $3000-$5000 and that is NOT in our budget! You can imagine how excited I was to find the exact range at a local scratch n' dent store for 1/3 the price (and no visible scratches!) It still cost a bit more than a traditional glass-top, 4-burner electric unit, but it is exactly what I wanted and I think that splurge will be well worth it in the years to come.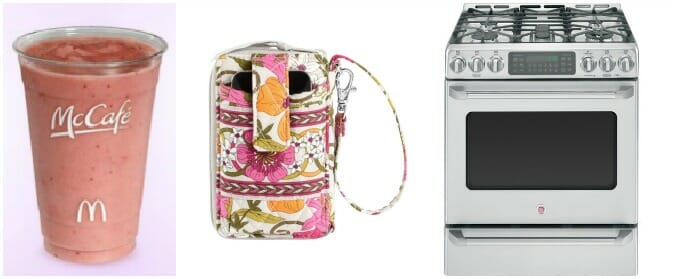 I could go on and on with examples from my own life — but I think you get the picture!
None of these splurges are totally out-of-control (at least not in my opinion), but they are all enough of a splurge to get excited about. Seriously, you should have seen how excited I was when the wristlet arrived in the mail. And if you want to see Dave's eyes light up, just mention a Culver's mixer!
No, I'm not encouraging you to go buy a new car or a whole new wardrobe, but I would encourage occasional small splurges just so you don't get worn down in your frugal journey.
In my opinion, splurging isn't necessarily a negative thing… and it certainly doesn't have to be extravagant to still be fun!
Oh, and one more thing to remember — when it comes to saving, spending, and splurging — we all have different choices and opinions as to what we save and splurge on. I know Dave and I have been "mocked" by friends and family for being so cheap… but then criticized when we finally do decide to spend money (like on a new kitchen we've been saving for!)
Money and frugality is just such a hot-topic today that it's nearly impossible NOT to feel some sort of judgement when you save, spend, or splurge. Just try not to let it bother you!
What are your thoughts on splurging? Do you have any favorite "mini splurges"?