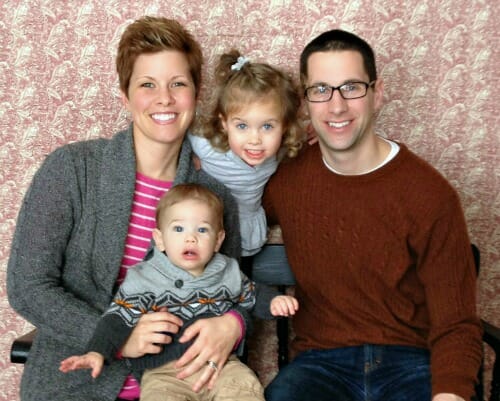 Guess what friends? Today, you get to read a guest post from one of my all-time favorite people… Dave!
This post has been a topic Dave and I have talked about for some time now, but I finally convinced him to put his thoughts into writing last week. I think what he has to say will be encouraging to SOOOOO many of you stay-at-home and work-at-home parents who sometimes feel like you have little to nothing to show for yourself at the end of the day — besides stained clothing and a pile of dirty dishes in the sink.
Believe me, I get it!
Raising little people at home is so much harder than I ever thought it would be — especially while running a business, tackling house projects, and doing the bazillion other things that need to happen every day (you know what I'm talking about!)
At times, I feel like the busyness of our lives isn't worth the hassle as life would be so much simpler if one of us quit our job… but then I realize that Dave and I BOTH love what we do, and I shouldn't take that for granted. I'm blessed to be able to do what I love while caring for the people I love… and SO grateful that Dave not only supports and values what I do, but also encourages me along the way.
With that said, here's what Dave has to say…
---
Early in our marriage, I never would have guessed that Andrea would enjoy working from home and taking care of our kids full time. She is definitely a homebody in some ways, but it always seemed like she thrived in situations where she was out among other people, able to share her ideas and work on projects, and have funny stories to tell when she came home at night. Yet just a few years later, she is successfully running her own business from home while taking care of our two kids full time.
I'm honestly not sure how she does it!
During the week, I love coming home and playing with the kids for a few hours before they go to bed. I look forward to the weekends when I don't have my normal school schedule, can see the kids as they wake up, and play in the mornings when they're both wide awake and in really good moods. But there usually comes a time (especially on the weekends) where I just can't believe how they need my constant attention. I find it impossible to escape to work on a project with no interruptions. These are the times where I really appreciate how much effort Andrea's role in our family requires of her, and how it impacts her own job.
Andrea and I have talked about sending our kids to daycare, but Andrea really loves what she currently does and daycare wouldn't go over well with Nora. If Andrea's blog continues to grow, there may come a time where daycare isn't just an option, it's a necessity. But for now, our system works for us, and I've come to realize that having Andrea home all day really simplifies MY life.
Here's why:
1. Having Andrea at home is easier on our kids.
I feel there are benefits of seeing your parents everyday and learning how to do things directly from them. Andrea and I both experienced this in our own childhoods, and it is something we both wanted for our kids, even though when we were first married I'm not sure if either one of us wanted to be in that role. Also, Nora especially needs the reassurance that someone familiar is around.
Andrea does a great job of going on play dates, attending music classes and free community events, getting together with neighbor kids, etc. These opportunities are important for the growth of our kids, and I like that they can do them with their mom.
2. Our home is more organized and operates so much smoother.
During the day, Andrea often finds that the projects she's able to accomplish with kids around involve normal house stuff — doing laundry, vacuuming, baking, preparing dinner, getting groceries, picking up project supplies, etc.
Her blog work might wait until I get home and can take over the kids. But knowing that so much of the house stuff will be taken care of by the time I get home makes it easier for me to drop everything and play with the kids for a while.
3. I can focus more on my job when I'm at work.
I never need to worry about getting called home for a sick kid or juggling who will bring/pick up kids from daycare. For the most part, I don't even keep my phone on at school (it's not allowed for students) because Andrea knows that if she needs anything, she can just send me a quick email.
The fact that I can focus 100% on my students and my teaching while I'm at work is a huge perk to having Andrea home. It also helps me to work as efficiently as I can before school and during my prep periods so I can get home as soon as possible after school to give Andrea a break.
4. School breaks are amazing!
When Andrea used to work outside the home, she usually had to work during my school breaks or pick and choose what vacation days she would take. But now that she works from home and can essentially set her own schedule, we have lots of extra family time — no vacation days required.
This is such great family time, and even though we rarely go anywhere during these breaks, it's nice just to be together and have fun as a family without working around either of our work schedules.
5. It forces us to have great communication.
Since Andrea is home most of the day, she schedules her meetings and conference calls in the afternoons and nights. While my school schedule normally allows for me to get home early, I often have school functions that force me to stay later or go back at nights. In order to make things work, we need to constantly communicate to avoid over commitments.
Our current system has us sit down over the weekend to go over our schedules and jot down any reminders in our planners. This is a nice time for us to connect and spend time together and share about our week. It's also forces us to stay organized and let the other person know about schedule changes ASAP.
I love having Andrea work from home and able to spend so much time with our kids. Over the last 3 years, I've finally started to realize how much work it is for her (and so many of you) to be home with kids all day.
As I mentioned earlier, Saturdays are a good reminder to me how much effort is required to care for our two small children. I spend my days teaching and caring for 100+ teenagers in my classroom, and sometimes Saturdays can seem more exhausting than school days! I definitely didn't give stay-at-home parents enough credit!
Just to clarify, if you are currently sending your kids to daycare, that's perfectly OK. Andrea and have definitely considered this option and I know/work with plenty of people who use daycare and have fantastic children.

The point of this post is not to make working parents feel bad. It's to give much-needed credit to those parents who are home, caring for kids 24/7 on top of everything else they need to do.
Well there you have it my friends — not too bad for his first guest post!
If you are a stay-at-home or work-from-home parent, I hope you are encouraged by this post. Even though it often feels like we are trudging through the day accomplishing next to nothing, our "job" is so important.
We're raising our children, taking care of our homes, and running the lives of our families — if you think about it, no one else is nearly as qualified for our jobs as we are!