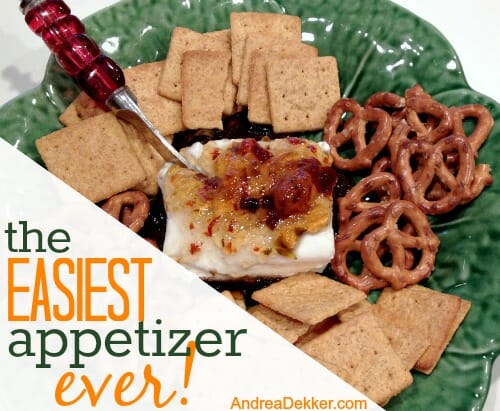 I know, I know, I don't usually use "est" when referring to anything… but this appetizer recipe (if you can even call it a recipe) is one of the easiest, if not THE easiest, recipe I've ever made.
I bring this appetizer to parties, potlucks, and other gatherings all the time — and I ALWAYS get rave reviews every time. Usually, I catch someone scraping the last bits of food off the platter with their finger at the end of the night — it's just that good!
So what is it?
Pepper Jelly Cream Cheese Dip
There are actually many different names for this ultra-simple, ultra-delicious appetizer, but essentially, it's a brick of cream cheese with a jar of pepper jelly dumped over top and served with crackers. It also pairs well with almost any type of cheese and fruit.
Yes, that's it!
It literally takes 30 seconds to assemble, it looks quite fancy if you ask me, and it tastes SO good.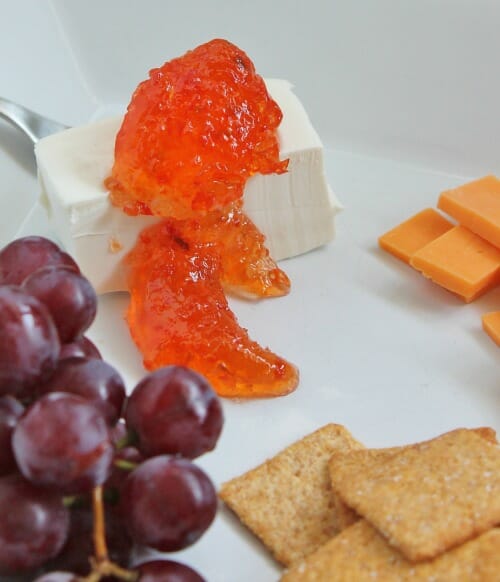 So what is "pepper jelly"?
Pepper jelly is exactly like it sounds, jelly made with peppers instead of fruit. It has the exact same consistency as jelly and is made the exact same way. You can buy many varieties of pepper jelly in most grocery stores and I've even canned my own many times (with peppers from my own garden).
Pepper jelly is sometimes called "lotsa pepper relish", "pepper relish", "sweet pepper jelly", "sweet pepper relish", "hot pepper jelly", "jalapeno jelly" etc. — but it's all basically the same. And no, it's not hot or spicy unless you leave the seeds in.
For this appetizer recipe, I personally prefer the non-hot jellies — but that's a personal call.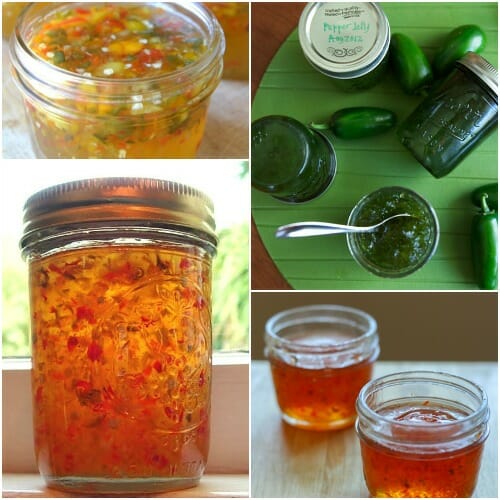 I don't have the recipe for pepper jelly on my blog (at least not yet) but here are a couple recipes if you want to try making it yourself.
Of course, you could always just buy it too!
Once you have your pepper jelly, you're ready to assemble this dish.
Recipe for Pepper Jelly Cream Cheese Dip:
Serves a lot!
INGREDIENTS:
one 8oz. block cream cheese
1/2 – 3/4 cup pepper jelly
assorted crackers, pretzels, Fritos, etc.
DIRECTIONS:
Unwrap cream cheese and place on a small serving platter
Pour pepper jelly over the top of the cream cheese
Serve with crackers, pretzels, Fritos, or your favorite salty snack
Cover and refrigerate any leftovers (although you probably won't have any!)
The one thing I REALLY love about this recipe (besides the fact that it's delicious and quite frugal) is that it travels so well. Whenever I bring it to a party, I wait until I arrive to assemble it so I don't need to worry about anything spilling in the car and I can keep the cream cheese cold with an ice pack.
And yes, you can definitely make a half-batch (or smaller) if you're not sure it will get eaten. Just cut the cream cheese in half and use less jelly — that's actually what I did for a smaller party we had this past weekend.
I usually don't get very creative with this recipe, but I did see a fun idea to cut the cream cheese block into the shape of a Christmas tree if you're bringing this to a Christmas party 🙂
If you're looking for an ultra-simple, no-bake, last-minute appetizer to take to an upcoming holiday party (or really any gathering throughout the year) I would highly recommend this "recipe".
You won't disappoint anyone's taste buds and, better yet, you won't spend all day in the kitchen!
What are your favorite super-simple appetizers?
Visit my virtual recipe box for more simple, delicious, family friendly recipes!