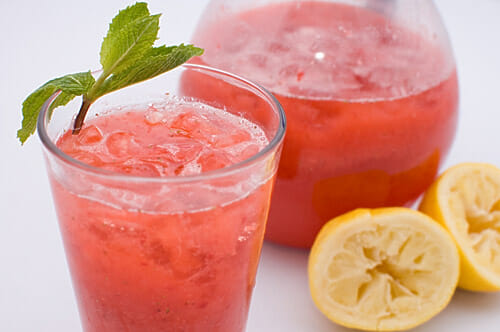 Strawberries are always a welcome reminder that summer is officially here.
Every June, I spend a Saturday morning picking strawberries at a local farm…and they try to come up with recipes to use them all up!
One of my favorite things to make is strawberry lemonade; and this recipe is the best one I've found so far.
Strawberry Lemonade:
Ingredients:
½ c. lemon juice (about 3 or 4 lemons)
4 c. water
¾ c. sugar
½ t. salt
1 c. strawberries, cleaned and hulled
Directions:
Cut lemons in half and juice them until you reach ½ cup. Pour the juice through a fine-mesh strainer and discard the seeds. Cover and refrigerate.
Place water, sugar, salt, and strawberries into a pan and bring to a boil over medium-high heat. Stir often, crushing the berries with your spoon. Continue to boil, stirring often, until the sugar has dissolved, about 2 minutes. Let cool, cover, and refrigerate until chilled.
Pour the chilled syrup through a fine-mesh strainer into a pitcher; discard the pulp. Add the lemon juice to syrup; stir. Taste, and adjust to desired sweetness.
Serve lemonade with ice cubes and garnish with thin lemon slices.
However, if you don't have time to make lemonade from scratch, here is another great (time-saving) recipe using frozen ingredients that you might even have on hand. This lemonade won't be as pink as the recipe above, however it is still extremely refreshing on a hot summer afternoon.
Simple Strawberry Lemonade:
Ingredients:
1 (12 oz.) can frozen lemonade concentrate, thawed
4½ c. water
1 (10 oz.) package frozen strawberries, partially thawed
Directions:
In a large pitcher, mix together lemonade concentrate and water. Stir in strawberries. Serve with ice cubes and lemon slices.
These recipes are 2 of my favorites and I make them both regularly. Give one of them a try this month. Then let me know what you think, or feel free to send me one of your favorite recipes to try out.