Posts Tagged 'reader question'
posted by Andrea | 09/12/2019 | 21 comments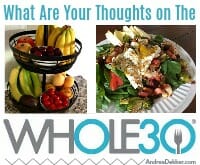 Surprisingly (to me) I get quite a few questions about the Whole30 diet — many from readers who assume I've already completed a Whole30 challenge (nope!)
I have read and learned quite a bit about the Whole30 way of eating over the past few years… but I am far from an expert. So instead of me sharing what I don't know, I thought this might be a great "Reader Question" — I'd love to hear from those of you who HAVE completed one or more Whole30 challenges, as well as from those of you who tried but didn't finish!
posted by Andrea | 08/19/2019 | 39 comments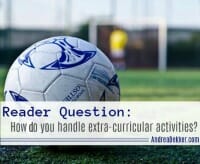 A few weeks ago, I shared a Reader Question, asking how you handle fundraisers… and today, I'm back with another Reader Question (one I get very regularly) regarding extra-curricular activities! 
Along with so many of my readers, I am very curious to know how different families approach extra-curricular activities!