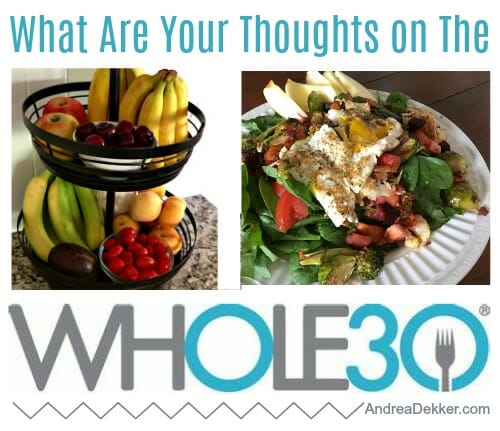 Over the last 8 – 10 years, the term "Whole30" has become an adjective used to describe all sorts of food on restaurant menus, on grocery store shelves, and on food blogs across the internet.
It seems almost everyone is aware of the Whole30 craze and eager to follow along (or at least curious about the potential benefits).
Despite the fact that I am NOT a food blogger or health/wellness blogger, I still get a huge number of questions regarding my thoughts on the Whole30 diet — many from readers who assume I have already tried a Whole30 diet.
Most questions want to know:
if I've done a Whole30
if I would ever consider doing a Whole30
what I think about the Whole30 way of eating
what my favorite Whole30 recipes are
if I'd be willing to blog my way through a Whole30 diet
My short answers are:
No, I've never tried a Whole30 diet
Dave and I have talked about it, but we've never done any serious planning or preparing
I think it's fairly extreme and definitely not in line with my "all things in moderation approach" to life
I don't purposely follow any Whole30 recipes, but many of the foods I make would be Whole30 compliant — good meats, roasted veggies, fresh fruit, eggs (LOTS of eggs!)
I don't think I'd want to blog my way through the Whole30 (I'm not a food or health blog), but if I ever completed one, I would be sure to share my results
Since I get SO many questions about the Whole30 way of eating, and since I personally don't have many helpful answers, I thought this might be a great "Reader Question" as I know many of you have successfully completed one (or more) Whole30 challenges.
I also know others who have tried to make it through but didn't (for whatever reason), and I think it might be insightful and valuable for us to hear all experiences and opinions!
.
First Things First…What Exactly Is a "Whole30"?
Although I've never felt a strong desire to try a Whole30 diet myself, I HAVE read and learned A LOT about it — simply because I'm curious!
So for those of you who don't know what the Whole30 diet is (or for those of you who are misinformed) here's a super quick run-down of the basics…

The Whole30 movement began in 2009 when one of the co-founders began researching different foods that caused inflammation. He and his wife decided to eliminate ALL of these foods from their diet for a full month (30 days) and they were shocked by how many positive health benefits they noticed as a result — increased energy, decreased pain, reduced inflammation, fewer cravings, better sleep, uplifted mood, and yes… weight loss.
While the goal of the Whole30 diet is NOT to count calories or to lose weight, it is often a by-product of following this plan for 30 days.
NOTE: if you plan to try this, you'll want to allocate at least 40 to 45 days for the challenge as the process of reintroducing foods into your diet after the initial Whole30 takes at least 10-15 more days.
What you can NOT eat on the Whole30 plan:
Dairy (the only "exception" is Ghee — which is clarified butter)
Grains (including gluten-free grains and pseudo-grains like quinoa)
Alcohol or tobacco (even cooking wine, vanilla, and dijon mustard)
Legumes (including all beans, chickpeas, peas, lentils, tofu, soy sauce, miso, edamame, and peanuts)
Added Sugar (including honey, maple syrup, agave, Splenda, xylitol, and Stevia)
Carrageenan, MSG, and Sulfites
Any "junk food" (including "bread" made from cauliflower or "pancakes" made from banana and eggs)
What you CAN eat on the Whole30 plan:
All vegetables (including white potatoes, green beans, snow peas, and sugar snap peas)
All fruits (keep in mind you're trying to limit your sugar)
Seafood
Nuts & Seeds (just no peanuts)
Eggs
Coffee (only black)
Fats like olive oil, avocado oil, coconut oil, and ghee
Spices, seasonings, and vinegar
NOTE: here's a really comprehensive listing of foods you can and cannot have (with a free printable).
Why do a Whole30?
After reading all the foods you are not allowed to have for 30-45 days, you might be wondering why on earth anyone would ever want to do something like this!
It's just SO extreme!
Yup, I fully agree — this is one of the main reasons Dave and I have never wanted to do a Whole30 challenge.
A Whole30 is not just something you decide to do one day. No! A Whole30 is something you must research ahead of time, mentally prepare yourself to do, and physically prepare your kitchen, pantry, and freezer with compliant foods.
And, as I mentioned above, the Whole30 is NOT a "weight loss diet", so if that's your main reason behind wanting to try this out, I wouldn't advise it! You need to want more than just lower numbers on the scale to pull this project off!
The purpose of the Whole30 is to change your health, change your habits, and change your emotional relationship with foods.
For example:
Eliminating all those foods for 30-45 days should drastically improve your HEALTH:
your blood sugar will regulate
your hormones will balance
your digestion will improve
your immune system will not be compromised by all the junk foods you were previously ingesting
Similarly, your eating HABITS should change significantly after 30-45 days:
you won't be able to reward yourself with a sugary treat
you won't be able to soothe yourself with a glass of wine
you won't be able to comfort yourself with bread and cheese and casseroles
the goal is that many of these habits will stick around even after your challenge is finished
Last (but certainly not least), this challenge should curb your EMOTIONAL relationship with food.
you will supposedly lose cravings for salt, sugar, and other junk foods
you will no longer feel attached to food or associate certain foods with "good" or "bad" emotions
you will work to view the foods you eat in a healthier, less dysfunctional way
My guess is that reading the list above might change your tune a bit… and maybe restricting your diet for 30 days doesn't sound so bad anymore!
That's exactly how Dave and I feel every time we read about the benefits too!
We regularly think that MAYBE we could do it — but then we regress and decide it's too complicated with young children and we aren't the type to be so restrictive.
Obviously, not every person will experience everything I listed above — but these are the claims made in the books and on the websites… and they are the testimonials of thousands of people across the world who have succeeded in completing their own Whole30 challenge!
.
The Whole30 most definitely is NOT for everyone… however, I would personally love to hear from any of you who have completed one (or more) challenges — and from those of you who have tried it but didn't finish.
I get so many questions from others, and Dave and I have plenty of our own thoughts and questions as well!
What are YOUR thoughts, experiences, and takeaways from and about the Whole30?