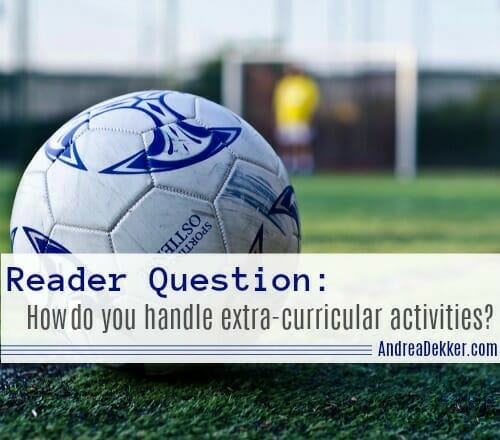 A few weeks ago, I shared a Reader Question asking how you handle fundraisers.
This was a topic I didn't really have much to say about as our kids' school only does 1 fundraiser each year… but I'm so thankful I posed that question on the blog and social media as many of you with older children and more school experience shared useful tips and helpful ideas for those of us just entering the world of school fundraisers!
Well… today I'm back with another Reader Question (one I get very regularly) regarding extra-curricular activities!
Several years ago, I shared more about my own personal positive experiences being involved in MANY extra-curricular activities as a child; and now, looking back, I DO think it was very beneficial for me to have had so many extra-curricular opportunities when I was growing up.
Piano, band, choir, musicals, soccer, basketball, volleyball, softball, GEMS, youth group, sewing class, gymnastics,… you name it, I tried it!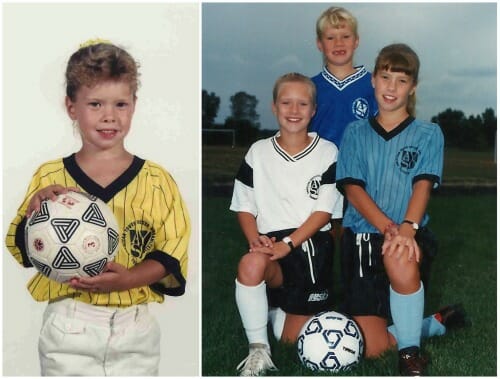 Dave was also fairly involved with school sports and church groups… and I do think we both want our children to be involved in SOME extra-curricular activities.
However, it still feels like a very "slippery slope" to us right now — like if we say "yes" to one thing for one child, we will soon find ourselves running a family taxi service every afternoon, every evening, and all weekend long.
We DO NOT want this for our family!
So far, our children are young enough that they don't really have much of a desire to participate in anything extra because they don't even realize all the extra things they could be participating in!
Here's a list of extra-curricular activities our family participated in this past year.
Nora did Math Pentathlon at school from October – February (Wednesday afternoons for 45 minutes after school). Dave helped with the Math Pentathlon program and it was VERY low-key. Just lots of math games, snacks, and a time to hang out with friends.
She also took dance class from January – June (one hour on Monday evenings). She had tons of fun, but we will not be doing it again this year, simply because the timing of the class doesn't work well for our family and her 2 friends are not doing it this year either.
The 3 older kids sing in the children's choir at church (I'm the director — so they have no choice!)
The 3 older kids also got involved in several different sports camps over summer vacation. They all did soccer and basketball, and they all took swimming lessons.
So far, our kids haven't been involved in any other extra-curricular activities.
Since Dave and I obviously don't have a ton of experience on this topic, I thought I'd open it up for discussion on the blog — because I know many of you have much more experience and can share what worked (and what didn't work) for you and your family.
On one hand, I think all the social interaction, time management skills, and personal discipline required to participate in various extra-curricular activities is invaluable for our children.

However, at the same time, the toll these extra commitments can put on our families, our kids, our schedules, and our finances is definitely something to consider.
We have neighbors who come and go at least 6 times every night, carting kids here and there, to and from various activities. And we have friends who looked into a travel soccer team for their 3rd grade daughter and were shocked to realize it was more than $1600 for ONE YEAR! And that doesn't even include the cost of traveling and staying in hotels for many weekends throughout the year.
Sometimes Dave and I feel that people who get their kids involved in so much are just crazy… but I know for a fact that several of our friends and family members (and probably some of you) think WE are crazy for NOT getting our kids involved in all that many extra-curricular activities.
Thankfully, there is no "right" or "wrong" answer to this question!
Different families, different personalities, and different stages of life will all factor in to how you view extra-curricular activities… and that's just fine!
I'm excited to open this topic up as a Reader Question because I know we'll get a variety of opinions and ideas — many of which will work for a variety of people!
Dave and I are eager to read what you have to say (as are the many readers who have emailed in with this question!)
So.. how do YOU handle extra-curricular activities?