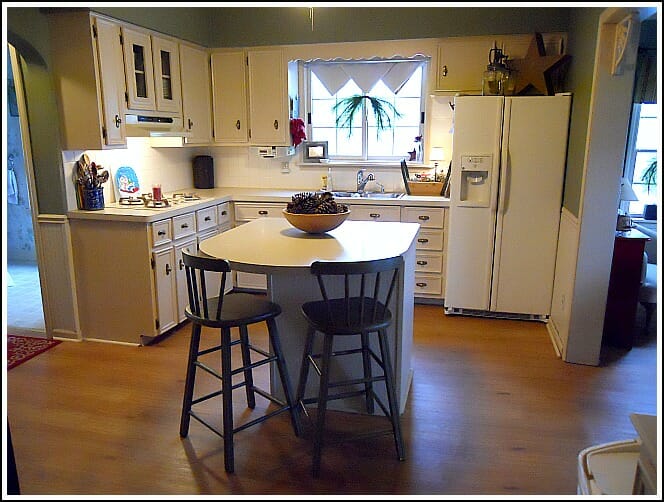 As many of you know, Dave and I are gearing up for a really messy kitchen renovation this summer. We're hoping to start demolition as soon as possible after school is out… which means only about 2 more weeks until our house is turned upside-down… again!
We already have plans to set up a "make-shift" kitchen in our office area. We'll have our full-size refrigerator, a toaster, toaster oven, griddle, microwave, coffee pot, slow cooker, a shelving unit for food, and a hutch for plates, cups, silverware, pans, etc. We'll also have our grill outside.
The only things we won't have (and will dearly miss) is our dishwasher and a deep sink for washing dishes. So even though it's not very "green" of me, I'm planning to use mostly paper plates and cups all summer long. I'm also planning to do a ton of baking and cooking over the next 2 weeks so we can just pull from the freezer instead of trying to make meals from scratch (or resort to pricy restaurants).
I've been doing quite a bit of "behind the scenes" work these past few weeks… the bulk of which was figuring out exactly how I wanted our new kitchen to be laid out and designing the floor plan. It's still not 100% set in stone (we've ordered the flooring but not the cabinets), but as you'll see by the images below, we're adding a TON of cabinet space and creating a much more open and user-friendly place to cook, eat, and just hangout.
Here is what our kitchen looks like now: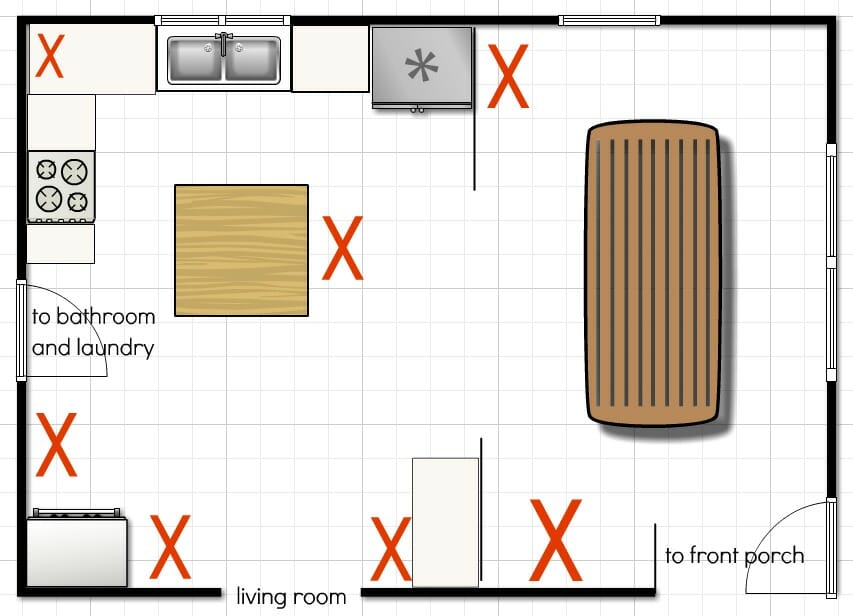 All the areas with the red "X" are wasted space… so as you can see, there is LOTS of room for improvement!
Also, all the appliances are extremely dated, extremely small, and on the verge of dying! I can't even fit a normal size cookie pan in our oven (bottom left corner) and the sink is so small we can't even give Nora a bath in it!
The refrigerator door doesn't open all the way because it's jammed up against the wall; the dishwasher (under the island) has been acting up lately too.
Yup, it's time for a makeover!
Here are a few "real life" picture of the kitchen/dining room right before we moved in last December.
A view from the front door:
Refrigerator, sink, gas cook-top… and the dishwasher is under the island.
Also, the laundry room is to the left of that doorway and a bathroom is to the right. If you keep going through the doorway, you'll head down to the basement or out to the garage.
The next photo is from the oposit corner, looking back towards the living room, dining room, and the front door (far left side). You can see our tiny (and nearly dead) double oven (right side) as well as the massive amount of wasted space!
Here is a shot looking back into the dining room. The wall with that ridiculous built-in cabinet will be totally gone… Hallelujah!
And finally, here's a look at a bunch more wasted space in the dining room area…obviously a man designed this kitchen 🙂
Once that dividing wall comes down, we will put our fridge there along with large floor-to-ceiling cabinets to house small appliances, cleaning supplies, and pantry items.
And now… drumroll please……………………………………………..
This is our new floor plan! (you can click on it to enlarge it)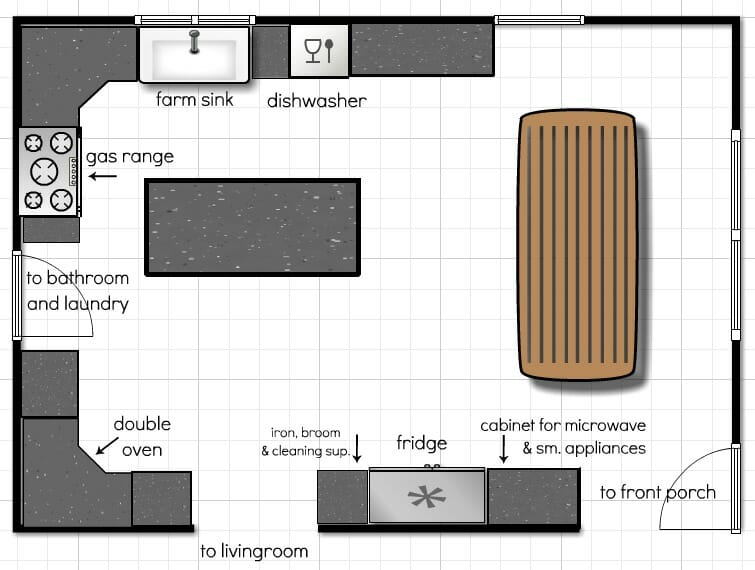 Here's our old floor plan again just so you don't have to keep scrolling up to compare the two.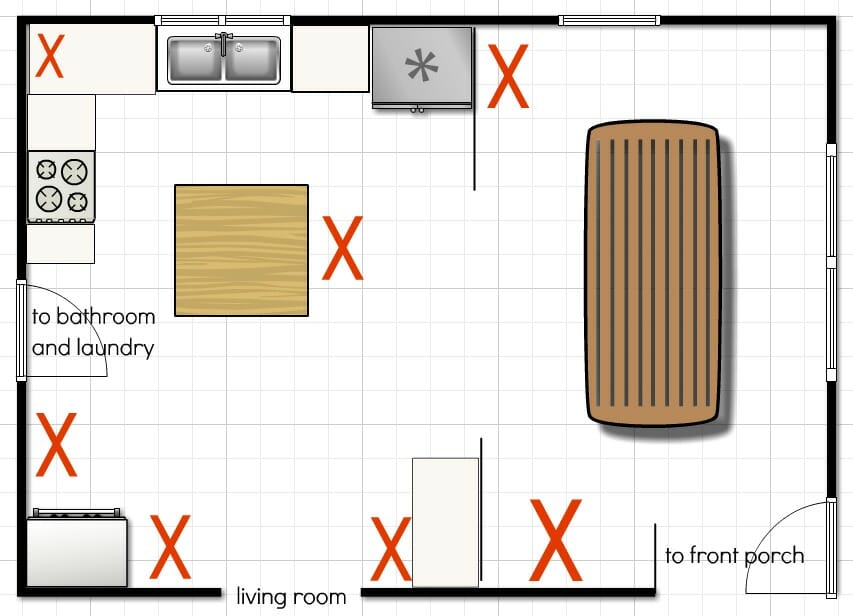 As you can see, we removed the wall between the kitchen and the dining room which makes everything more open and accessible. It also makes room for a larger island and tons more counter space.
I've also moved several of the appliances around to create more usable counter and cabinet space. Seriously, I think we'll end up with 3 times as much cabinet/drawer space without adding any physical square feet!
Over all, our new kitchen/dining room area will be about 23 ft. x 16 ft. — which is pretty big, but we don't have a formal dining room or pantry. Plus, I'm in the kitchen all the time.
You can see a few of my inspirational ideas here… otherwise, just keep checking back throughout the summer as I document the progress!
Wish us luck 🙂