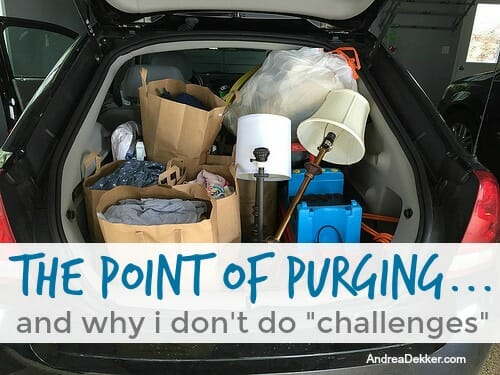 Over the years, I have been asked time and time and time again why I don't ever blog about any type of "purging challenge", and why I don't do any type of purging challenge in my own life.
If you've never heard of any of these challenges, just search Pinterest for "purging challenges" and see HOW MANY different ideas pop up!
purge 40 bags for 40 days of Lent
purge 31 items every day for the first 31 days of the year
purge at least 1 item every day for 365 days
purge 101 things as quickly as possible
purge specific areas of your home every month of the year
purge your closet until you're down to only 40 items
I get it… I can definitely see the motivational factor of being involved in a fun purging challenge for 31 days, 40 days, 60 days, or even a whole year.
I've read (and still read) a handful of blogs who share similar purging challenges every year, I see the challenges all over Facebook, and I definitely don't think they are bad or wrong or harmful in any way. Many times they result in lots of purging that otherwise might not happen if the purger wasn't motivated by the challenge.
HOWEVER, for me, the purpose of purging is to remove items I no longer want, need, use or love and sometimes, I think these challenges direct our purging focus elsewhere.
For example:
I know many people (in real life) who have participated in some type of purging challenge — and in preparation for the challenge, they start hoarding junk they would have never otherwise brought into their home, JUST so they have more to purge.
I know others who have literally saved boxes of stuff they didn't sell at a garage sale (for many months) so they would be able to use it towards their purge — when in actuality, they were planning to donate it all after the garage sale and could have gotten it out of their homes months earlier.
I know someone else who said she counted each shoe as 1 item and individual cards and game pieces as single items to help her meet her purging goal.
I've seen people joke on social media about raiding their parents' homes to count towards their purging goals.
I even know more than one person who has openly admitted to "purging" but keeping the purged items in the garage or attic and slowly pulling things back out and bringing them back into their home.
And then there's the concept of "now I've purged, I'm done until next year" that just doesn't promote an attainable picture of organization.
And THESE are just a few of the reasons I've never been sold on purging challenges.
Purging shouldn't be about hitting a certain number, trying to amass extra junk so we have more to purge later, winning a contest, or looking good to the internet world.
Purging should be about freeing yourself, your family, your home, and your life from STUFF you no longer want, need, use, or love… and continually working to maintain that level of organization from here on.
It might be difficult, it might take some time, it might not always be fun or enjoyable, but it WILL be worth it once you can see your floors, find exactly what you need in minutes, enjoy wearing only the clothing you love and feel great in, and never have to feel stressed or anxious about inviting people over (or welcoming in unexpected guests).
If that's not enough motivation, then I doubt a purging challenge will do the trick either.
Obviously, I do NOT think purging challenges are evil or wrong — I'm certain there are lots of people who DO benefit from the extra motivation.
But for me, it's just not something I'm interested in for my personal life or my blog. I'd rather share simple tips you can do right now, in 5 minutes, and then move on with your life.
What are your thoughts on purging challenges?