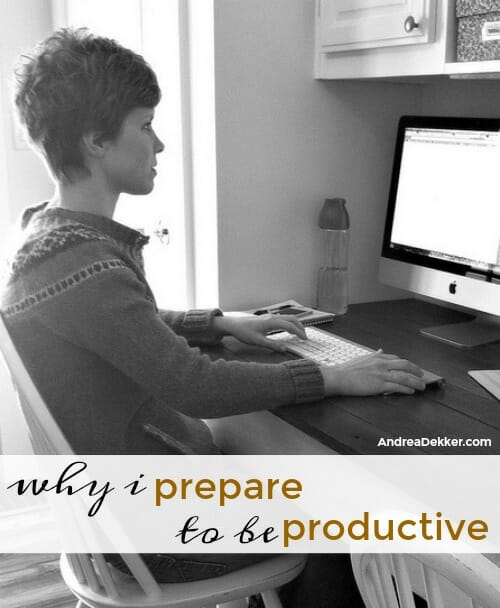 Over the past 7+ years of blogging, I have shared my fair share of productivity tips, tricks, tools, what works for me, what doesn't, etc. etc.
Sometimes one thing works for a while, then another tip or idea or tool works better, then we have another baby or take on a huge home renovation project and I completely change my most productive time of day, and then the kids start sleeping better so I change back… I think you get the idea 🙂
As with almost everything in life, my productivity changes as my season of life changes. The productivity tips, tools, and ideas that work for me right now, probably did NOT work for me a few years ago, and might not continue working for me in another year or two.
However, one thing I have always done is to "prepare to be productive" the night before.
I write out my to-do list for the day ahead
I put a star by the tasks on my top 5 list
I do a general house pickup (including the dishes and dishwasher)
I pick out clothes for me and the kids
I pack snacks and/or lunches
I glance at my meal plan and pull anything I need out of the freezer to defrost
I pack Nora's backpack and make sure she has everything she needs for school
I make sure the diaper bag is ready to go when needed
I put anything I need next to the back door in the mudroom (books to return to the library, my grocery list, a package to bring to the post office, etc.)
I look up directions (if needed) and send them to my phone
I schedule my blog post and a few links or pictures to social media for the next day
I clean out my inbox (my goal is always to zero it out every night and I often succeed)
I charge my laptop and phone if needed
I might be missing something, but in general, I can plow through this list of tasks very quickly after the kids are in bed, and AFTER I feel like I'm ready for the next day, I sit down to write a blog post and tackle any virtual assistant work I didn't finish during the day.
Please note: I do not start working on my blog post or my VA work until AFTER I feel prepared and ready for the next day.
This might sound insignificant, but I can not tell you how important it is for me to prepare for a productive day BEFORE I sit down and finish my work for the night.
If I simply put the kids to bed and sit down at my computer to write, I am confident there would be many nights when I would get distracted and continue working until I wanted to go straight to bed. And once I'm tired, I definitely don't want to start packing lunches, making pancake mix, washing dishes, etc.
So I prepare myself for the next day first!
Of course, just because I prepare to be productive does not always mean that I AM as productive as I'd like to be. Situations come up, kids get sick, plans change, activities are canceled, the kids don't nap, our internet stops working, we have unexpected visitors stop by — meaning I don't accomplish everything I wanted to.
HOWEVER, I am confident that preparing myself to be productive still allows me to accomplish more (even on the bad days) than I would without preparing. And on the good days, it's not uncommon for me to completely cross everything off my to-do list and have extra time left over to read, work on my digital photo books, or just go to bed early!
Plus, preparing to be productive has produced so many other benefits in my life.
I am less stressed because I have a plan
I am MUCH less forgetful
I waste less time during the day
I have more time for things I want to do, not just the things I have to do
I get better-quality sleep because I don't lie awake thinking through my day or worrying about forgetting something important
I have developed a really fabulous productivity habit
As I continue to change and tweak the productivity tips and tools that work for me in my current season of life, I have a feeling I will stick with my habit of preparing myself to be more productive each day.
I figure if it's been working well for so many years (and through so many life-changes) it will probably continue to work for me for many years to come!
How do you "prepare to be productive"?