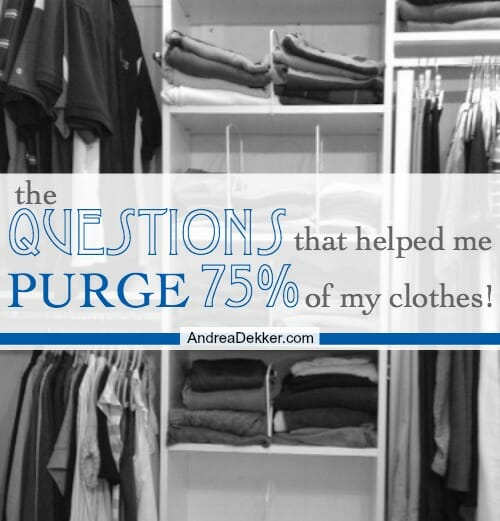 Last week, Dave and I went through all our clothes (closet and dresser) and purged — sort of a grown-up version of getting organized for back-to-school 🙂
Dave donated 3 grocery bags of clothing he no longer wanted and trashed a few items that were definitely past their prime. I gave a small bag of clothes to my sister, donated 2 grocery bags stuffed full, and have 3 larger bags of stuff to bring to a consignment store (yes, I will donate anything that doesn't sell).
All together, that means 9 stuffed-full bags of clothing left our closet and dressers last week AND we transferred all our shoes to the new mudroom.
Boy, does our closet feel clutter-free!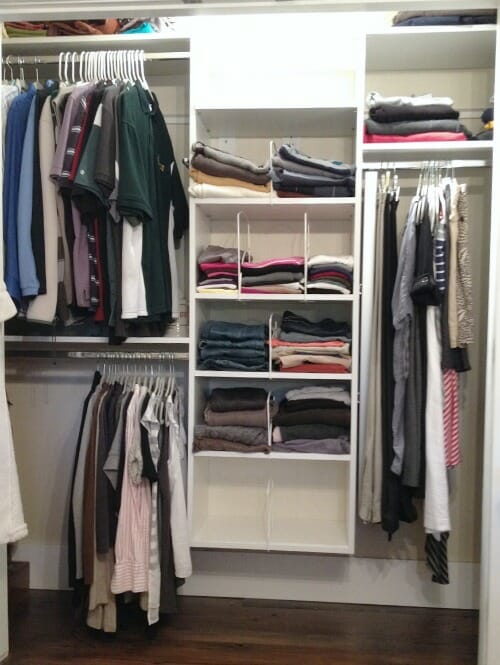 Here's a break-down of the closet's layout.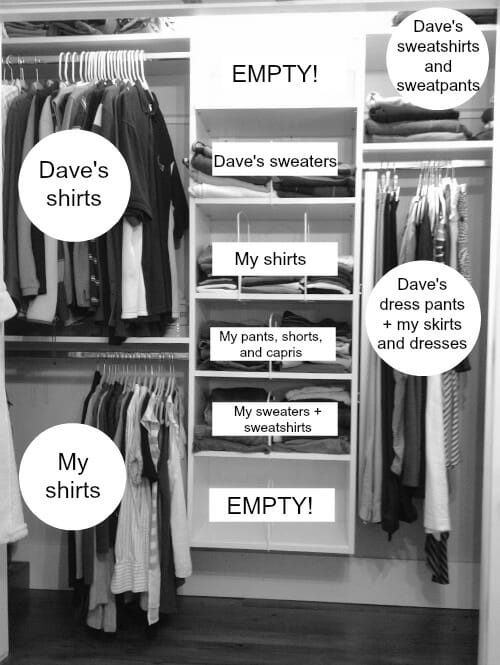 We now have 2 totally empty shelves, a mostly empty top shelf (you can't see it in the pictures) and a completely empty floor.
Yes, it feels great!
In case you forgot, THIS is what our closet looked like back in May (before I returned all my borrowed maternity clothes). SO MUCH STUFF!!
Not only did I return (and remove) all my maternity clothes, I also quickly purged anything I knew I wouldn't wear even after I lost my baby weight.
I ended up with a much more organized closet (see photo below) — but I still felt like I was hanging onto clothes I rarely wore… not to mention all the clothing I never really loved or felt super comfortable wearing. Plus Dave never went through his stuff.
So since I'm always harping on you guys to purge anything you don't need, use, want, or love, I finally decided that enough was enough and I simply HAD to pare my closet down to the absolute bare necessities.
AHHHH — room to breathe!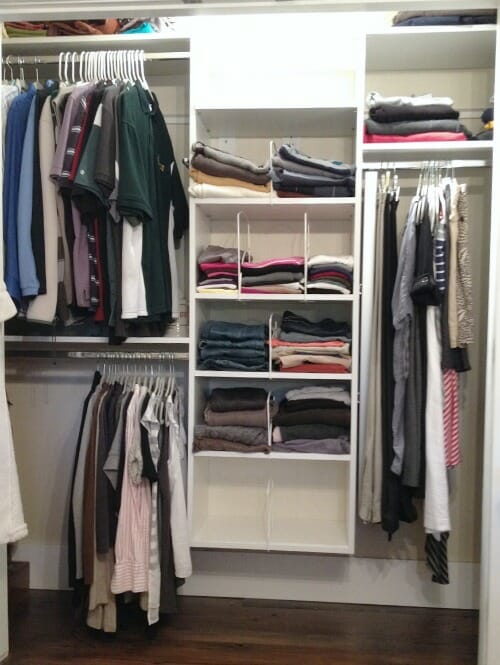 I did not do this to prove anything to myself or to anyone else. I did it because it was taking me FOREVER to decide what to wear every day, I felt like I hated everything in my closet, and I ended up wearing the same few pieces over and over again.
Can anyone relate?
.
I actually was NOT planning to do any more closet purging this summer. However, last week, I met with a personal stylist who helped me see my clothes in a whole new way (funny what an outside perspective can do!)
She asked me a bunch of questions like:
what is your favorite type of clothing to wear?
what is your favorite shirt, pants, sweater, etc.?
why do you think you like those particular items?
what do you like about your body and want to accentuate?
what would you prefer to cover up?
what do you wear around the house? when you go out? to church? to the grocery store?
And after only a few minutes of thinking through these questions, I was already starting to realize why I wasn't wearing SO many of my clothes.
I realized that I wear jeans, jean shorts, or black yoga pants almost 100% of the time. So if a shirt doesn't look good with jeans or jean shorts, I shouldn't buy it. This realization liberated me to purge all my other non-jean pants (besides 2 pairs of dress pants for church) and almost all my shirts that didn't look great with jeans.
I realized I almost only wear cotton or a cotton/spandex mix because I CANNOT stand any non-stretchy, non-breathable fabrics. So again, I felt free to purge anything in my wardrobe that wasn't cotton or spandex.
I realized that although I used to wear sun dresses and cute skirts all the time in the spring and summer, I no longer wear them now that I'm chasing kids around all day. I only needed to keep a couple dresses and skirts.
I realized that I often wear the same things over and over again, and I'm OK with that. I stay home most days and do laundry regularly so this works for me — and it means that only having 10-12 nice shirts is plenty for me.
I realized I actually had quite of a few nice items of clothing and really only needed some select pieces to tie everything together and make my old stuff seem new and fresh again.
I realized that I was hanging on to so many unloved pieces of clothing because I felt I couldn't get by with less.
I realized that my body shape is different than it was even 2 years ago and my clothes aren't going to fit me the same way. It's OK to purge items that are still nice, new, and that I used to love just because I don't feel great in them anymore.
This might all sound overly detailed and overly obvious to many of you. Yes, I did know most of this before; however, it wasn't until I had someone in my bedroom going through my closet with me that I actually put it all together and realized there was no point cluttering up my closet with anything I didn't love or feel fabulous wearing.
It felt SO great to purge my closet of everything I didn't love and everything I didn't feel great wearing.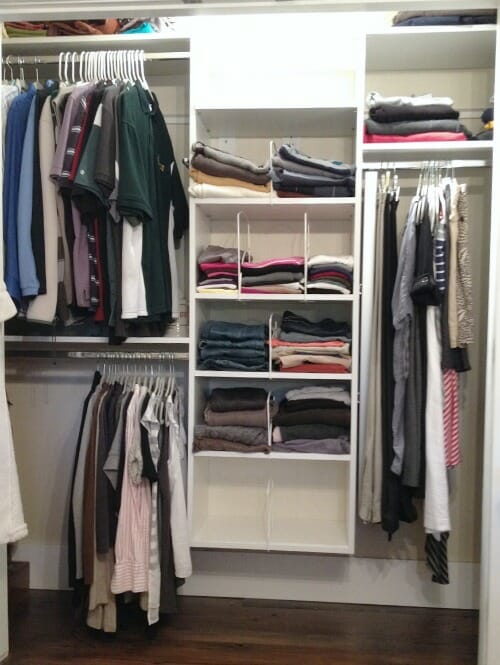 Since meeting with the personal stylist last week and purging much of my closet, I've done a little online shopping and purchased a few new items (all from ThredUp.com) that are on their way to my house right now.
I'm also going shopping with the stylist tomorrow morning to pick out a few things we couldn't find online — but I'm not even overwhelmed with the thought of navigating my way through the mall 🙂
I"m armed with a VERY short list of a few specific items I need/want to add to my closet — and I know I don't need anything more.
I'll be sharing more about working with the stylist (as well as my new outfits) in a future post. But I'm just so excited about getting my closet pared down that I just had to share!
I know many of you have contacted me over the years asking about tips and tricks to organize your closet. For me, I think it always comes back to really asking yourself what you LOVE to wear and feel great in. Those are the pieces you're going to wear — and you probably won't miss everything else!
So the next time you start to weed through your clothing, ask yourself some of the questions above… and more importantly, ask yourself what clothes you LOVE to wear and what clothes you feel great wearing. If you honestly answer those questions, you should have no trouble purging much of the rest.