Today officially marks 10 days PAST my due date 🙂
41.5 weeks!
You would think that based on my go-go-go, non-patient personality, I would be going crazy right now. However, I'm honestly doing really well.
Of course, I'm anxious and excited to meet my little guy, but I also realize he can't stay in there forever… and I know from experience that babies are a lot easier when they are inside, so I'm just trying to enjoy these extra days of "calm".
If nothing else, these extra days have given me plenty of time to finish up a bunch of projects… and finally get my hospital bag packed!
I'm fortunate to have relatively easy pregnancies, so aside from some back pain and my broken toe, I'm feeling great too.
I've been doing yard work, keeping up with housework, filling my freezer, and even tackling a couple smaller house projects — all while taking plenty of time to rest, relax, and put my foot up.
In fact, I've made time to read a couple books, watch a couple movies on Netflix, and even take a few afternoon catnaps while Simon is napping and Dave is hanging out with Nora.
It has been FABULOUS!
However, I realize many of you are getting antsy!
If I had to estimate, I'd say I've been getting anywhere from 30-40 emails, facebook messages, comments, etc. every single day for the past 2 weeks asking if the baby is here, if they might have missed the announcement, if I'm STILL pregnant, if everything is OK, if I'm going to be induced, saying that you're praying for our family, sending well-wishes our way, etc. etc. etc.
I'm flattered and SO appreciative (and I read and respond to all of them).
However, since the baby still isn't here and the emails, well wishes, and questions are filling up my inbox, I figured it might be time to write up a blog post to answer a few of the more common questions 🙂
So here you go…
Yes, I'm STILL pregnant… you didn't miss anything yet.
Yes, I will most definitely let you know when the baby is born — probably within 24 hours of the birth. I promise!
Yes, everything is fine! My latest non-stress test had fabulous results. The baby is doing extremely well with a strong heartbeat, fluid levels are excellent, my blood pressure is fabulous, my weight and other measurements are great, etc. etc. The doctors told me they are not concerned about anything.
Yes, my doctors are willing to schedule an induction for me IF I want it. But at this point, I don't want to be induced unless the doctors feel it is medically necessary for my health or the health of the baby. Of course I'm excited to meet my baby and ready to not be so huge, but I had a really great labor and delivery with my other 2 kids, and I feel like I'd prefer to go into labor on my own rather than being forced into it.
For me, the hardest part right now is knowing that every day the baby stays inside is one more day Dave won't be around after he's back in school.
I was hoping to have as many weeks home with him as possible — and I kind of feel like we've just "wasted" the last 2 weeks and our baby could be 2 weeks older when Dave goes back to school.
However, I know these weeks haven't been wasted in any way. Dave and I have REALLY enjoyed the extra down time we've had as we both know it will probably be many months before we have this type of freedom again.
Nora and Simon are both sleeping fairly well at night, which means Dave and I have 2-3 hours of "grownup time" every single night to hang out, catch up on life, eat ice-cream sundaes, watch our nerdy America documentary on Netflix, and putz around on various tiny projects on our list.
It's been great to have such a relaxed schedule, and is probably just what we both needed after working our butts off from mid April – late June trying to frantically finish all our to-dos before the baby's arrival.
Now, we're just waiting…
And I don't think anyone is more excited than Nora 🙂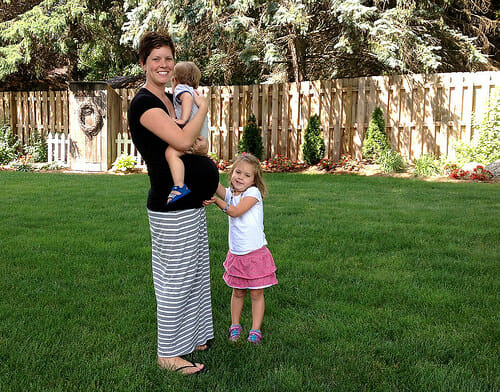 Thanks SO much for your thoughts, prayers, well-wishes, words of encouragement, etc. etc. I really do appreciate them and have enjoyed reading through all my emails and comments the last few days.
I'm positive this baby will make his arrival sooner or later… but let's just hope for "sooner"!
Who knows, he could still make his appearance later today!