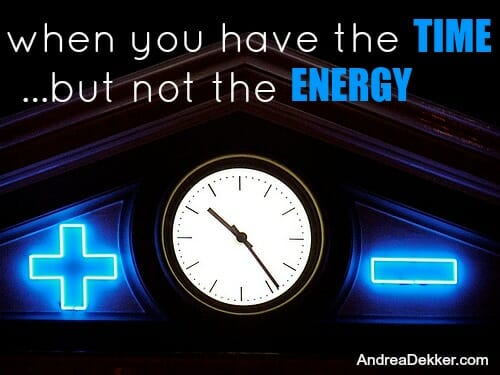 A couple weeks ago, I shared a post about Time and Money Management… and how I personally feel that in almost every situation, we have a choice about how we spend our time and our money.
Many people agreed with that post, some politely disagreed… but one reader left a VERY good comment that really resonated with me.
She explained that although we DO all have the same number of hours in a day, one huge variable is the amount of ENERGY we each have in any given day — or any given time period in our lives. (read her full comment here)
The moment I read that comment, I knew I had to do a follow-up blog post on that topic — because she's right. There is a fixed amount of time for everyone, but we all have various amounts of energy.
Even someone like me who is generally quite "high energy" still has days when I'm super tired, laid up with a broken toe, moving at a slower pace due to pregnancy discomforts or morning sickness, or just not feeling 100% up to par for any number of reasons.
In those situations, I definitely do move at a slower pace, I have less motivation to tackle my to-do list, and I generally am much less productive. Not because I'm lazy or because I don't want to get things done… but simply because I don't have the energy to push myself any harder.
I'm sure many of you can relate, right?
I know so many people who struggle with depression, anxiety, perfectionism, chronic pain or illness, debilitating mental, emotional or physical conditions, etc. etc. — all of which can drastically affect the amount of energy they have and how productive they are.
In most situations, these people are NOT lazy… they just don't have the energy to move forward. In fact, many times their lack of energy actually causes them more anxiety and makes them more depressed and more emotional because they get so upset that they aren't accomplishing more each day.
It's a vicious cycle, and one many people struggle with at various points in their lives.
.
In my opinion, I've been blessed with a very high amount of energy, drive, motivation, and determination. And although I definitely value sleep and try to make it a priority every day, I also know that I do not NEED a huge amount of sleep in order to function efficiently.
In fact, for the first 2 years of Nora's life, there was rarely ever a night when I got more than 5 hours of broken sleep per night… and, for the most part, I still functioned completely fine. Obviously, this was not an ideal situation, but even now, I'm still amazed how well I adapted and functioned with so little sleep for so many months!
I'm also a very stubborn and persistent person (in a good way!) so once I start something, there's a good chance I WILL NOT stop until I'm finished… even if I'm not feeling great. I'd rather push through and finish versus stop and leave a project undone.
CASE IN POINT: I may or may not have mopped and vacuumed all our floors, washed all our windows, and weeded all our planting beds this past weekend at 9 months pregnant with a broken toe. 🙂
Before I had kids, I used to joke about the fact that I could accomplish more by 10:00am than most people could in a day — and although I obviously had no way to measure that, I'm positive there were days when that statement was true. I loved waking up early and using those first 4-5 hours of the day to plow through a massive number of to-dos!
It's not as easy now with kids, but Dave says he can always tell immediately if I'm truly sick or hurt or super tired, because I stop and rest. He knows that if I'm actually willing to go to bed early or lay down on the couch and watch TV for a bit then I really must just need a break.
Otherwise, I'm the type who can just keep going and going and going without wearing out. Yes, Nora get's her non-stop Energizer Bunny personality from me!
I know many people who truly need 8-10 hours of sleep EVERY SINGLE night in order to function normally. I know others who need to rest in the middle of the day for a bit, otherwise they just get too worn out.
Of course, there are also seasons of life when many of us have lower energy (during a pregnancy, right after giving birth, after a surgery, when we have young children at home, when we're taking care of aging parents or relatives, stressful periods at work, when it's super hot and humid outside, etc. etc.)
And then there are those people who live with CONSTANT pain and struggle to do even basic tasks like laundry, grocery shopping, cooking, etc. every single day.
If you can relate to any of those situations listed above (or have lower energy for any number of reasons) you most likely completely understand what I'm trying to say in this post.
.
The point is… if you're feeling discouraged by your apparent lack of productivity, I think you need to look at both factors of TIME and ENERGY.
Yes, there are certainly ways you can better utilize your time, improve your time management skills, and learn to be more productive (hopefully my blog can help you with all of that!)
However, there's also the factor of how much energy you have at this point in your life — and often times, your energy level is somewhat out of your own control.
So the next time you are comparing your productivity to someone else's make sure you consider your energy level too. I think it could make a huge difference in how you view your to-do lists and how encouraged (or discouraged) you are by what you can accomplish each day.
Even though we DO all have the exact same number of hours each day (and for the most part, it's our choice how we spend those hours), we all have different amounts of energy, and that can make a huge difference in our productivity.
Have you ever considered your energy level when you evaluate your productivity?