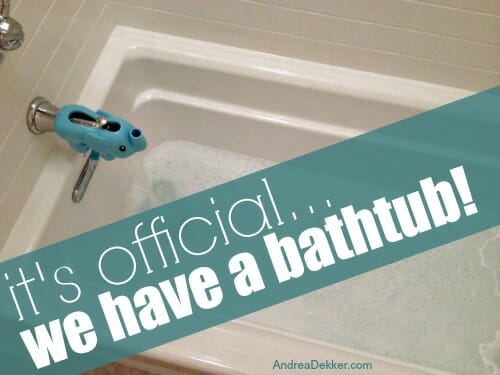 No, no baby yet… but at this point, a new bathtub is almost as big of an announcement for us!
When we first purchased our house, it had 3 full bathrooms — 2 with standing showers and 1 with a shower/tub combo.
The only one with a bathtub was right off our "bedroom wing" on the main floor… and there was NO WAY we were keeping that yucky tub with rusty water and almost no water pressure.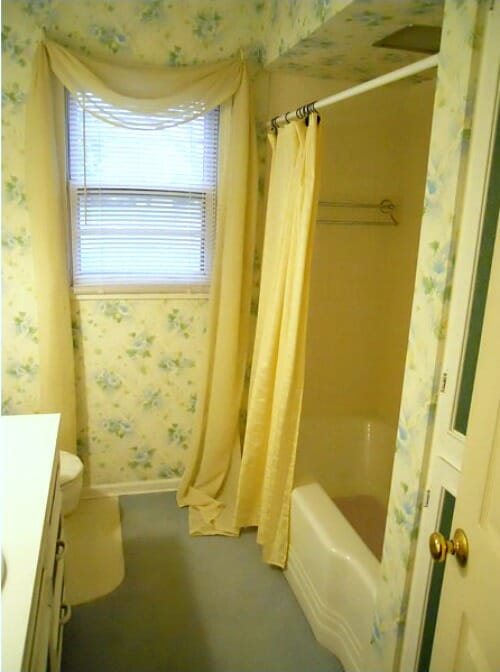 Our old master bathroom BEFORE we renovated it
the bathroom off our kitchen (this is our next project to tackle!)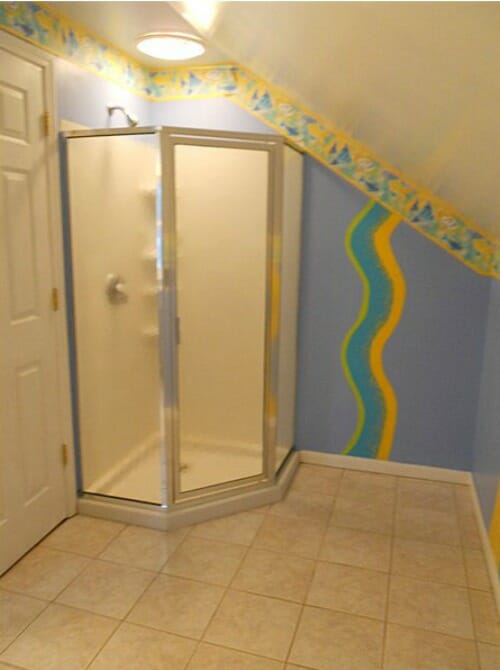 the upstairs bathroom BEFORE
A Little Bathroom History!
The bathroom off our bedroom wing was literally one of the very first things we started demolition on — about 2 weeks after moving in.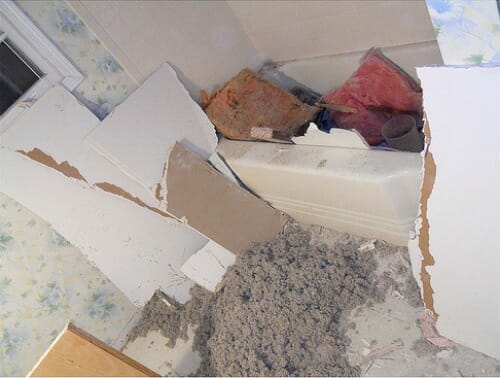 It was such a gross bathroom with filthy blue, very padded carpeting, rusty pipes, a stained toilet, very little practical storage, bulkheads that made it feel so small, the gross tub… and all that grungy yellow wallpaper!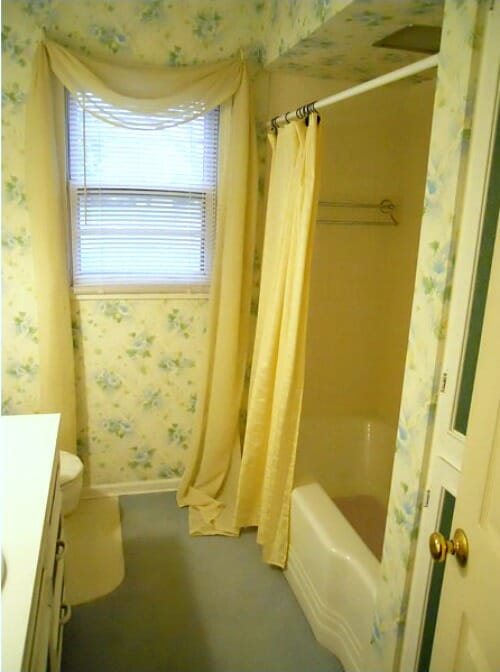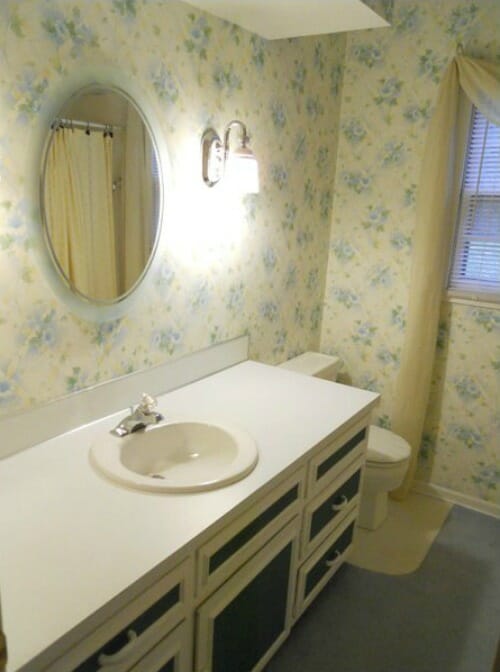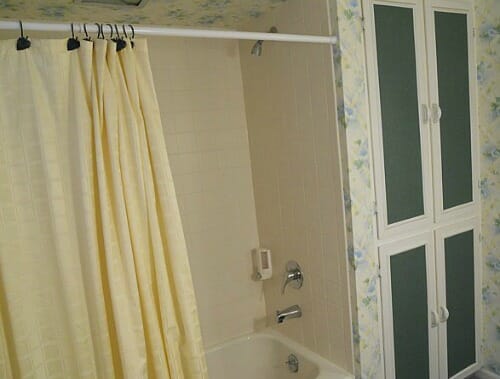 You can read all about our bathroom demolition on my old blog (and see lots more pictures!)
We knew we really wanted more of a walk-in shower in this bathroom… and we honestly were not concerned about having 3 bathrooms without a bathtub because we figured it would be a while before we had kids.
About 6 weeks after we pulled out our tub, I found out I was pregnant with Nora 🙂
Although Nora was a bit of a surprise, our new walk-in shower turned out fabulously, and we have never regretted for one second removing the bathtub… especially since we knew we would eventually put a tub in one (or both) of our other bathrooms.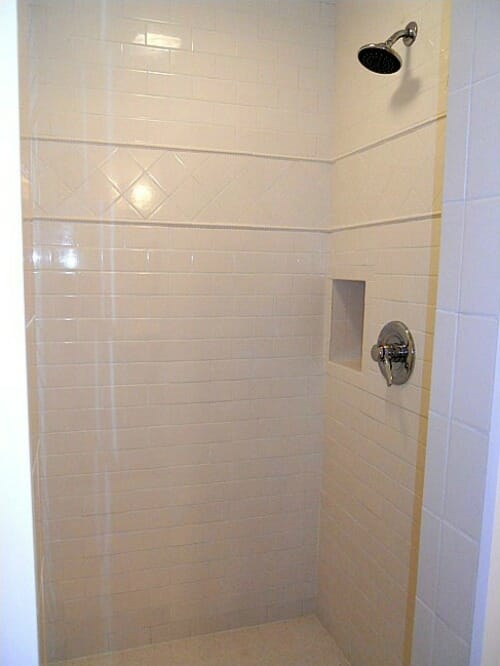 Fast-forward 4 years… I'm now pregnant with our THIRD baby and we STILL don't have a bathtub!
We have made do relatively easily over the years with baby bathtubs, blowup bathtubs, using our kitchen sink, and having Nora take showers now that she's a bit older… but it definitely wasn't as easy as a full-size bathtub (especially with multiple kids to wash.)
So with baby #3 on the way, we knew it was time to finally put a real bathtub in one of our bathrooms so we could eventually wash all 3 kids at the same time (saving us a ton of time, and potentially water too!)
Plan A:
Our original plan was to put a clawfoot tub in the bathroom off our kitchen. However, after A LOT of debate, planning, and measuring, we decided that we just weren't totally "sold" on the idea of a clawfoot tub — or how it would fit into that bathroom off our kitchen.
Plan B:
Plan B was to replace the stall shower in our upstairs bathroom with a tub/shower combo.
The main reason we had NOT done this yet is because we have big plans for a major renovation in this bathroom — including knocking down walls and adding a decent amount of space.
We are not ready to do the full renovation yet, but since we were about 99% positive the tub would only fit in one spot even after our major renovation, we decided that it DID make sense to go ahead and install the tub now… and then complete the rest of the renovation in a couple more years.
At least this way, we could have a really nice, usable bathtub for our kiddos and we wouldn't be "locked in" to having a clawfoot tub.
What do you think?
We are SO happy with how amazing the tub and tile turned out!
This is the shower fixture we purchased.
And the more we use it, the more we realize how much more sense it makes to have the tub upstairs since that's where Nora and Simon "live" and it's not a bathroom anyone else really uses (so who cares if they splash a lot and make a mess).
Although we haven't completely ruled out the idea of a clawfoot tub on the main floor, we are VERY happy with our decision to put the bathtub upstairs first.
Here's one more look at the progress we've made in the upstairs bathroom: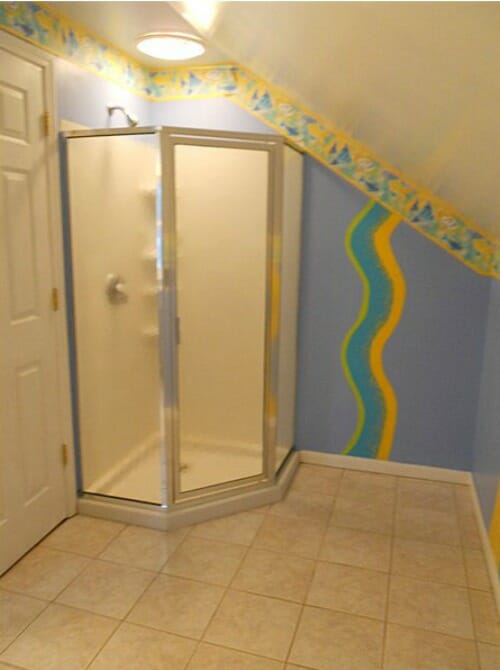 I'd say that's a decent improvement — both in form and function!
I still need to finish painting the walls, and we have a few other finishing touches to add over the next week (then I can share the full Before/After post on the blog) but for now, I was just too excited about FINALLY having a real bathtub that I couldn't wait to share it with you!
Cheers to one more thing crossed of our to-do-before-baby list!