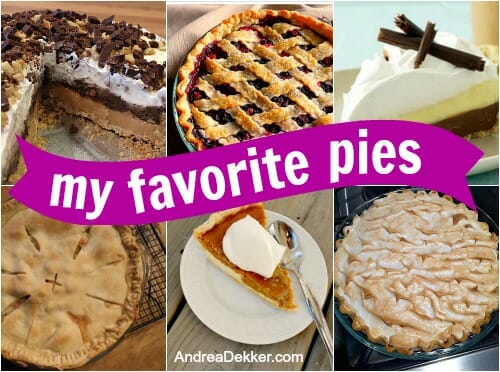 Aside from my beloved Triple Chocolate Bundt Cake, I've never been a big "cake girl". Yes, I make lots of cake because the people I love, LOVE cake… but it's definitely not my first choice of desserts.
In fact, for most of my childhood birthday parties, we had ice-cream sundaes, strawberry shortcake, or some type of pie. And even as an adult, pie or cheesecake (which I do not consider a "cake") are always my prefered desserts if multiple options are offered.
And when it comes to pie, I'd be hard-pressed to find a variety I didn't love!
Thankfully, I also enjoy making pie… and this time of year, the ingredients for pies are abundant (and less expensive) at most grocery stores, farmer's markets, roadside stands, and even in my very own garden!
As all the different berries and fruits come ripe, I excitedly stock up on sugar and Pillsbury Pie Crusts (they are seriously just as good as, if not better than, homemade crusts and SO easy) and anxiously anticipate making a variety of my favorite pies all season long.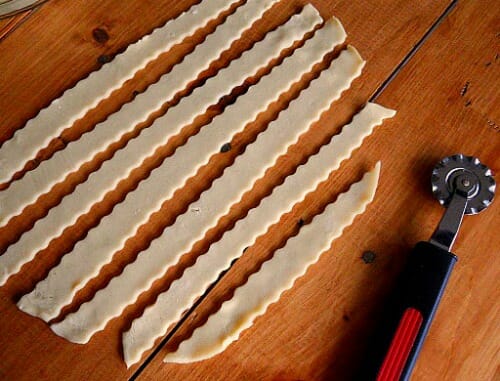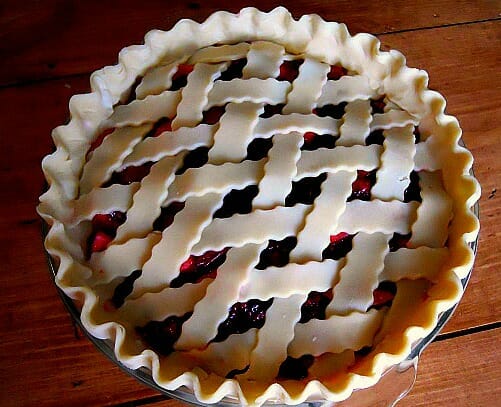 So, since "pie season" has arrived in the Dekker house, I thought I'd share a post that compiled a bunch of my most-favorite pie recipes all in one convenient location — just in case any of you share my love for pie 🙂
If you're on a diet or trying to stay away from sweets, it might be best for you to click away from this post right now…
My Favorite Pies:
Strawberry Pie:
The list below isn't in any particular order… but I did feel the need to list strawberry pie first because it is truly my all-time, most favorite pie ever. My recipe is SO SUPER SIMPLE, and best of all, it can be easily adapted for almost any berry (raspberry, blackberry, blueberry, etc.)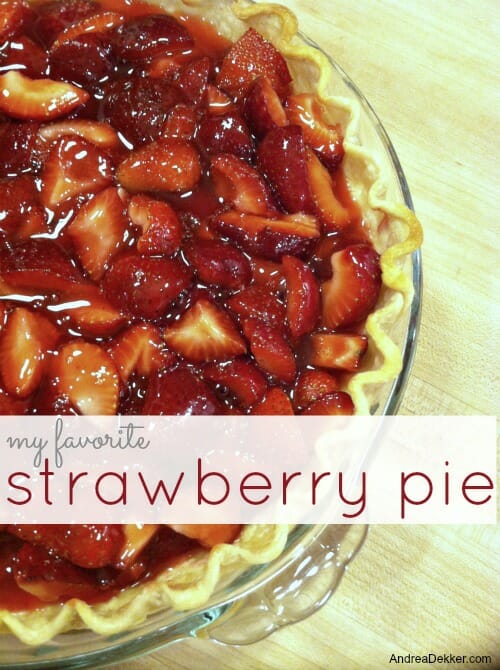 Raspberry pie (using this same recipe) is probably one of Dave's most favorite pies — so sometimes, I'll mix raspberries and strawberries together to satisfy both of our sweet tooths!
.
BumbleBerry Pie:
If you're looking for a double-crusted baked berry pie, I would HIGHLY suggest trying a bumbleberry pie. It has just about every type of berry you can find, plus some apples and rhubarb thrown in for good measure… and boy is it delicious!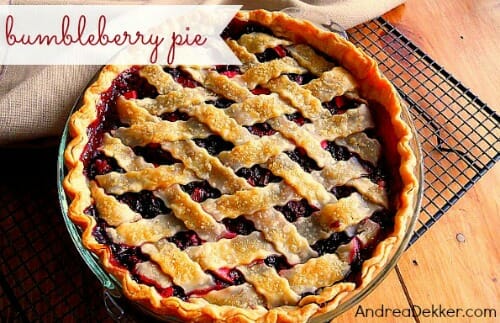 It's the best of all fruit pies wrapped into one pie — sweet and tart, smooth and crunchy, all at the same time. And the dark purple color is just marvelous.
.
Dutch Apple Pie:
I don't have a recipe for this one on my blog, but here's a great recipe from AllRecipes.com.
For as far back as I can remember, apples have always been my favorite fruit (watermelon is a close second, although I've never seen a recipe for watermelon pie!) So of course, I'll eat ANY type of apple pie, but I prefer Dutch Apple (with the crumbly topping) over a more traditional two-crust apple pie.
Also, the key for me is to have tart apples (I LOVE using Granny Smith) that are sliced super duper thin and layered really high for a nice "tall" pie with a deliciously crunchy, crumbly topping.
Wow, now that I think about it, I can't believe I haven't shared a recipe for Dutch Apple Pie yet. I guess I'll have to do that this fall when apple season is in full swing here in West Michigan.
.
Any kind of pudding or ice cream pie:
I thought about trying to list off ALLLLLLL the different pudding and ice cream pies that I love, but then I realized this post wasn't long enough for that. So instead, I'm grouping them all together because I truly do love them all.
In general, I'm usually not a fan of graham cracker pie crusts. However, I will make an exception every time for a pudding or ice cream pie — especially my beloved Chocolate Peanut Butter Pie!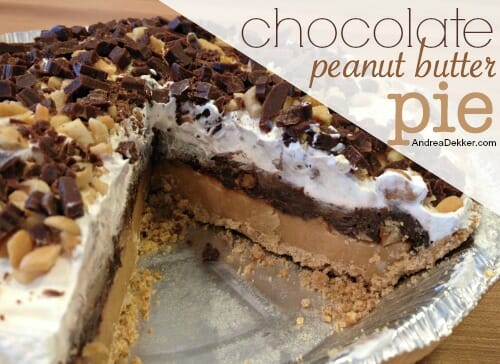 Both my kiddos LOVE pudding pies as well, and since they are so quick and easy to whip up (they usually don't require being baked) I tend to always keep a few graham cracker crusts on hand just in case I need to make quick dessert at the last minute. This Triple-Layer No-Bake Pudding Pie is another one of our family favorites.
.
Black Bottom Pie:
This might be considered a pudding pie — but since it doesn't have a graham cracker crust, and since it's SO delicious, I'm giving it a separate category 🙂
This recipe most closely resembles my own recipe (using a Pillsbury pie crust again). I also just use Cool Whip instead of making my own whipped cream… and then I put chocolate sprinkles or mini chocolate chips on top.
It's SOOOOOO rich and creamy, but also light and refreshing at the same time.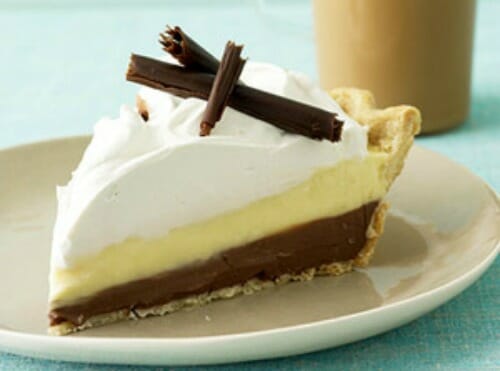 photo source
.
Pumpkin Pie:
I LOVE Pumpkin Pie… and although I make it like crazy during the holiday season, I have to admit that I almost never make it any other time of the year.
The past couple of years, I even stocked up on canned pumpkin during the holiday season so I would have no excuse not to make it year-round… but even with cans of delicious pumpkin sitting in my pantry, I probably only make 1 pumpkin pie during the "non holiday months".
So while it's most definitely one of my favorite pies, I do think there is something kind of special about "saving" it for the holiday season.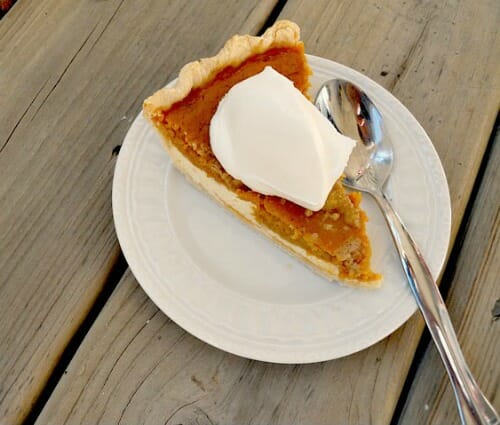 If you're looking for a little variation in your pumpkin pie recipes, here's a great recipe for Apple Butter Pumpkin Pie, and another one for Cream Cheese Pumpkin Pie — both super simple and oh-so delicious!
.
Lemon Meringue Pie
This is another one of my favorites that I have yet to share here on my blog.
I didn't like this pie as a kid, but as an adult, I've grown to love almost all things with lemon flavor. I just LOVE the tanginess of this pie, topped with the sweet meringue… it's just so smooth, creamy, and refreshing!
Here's a great recipe that I've used before, however my go-to recipe is from my Better Homes & Garden cookbook.
.
Mini Pies
Mini Pies are a favorite of mine — especially when we're having company over because everyone can pick and choose their favorite type of pie. Kids LOVE these!
You can literally make almost any type of pie into a mini pie, as long as you have a muffin tin and a bit of patience 🙂 You'll also want to adjust the cooking time down to about 13-17 minutes.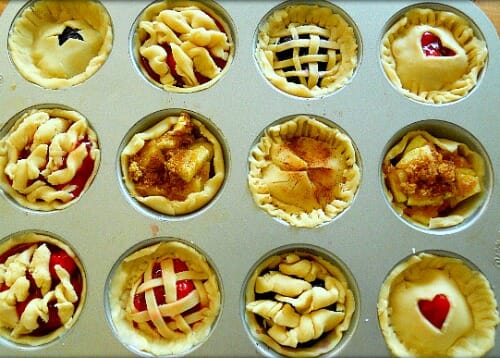 .
Chicken Pot Pie:
I couldn't make a list of my favorite pies without including my favorite savory pie… Old Fashioned Chicken Pot Pie.
Dave and I could both eat Chicken Pot Pie once a week (or more) all through the fall and winter months! And although I don't usually make pot pies in the summer, we would gladly eat it if it were offered to us.
There's just something about having all the meat, potatoes, and veggies wrapped up in a flaky pie crust that just screams "COMFORT FOOD"!
.
Well, I think that just about covers my all-time favorites — but like I mentioned above, I think I'd be hardpressed to find a pie that I absolutely hated.
What are some of YOUR favorite pies?