UPDATE: This giveaway is now closed.
Congrats to Stacey: stellaosborn@… You should receive an email from AboutOne shortly!
---
It's no secret that I LOVE organized paperwork!
I just think it's so important to have our bills, tax document, health records, financial information, and other important paperwork, organized in a way that we can quickly and easily find it whenever we need to.
I've seen SO much stress associated with disorganized paperwork — believe me, it's not worth it. And with a baby on the way, it's going to be even more important to keep all our important information organized and easy to find.
Thankfully, there are resources like AboutOne.com that offer simple, practical, and convenient online storage for all your most important paper documents and household information.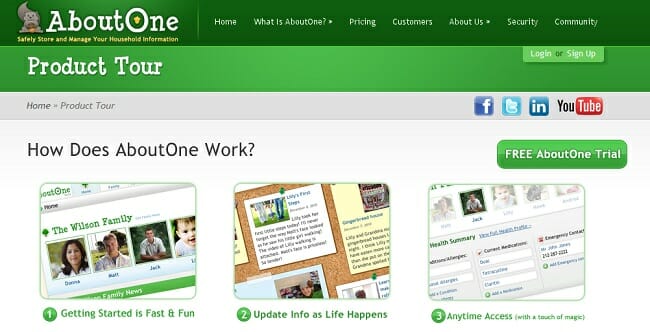 What is AboutOne?
AboutOne is a program designed by moms, for moms, to help organize all your important paperwork and information. AboutOne offers convenient online storage for all your photos, memorabilia, medical records, daily events, and more.
See why these busy moms and dads love AboutOne!
How will AboutOne benefit you?
Not only will AboutOne help you to clear the paper clutter from your home, it will also proved you with a safe, secure place to store your important information AND access it wherever you have Internet — even from your phone!
My favorite AboutOne features:
I love printables! I have all kinds of free printable documents on my blog, so I immediately fell in love with the great list of printables I can create with my AboutOne membership.

The image above is a screen-shot of my AboutOne dashboard and you can see I am able to create Family Newsletters, Babysitter Information Charts, Health History Reports, Caregiver Reports, Education History, and much more!
All of those documents will come in handy once baby Dekker arrives. And the best part is that once I input all our information into our AboutOne profile, it automatically creates these printables with just the click of the mouse!
AboutOne also offers the ability to send cards, invites, announcements, etc. right from your computer for the same price as a normal card — which could really come in handy for baby announcements. 🙂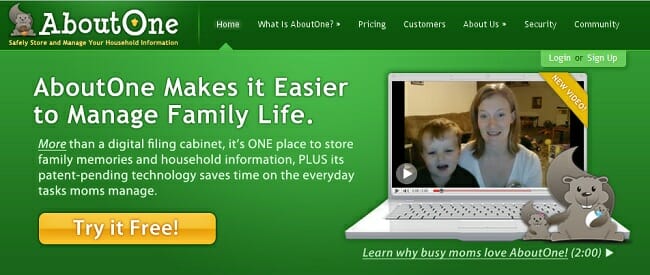 Are you excited to organize your paperwork yet? If not, maybe a free AboutOne membership and an American Express gift card will do the trick!
AboutOne has generously offered a full-year membership AND a $50 American Express gift card to one lucky Simple Organized Living reader!
Want to win?
All you have to do is sign up for a free 17-day trial membership and then leave a comment below telling me that you did.

For an extra entry, you can take a digital picture of your paper clutter and email it to inbox@aboutone.com — then make sure you let me know you did via the comment section below!
This is a weekend giveaway, so the contest is only open until Tuesday, August 2, 2011, at 10:00 pm EST. One winner will be selected at random and announced on Wednesday, August 3. Please read my full disclosure policy and contact me with any questions you might have. I received a free one-year subscription to AboutOne, however all opinions are my own.
Want to purchase an AboutOne membership for 25% off?
Simply sign up for a one-year membership and enter the promo code: SIMPLYORG714 when you check out and you will receive 25% off! This offer expires on August 31, 2011.