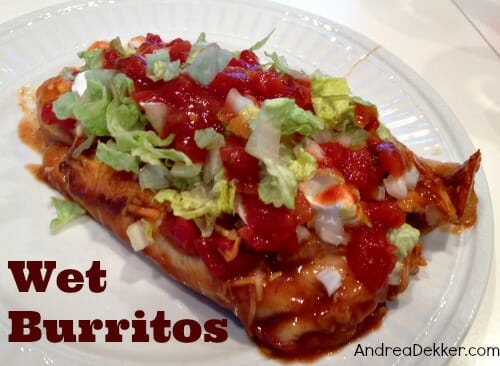 Last week, I shared this Wet Burrito recipe on my Facebook page and mentioned I was trying out the recipe for dinner.
I wasn't trying to make any sort of a statement, I was just sharing what seemed like a yummy recipe with others… but almost immediately, I started getting comments (and even a bunch of emails) from people who had one of two opinions:
This recipe sounded WAY too complicated and they were wondering why I would promote such a difficult recipe.
They were miffed by the fact that this recipe called for "canned gravy" and "canned enchilada sauce" which are processed foods.
Initially I felt a little bad for sharing the recipe and starting up some unnecessary controversies — but the more I thought about it, the more I realized a couple things:
This really was NOT a difficult recipe at all.
You could easily make your own gravy or enchilada sauce if you didn't want to do the processed stuff (I actually did make my own gravy)
Ultimately, I was most concerned with whether WE liked the recipe or not…
…I'm happy to say that WE gave it two thumbs up!
It was delicious, and I will definitely be making it again in the future… especially since I came up with a few different ways to simplify the ingredients and the over-all cooking process!
If you're looking for a really good Wet Burrito recipe that can be made ahead of time and will feed the whole family, I'd highly suggest giving this one a try!
Recipe for Wet Burritos:
Serves 4-8
Filling Ingredients:
1 lb. ground beef
1 small onion; chopped
2 t. minced garlic (or 1 t. garlic powder)
one 14.5 oz. can diced tomatoes WITH liquid (divided)
one 14 oz. can Refried Beans
2 T. Worcestershire Sauce
1 packet Burrito Seasoning Mix ** (or substitute with the spices listed out below)
Sauce & Other Ingredients:
1 – 2 c. brown gravy (you can make your own or use store bought)
one 10 oz. can enchilada sauce
2 c. shredded cheese (Mexican blend or Cheddar would be best)
4-8 tortillas (I used eight 8″ tortillas, but if you use the huge burrito-size tortillas, you'll need less)
Optional toppings = sour cream, chopped onion, chopped tomatoes, lettuce, and salsa.
** Substitution for Burrito Seasoning Mix

2 t. Chili Powder
1 t. Ground Cumin
1 t. Oregano
1 t. Paprika
1/2 t. Pepper
salt to taste (you probably won't need much)
Directions:
In a large frying pan, cook meat, onions and garlic until meat is no longer pink
Drain grease off meat mixture and return back to pan
Add HALF the can of tomatoes, refried beans, Worcestershire Sauce, and all seasonings
Cook over medium heat until beans are "melted" and the mixture is heated through
While the meat mixture cooks, mix the other half of the tomatoes, the gravy, and the

enchilada

sauce in a small sauce pan or bowl (I did mine in a pan because I was making the gravy first)
Assemble the burritos by spooning a few Tablespoons of meat/bean mixture into each tortilla and top with shredded cheese.
Roll up and place seam-side down in a greased 9″ x 13″ pan.
Pour sauce over burritos and top with additional shredded cheese
Bake for 15-20 minutes at 375*F
Serve with optional toppings, tortilla chips, and extra salsa!
ENJOY!
I know it might still seem like a longer list of ingredients — but I promise, it was VERY simple to make. In fact, since I always have containers of cooked ground beef in the freezer, I was able to eliminate the first step of cooking the meat and I literally had the whole recipe ready for the oven in about 20 minutes.
Then I cleaned up the kitchen, set the table, and prepared the optional toppings while it baked for the 15-20 minutes (basically just to melt the cheese).
So I essentially had dinner on the table AND the entire kitchen cleaned up in about 45 minutes — not bad!
MAKING IT AHEAD:
If you want to make this recipe the day ahead (or the morning of) you'll probably just need to cook it for a bit longer since it will be cold when you're putting it in the oven.
If you want to freeze this recipe, I'd personally freeze the plain burritos without the sauce, then I'd add the sauce and cheese right before baking.
VARIATIONS:
If you're not into processed foods, simply make your own gravy, make your own enchilada sauce, and use the spice mixture I listed above instead of the pre-packaged spices.
Also, you could try using ground turkey or even shredded chicken in place of the ground beef.
I'm guessing you could even make this vegetarian by doubling the refried beans and maybe adding some whole black beans as well.
Like I mentioned above, Dave and I both gave this recipe 2 thumbs up and I'll definitely be making it again!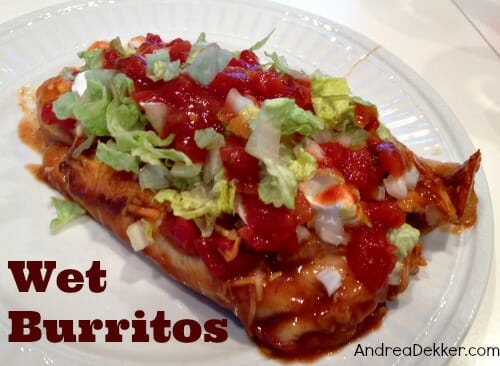 What are your favorite make-ahead Mexican meals?
Visit my virtual recipe box for more simple, delicious, family friendly, recipes!