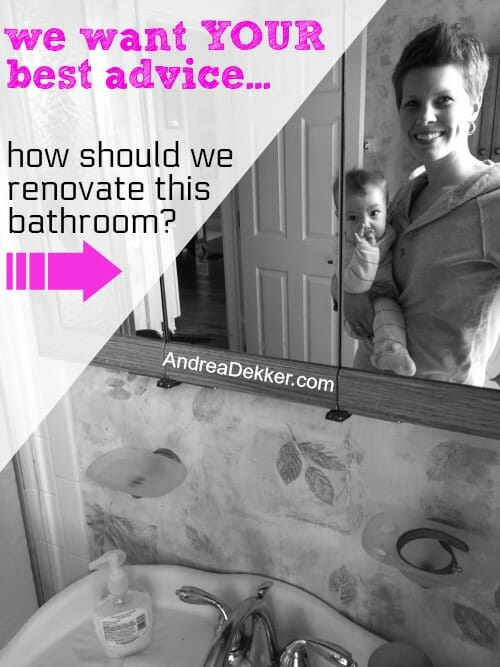 It's been over 7 years since Dave and I first purchased our very own fixer-upper farmhouse… and it's almost all fixed up!
Man that feels good to say!
Ironically, one of the very FIRST projects I wanted to tackle has become one of the very LAST projects we're finally getting around to doing — the full bathroom off the kitchen.
Here are several CURRENT pictures of this space.
.
In my opinion, this bathroom is very ugly.
I dislike almost everything about it — from the floral wallpaper and oak storage cabinets to the off-white trim and cheapy chrome fixtures. There is nothing in this bathroom that looks the way I'd want a farmhouse bathroom to look!
Aside from changing up the curtains, we haven't done one single thing to improve this bathroom in the 7+ years we've lived here — so at least we haven't spent any money on this space yet!
As you can see by the bird's-eye-view below, this bathroom is directly across from our main-floor laundry room and sits between the kitchen and the mudroom.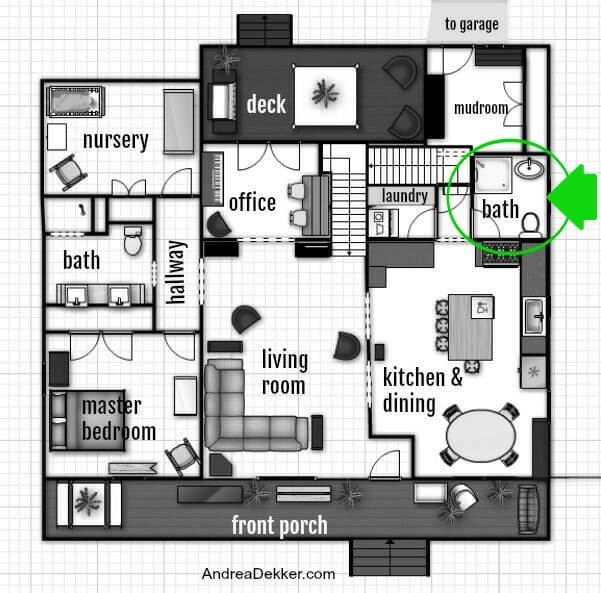 Here's a closer view of the bathroom and laundry room area.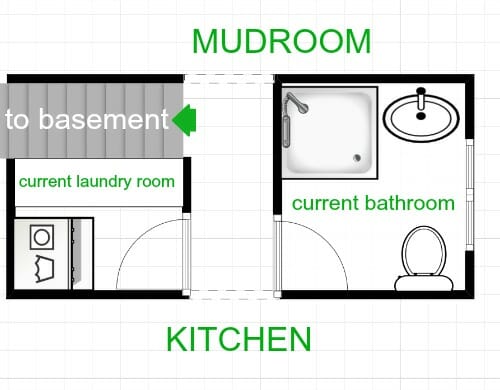 It really is a fantastic place for a bathroom — which is why this bathroom is the most-used bathroom in our house.
Every time we walk in the door, the kids march into the bathroom and immediately wash their hands. Anytime someone needs to go the the bathroom when they are outside, they quickly run into this bathroom. And whenever company is over, this is (unfortunately) the bathroom they use 95% of the time.
.
For the past 3 summers, Dave and I have put this bathroom project on our list of things we want to tackle… and yet, it's still here, un-tackled and ugly — not because we didn't have the time, but because we simply could not decide what we wanted to do with this space!
We would really rather turn this full bath into a spacious half-bathroom with a large counter. However, with 4 growing kids, it seems like a bad move to eliminate a shower.
We love all the natural light from the huge windows (as well as how the windows look from the outside of the house), but hate how awkward the windows are right next to the toilet — not to mention the logistics of arranging a bathroom with huge windows versus a bathroom with more privacy and a nice big wall to put stuff on.
We've discussed eliminating one or both windows, but that would turn into a huge construction project — both inside AND outside, and we decided it really wouldn't look great from the outside (more on this below).
We've toyed with the idea of making this bigger room into our laundry room and turning the much smaller laundry room into a tiny powder room — but then we'd lose the shower again.
We love the idea of putting a mini clawfoot tub in this room (instead of a standing shower) but it's just so impractical for little kids and I know I'd be mopping up a wet floor after EVERY bath or shower.
We've talked about combining the laundry room and half bathroom in this room and using the old laundry room as a nice big pantry — but we can't get a permit to do this as it's no longer "to code".
We've drawn out, planned out, taped out, measured, re-measured, and hashed out all the details of 30+ different bathroom arrangements, but always come up with some reason why that particular arrangement won't work.
Dave and I have spent hours and hours talking through different ideas, only to talk ourselves right back out of them again… SO FRUSTRATING!
I think the windows are the biggest challenge for us right now — we really do not want to remove the windows as it will look quite odd from the outside and throw off the symmetry of that side of our house. Plus, matching up our old white siding with brand new white siding would be a nightmare!
See below for a photo-shopped example of what I'm talking about.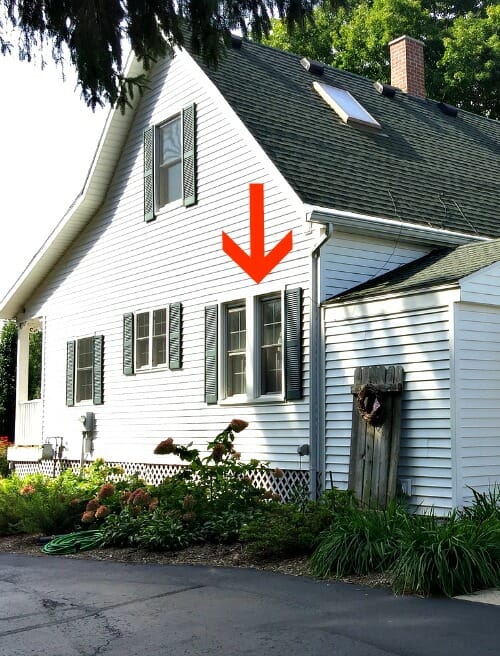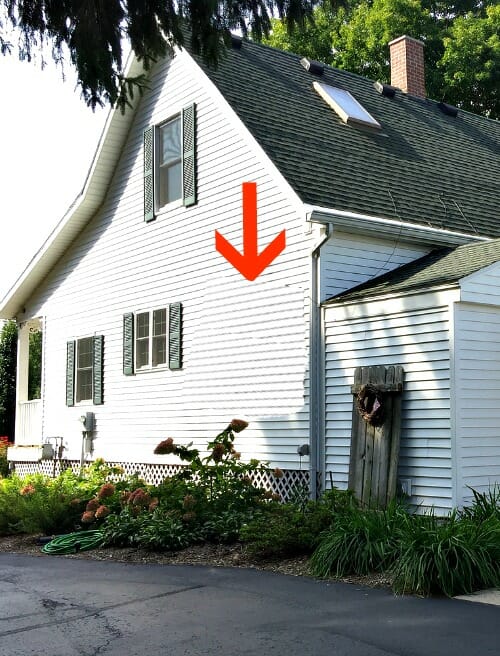 However, with both of those BIG windows inside the bathroom, it's almost impossible to come up with a nice layout.
.
Our current plan is to simply tear everything out and put a new (but similarly sized) shower, toilet, and sink right back in again. The only major change we'd make is to swap the placement of the toilet and sink to allow for a slightly larger vanity.
NOTE: the blueprints below are just to give you an idea — they are not 100% to-scale, nor do they show any color or material choices.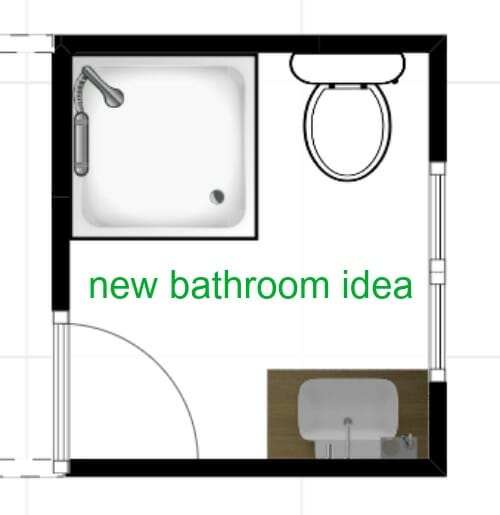 Of course, we'll update the look, give it a bit more farmhouse charm, and add some much-needed storage and functionality, but we are honestly at a loss for any other way to rearrange this room.
.
So… since you have given us really great renovation ideas in the past, I'm bringing our bathroom quandary to the blog as one last "Hail Mary" effort to see if any of you have a super fantastic idea we haven't thought of yet!
Please, share in the comments or feel free to send me an email directly.
Thanks so much!! 🙂
I wonder how much bigger Clara will be once we FINALLY finish this bathroom project!