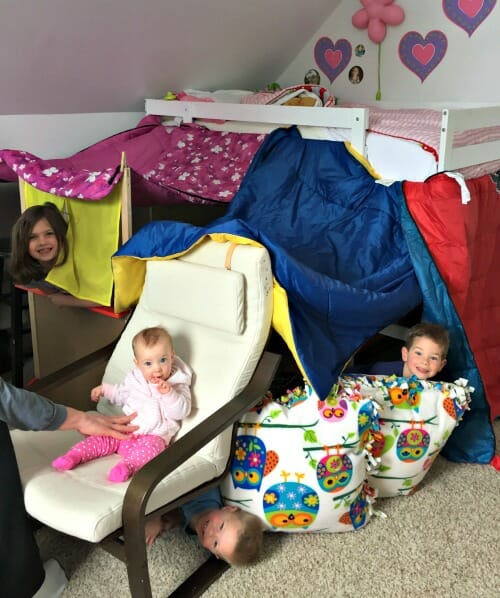 I switched up my post for today as there are several little things I'd like to share with you (some of which are time-sensitive) so I thought we'd do a little "housekeeping" on the blog today!
.
First things first, I wanted to share a fun video clip of our local FOX 17 News meteorologist that went viral last week — it even made it onto Jimmy Kimmel!!
And speaking of the weather… due to the unseasonably cold, winter-like blizzards, hail, and ice storms we experienced over the weekend, our family was cooped up inside all weekend long (which isn't exactly ideal with 4 energetic children).
Our church was canceled yesterday and school is canceled today due to ICE… in APRIL!!!
Thankfully, I just purchased several new games from our local thrift store last week (only $0.50 each!) so we played those for a bit of new fun. Also, Dave was a gem and kept the kids upstairs for extended periods (see picture of their fort above) so I could do a little deep cleaning on the main floor.
.
Some Literal Housekeeping:
I vacuumed under furniture I don't normally move, dusted baseboards and door frames, sanitized door knobs, hand rails, and light switches, got down on my hands and knees to mop the kitchen floor (something I don't do nearly as much as I should), and washed ALL the bedding.
I also did a bunch of baking for the freezer, gave both boys a haircut, and cleaned out the van.
It felt good to tackle several of those housekeeping projects that are so easy to put off week after week, month after month!
.
Home Renovation Updates:
Dave and I spent A LOT of time talking over our upcoming bathroom renovation — thanks to all the amazing ideas, tips, and suggestions from YOU!
Wow, seriously… I got so many emails, comments, Facebook messages, and even photos from readers who shared what they did in their own bathrooms, or what they think would work well in our bathroom. We sort of feel like we're "back to the drawing board" a little since you shared several new ideas we hadn't thought of yet.
Thanks again for your help! We hope to come to a final decision soon so we can get started on demo before school is out for the summer! I can't wait to share the "after" pictures eventually!
If you haven't weighed in with your opinion yet, we're still taking suggestions!!
.
A Quick Update on the Kiddos:
We had a few brief moments of sunshine last week, before the weekend ice storms, so Nora got a chance to ride her new-to-her bike (seriously, isn't it SO cute!)
I found her bike at a thrift store last fall and we gave it to her for her birthday, but she never really got to use it over the winter. We added this pink wicker basket and Dave's parents gifted her this pink vintage bell!
Simon started a 2-morning-per-week preschool program through our local Early Childhood Center and he's having SO much fun.
The first day, he cried for almost an hour before we had to leave. He said it was because he couldn't decide what to wear, but then later said, "I'm just so 'nerbus' for school."
Sweet boy — he did great and had an amazing first day!
James managed just fine without his best buddy around for a few hours — he even told me to "go back downstairs" because he just wanted to play by himself!
Both boys are on a mission to help Clara sit up — she still has a ways to go!
It also looks like her top front teeth will be popping through soon.
.
Next on my list of 'housekeeping' duties… The Ultimate Homemaking Bundle!
You may have heard from the mass number of other bloggers who are also sharing… but the 2018 Ultimate Homemaking Bundle is for sale right now, and TODAY IS THE LAST DAY to get yours!
Although I've always gotten the bundle (and alway shared it on my blog) I wasn't planning to share it this year, just because I had so many other posts I wanted to write.
However, I've gotten several emails from readers asking me to share it so they could buy through my affiliate link (seriously, thank you so much!)… and since today is the last day for the sale, I figure I better get my act together and share it on the blog!
I'm sort of a homemaking junkie, but I really am quite impressed with everything in this year's enormous collection of homemaking resources — 62 eBooks, 34 printable packs & workbooks, 3 membership sites, 30 eCourses, several video & audio files, and a bunch of bonus offers.
Some of the topics covered this year are:
Goal setting
Fashion
Self Care
Finances
Time Management
Weight Loss and Nutrition
Cooking
Cleaning
Organizing & Decluttering
Working form Home
Homeschooling
Decorating
Marriage
Motherhood
Chores
Faith and Bible Studies
I know it's a lot of resources, but I just pick and choose the ones that pertain to me, my family, my home, and my stage of life. Even if just 3 or 4 of the resources are helpful for me right now, I still consider it a great deal since it's only $29.97!
Oh, and the Ultimate Bundles team is definitely top-notch. They offer a no-questions-asked, 30-day happiness money-back guarantee. They will refund your money for ANY reason, so there's really no risk in trying it out, especially since this is your last chance to grab it until a new bundle goes for sale NEXT spring!
Ok, I think that's it for my bit of "housekeeping" on the blog today!
I hope you're gearing up for an exciting and productive week ahead.
I'll be back tomorrow, talking about sleep and stress (so get to bed on time tonight)!