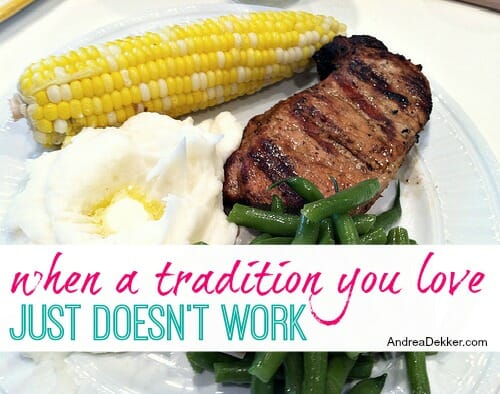 Growing up, my most favorite meal of the entire week was "Sunday Dinner".
For those of you who didn't grow up in my family, "Sunday Dinner" is a huge meal eaten around noon on Sunday afternoon — usually a roast, ham or steak, served with mashed potatoes and gravy, multiple varieties of vegetables, applesauce, rolls, a salad of some sort, and dessert.
My dad made Sunday Dinner every week in our family — and despite eating the same thing over and over and over again, week after week, I never ever stopped looking forward to walking in the door after church to those delicious smells.
In Kindergarten, I had to do an "about me" project, listing my favorite color, movie, book, food, etc. For the "favorite food" question, I simply put "Sunday Dinner" because I couldn't pick just one of the foods.
And when I was in college, I came home pretty much every single Sunday — mainly so I could eat Sunday Dinner.
After Dave and I were married, I continued the tradition, making a large meal just for the 2 of us every Sunday afternoon. Sometimes we'd have one of our families over, sometimes we'd go to one of our parents' homes, but we always had a version of Sunday Dinner each week.
When we started adding children to our family, I assumed Sunday Dinner would stay the same… until I realized how rushed and frazzled Sundays can be with a fussy infant who didn't sleep well at night, refused to take a bottle, screamed until she hyperventilated in nursery, and insisted on sleeping in my arms or on my chest.
All of a sudden, it was altogether too much work to get a big meal in the oven Sunday morning while also trying to feed Nora, get everyone dressed, fed, and ready (we had our international students living with us at that time) and get out the door on time.
I began resorting to simple casseroles I could make the night before, or slow cooker recipes that cooked while we were at church.
And you know what… no one seemed to mind (not even Dave!)
.
Now, 5 years and a couple more children later, our "Sunday Dinner" looks absolutely NOTHING like they did for the first 26 years of my life. We usually just have sandwiches, salads, leftovers, etc. — basically what we'd eat for lunch any other day of the week.
Although Sunday Dinners were one of my most favorite traditions, I realized they just don't work for me or my family at this point in my life — and I'm OK with that.
Yes, we still go to our parents' houses every once in a great while for Sunday dinner, and we still enjoy having relatives over to our house for big meals around the holidays or other special occasions; but usually we just want to get home after church in the morning so we can eat a quick lunch, and get our kids down for naps.
I don't want to wake up early to get food in the oven. I don't want to make half the pots and pans in my kitchen dirty or spend all afternoon washing dishes and cleaning up the kitchen. I don't want to have roast and mashed potato leftovers every single week.
I just don't want all the hassle when everyone in my family is perfectly content to eat the same lunch foods on Sunday as they do for the rest of the week.
We do enjoy "Sunday Dinner" meals a couple times every month — on a weekday when I have much more time to prepare the food during the day. We all love the food, I love how my kitchen smells, Dave gladly washes the dishes once the kids are in bed, and I enjoy a much more relaxed Sunday afternoon.
There's a good chance I will "resurrect" my Sunday Dinner tradition once my children are older and more self-sufficient, but for now, Sunday Dinner is no longer on Sundays — and as a result, my life is a whole lot simpler!
I know it can be difficult to stop a long-standing tradition (especially a tradition you really enjoy) but speaking from experience, there are SO many times when our lives end up becoming weighed down and stress-filled because we insist on doing something that no longer works for us… just because we've always done it that way.
It's just not worth it!
If you've been feeling overwhelmed, weighed down, super stressed, or even just slightly annoyed by certain traditions or routines in your life, why don't you just try taking a short break and seeing if it makes any difference at all.
Maybe you'll realize your stress was caused by something different — in that case, go right back to your favorite tradition. However, you might realize that one simple change makes a HUGE difference in your daily and weekly life.
If that's the case, let the tradition go for a bit… you can always pick it back up again later!
Have you ever dropped a tradition you love because it stopped working for you?