DIY Granite Countertop Cleaner
posted by Andrea | 10/29/2012
When we started our kitchen renovation, I was absolutely convinced that I wanted black granite countertops… until I met with the owner of Premier Granite and Stone (who just so happens to be a friend from high school). He knew me well enough to suggest that I might not want black granite since it shows every crumb, water spot, finger print, dust bunny, etc.
He suggested New Venetian Gold Granite for a more practical, yet equally timeless look… and I LOVE it!!!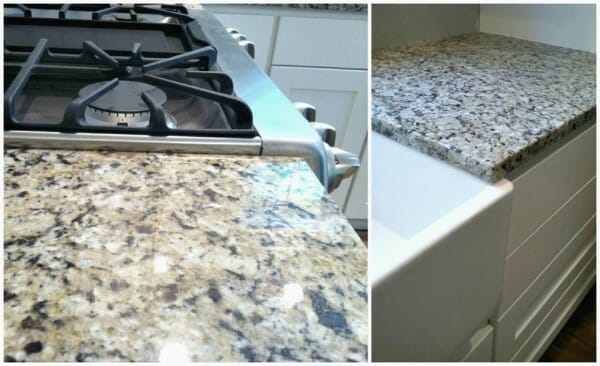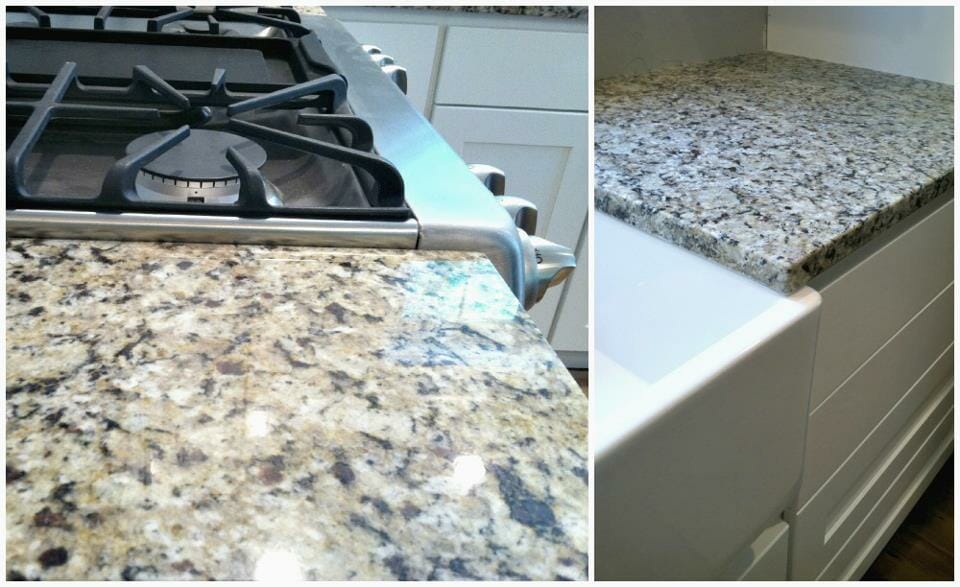 The colors in our counter tops tie everything in our kitchen together. They have white flecks that mirror the cabinets, brown that ties in with the floor, black for the island, and a tan/beige that picks up on the wall color. Plus, if the light shines just right, there are some metalic flecks that work with our stainless appliances.
It's just the most perfect granite for our kitchen… and it doesn't show any dirt, dust, crumbs, water spots, finger prints, etc. I actually have to run my hand over the counters to see if they need to be wiped down… I'm so glad I didn't go with black granite! 
However, I will say that black granite looks equally fabulous — I just don't want the extra maintenance at this point in my life 🙂
Anyway, when our counters were installed, we got a nice little packet of information on how to clean and care for them… and it said DO NOT use vinegar as the acid in it will eventually etch away at the granite.
What!?!
I've been using vinegar to clean my kitchen (and pretty much everything else) for a couple years now. I honestly didn't even have any store-bought kitchen cleaners in my house.
So, I went to Facebook and asked YOU for homemade granite cleaner ideas. Of course, you all came through and offered tons of suggestions! Thanks 🙂
I did a little more research of my own and decided on a homemeade recipe I was going to try. It's extremely simple and it works marvelously.
However, I should mention, that you can use straight dish soap and water — like when you're  filling up the sink to wash dishes. That will work perfectly fine… especially for granite like mine. However, if you have black or white granite, soap and water could leave streaks.
So, if you don't want streaks, here's another homemade option…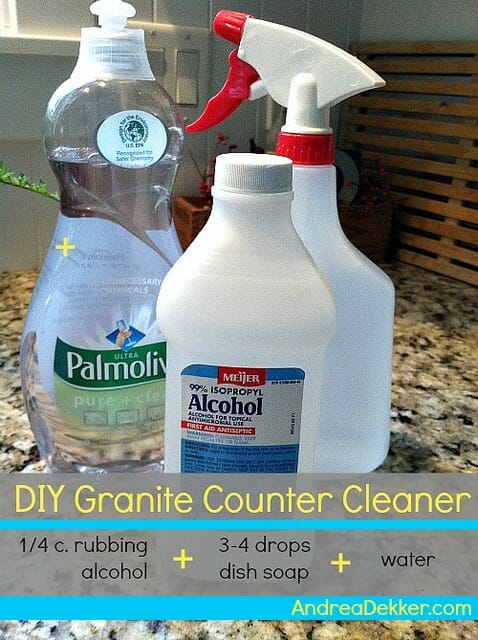 Recipe for Homemade Granite Cleaner
1/4 c. rubbing alcohol (this is what eliminates the streaks)
3 -4 drops dish soap
water — enough to fill the 16 oz bottle
2 or 3 drops essential oil (optional — and I don't use them)
Mix all the ingredients in a 16 oz plastic spray bottle (found at most dollar stores), give it a shake, and you're ready to clean.
It's a quick, simple, and frugal way to clean any granite surface!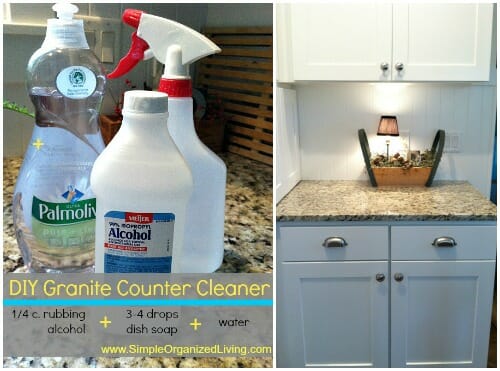 Obviously, I'm not the first person to discover this recipe… you can find similar receipes and other granite cleaning tips over at i Dream of Clean and One Good Thing.
Also, if you don't feel like making your own cleaner, here are a few store bought cleaners specifically for granite.
Do you have any other tips for cleaning or caring for granite counters?