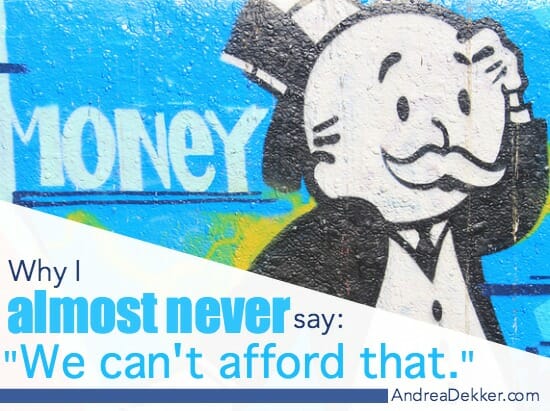 About 2 months ago, I shared a post about one of my pet peeves — when people complain about "not having enough time" for various activities.
The point of that post (which you can read in its entirety here) is that I almost never say "I don't HAVE time for ______" because I know that if I really wanted or needed to, I could MAKE the time for that activity.
Instead I say, "I'm choosing not to MAKE the time for ___________ right now as I have other priorities."
By simply changing the way I phrase things, I feel much more empowered, more in control of my time, and less defeated by everything I don't get done each day. I know that I made the choice to do something else — whether it was tending to a sick child or taking advantage of really nice weather instead of doing my work or opting to make a big fancy meal instead of enjoying more free time — it was my choice.
Similarly, I almost never say, "We can't afford that."
This is not because we are "loaded" or have unlimited financial resources. It's simply because I know that in almost every situation, we could technically afford whatever it is I'm talking about (going out for lunch, a new shirt, organic produce, flowers, a new coffee table, a weekend getaway, etc.). Yes, we have $20 in our bank account to go out for lunch. We have $30 for a new shirt. We even have $500 for a nice weekend getaway.
None of those purchases are bad purchases or a waste of money (if they are important to you). It's just that they are not ways Dave and I would personally choose to spend our money right now. We'd rather spend our money on house projects, paying down our mortgage, buying new technology, or saving up for a new-to-us minivan (never thought I'd be excited about that!)
Yes, I realize there are many of you who would never want to 'waste' your money on these things — but for Dave and for me, that's how we'd prefer to use our financial resources at this point in our lives.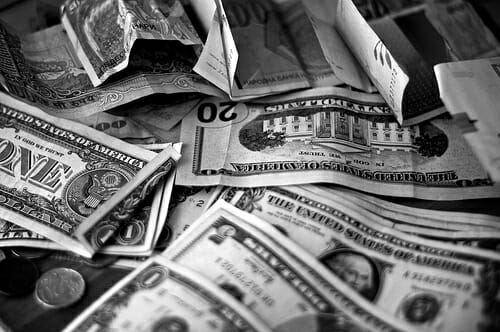 I'm certainly not trying to negate the fact that there are, in fact, many people in the world who truly can not afford even basic necessities — let-alone splurging on fun "wants"; I'm simply trying to make a point that once again, by simply changing how I phrase my sentence, I personally feel more empowered about how I spend and save.
I don't feel bad or deprived because we "can't afford to go out to eat". Instead, I realize that it's MY choice not to spend money going out to eat and I can choose to have fun coming up with a new recipe or making a fancier meal at home and then putting the money we would have spent on dinner towards something else that is more important to us.
If going out to eat was important enough, we COULD afford it. We could even afford to go to a really fancy restaurant and blow $200 on one meal… but we don't. We'd rather spend $10 with coupons and gift cards at Culver's and use the other $190 for something else 🙂
Obviously, there are some things we legitimately do not have the cash to pay for; but when you stop and think about it, almost every time we say "I can't afford that" we really CAN afford it if we wanted to.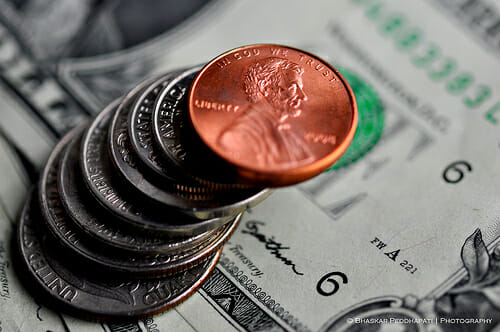 Now that we have kids, I've been even more diligent about not saying "We can't afford that." because I don't like the message it implies — like we're destitute and lacking.
Instead, when Nora requests something at the store (like a toy or a game or crayons) I just say something like, "We're not going to spend our money on those things today." or "Maybe we can put that on your birthday wish list." or "We have other things at home that you can play with right now — we don't need more".
I know she's not even 3, but I still feel like if I'm careful about how I phrase things now, she'll learn that money and time are just tools and resources we can use in many different ways — however, it's up to US to decide on the best uses for our own lives.
And yes, I fully believe there are many "right ways" so spend our time and our money. We all have different wants and needs, so it only makes sense that we would all choose different ways to spend those resources.
The important thing for me to realize is that it is MY choice — so there is no sense whining and complaining about the fact that "I don't have enough time for _____________" or "we don't have enough money for ____________."
I'd love to know… what are your thoughts on this topic?