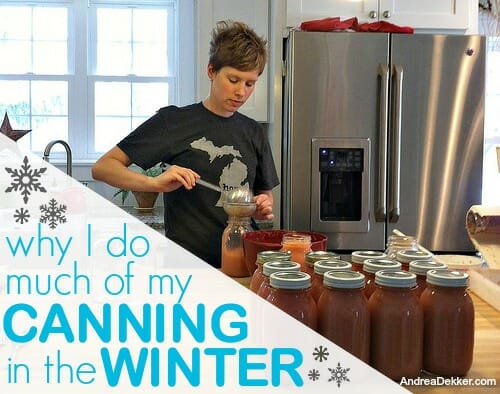 I canned 36+ quarts of applesauce this weekend! Yes, you read that right… Valentines Day weekend…February, in Michigan.
It's freezing cold here in Michigan (-5F this past weekend) and snow is covering the ground — however, our local orchards sell apples until Valentines Day, and they usually offer a deep discount the last week of sales (yes, I got a great deal!)
In the next month or so, I'm planning to can another batch of Strawberry Jam and Triple-berry Jam — using fresh-from-the-farm berries I picked myself this summer (and have been storing in the freezer until I have the time to make jam).
It might sound crazy to be canning in the middle of winter IN MICHIGAN! But that's usually how I do it because that's when I have the time and that's when I'm cooped up inside anyway.
Yes, there are some things I still need to can in the fall — like peaches, pears, and tomatoes to name a few. But any berries that can be frozen or any heartier fruits and veggies that can be stored in cold storage for months can all wait for me to have more time in the cold winter months.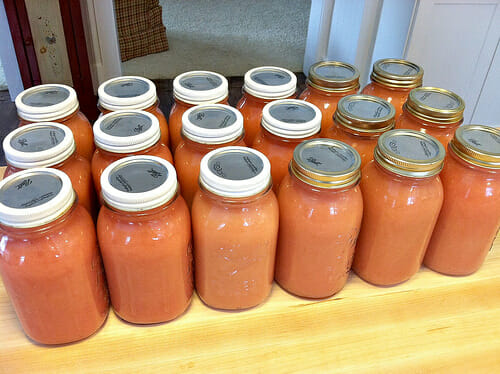 I don't do nearly as much canning as I did when we were first married, probably because I don't have a huge garden like I used to either. However, EVERY SINGLE TIME I mention something about canning or if someone sees a jar of home-canned produce in my fridge, I always hear comments like "I don't know how you make time for that…"
And for me, the trick to making time for canning (something I actually do enjoy and something my family LOVES eating) is to save as much as I can until the winter months.
That way, I don't feel like I'm "stuck inside" when the weather is nice and the kids want to play outside. And I don't feel like I'm "wasting daylight hours" because it's currently completely dark by 6:30pm.
Canning in the winter has worked wonderfully for me for so many reasons — and since I've never actually written a post about WHEN I can, I figured it might be useful for some of you who would like to get started canning but just don't have the time in the spring, summer, and fall when you'd rather be outside enjoying the nice weather, going on vacation, or any number of other activities we can't do in the winter.
And for the record, you don't need to buy your fruits and veggies from the farmer's market or a local orchard to make it worth your time and money to can. I've done small batches of microwave jam and my 8-minute microwave applesauce with store bought fresh and frozen produce and had fabulous results — so if you're itching to try a little canning this winter, don't let the lack of farm-fresh produce stop you from trying!
Want More Canning Resources?
Here's a link to ALL the posts I've writing on canning and preserving.
Here's the exact method I use for canning applesauce.
Here's a post that shares my tips to get ready for the canning season (along with the specific tools I use)
Do you can in the winter or am I the only crazy one?