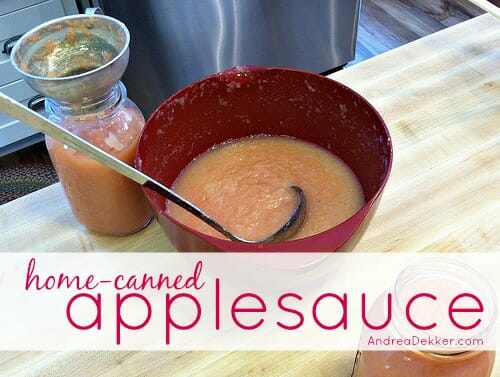 It's the end of October – which, in Michigan, means APPLES!
There is no shortage of orchards to go apple picking or, if you're like me, to drive up and buy a few bushels of already picked apples while leaving the kids in their carseats!
We LOVE eating fresh apples as well as baking with them (this apple cake is one of our favorites!)… and of course, canning quarts upon quarts of deliciously pink applesauce.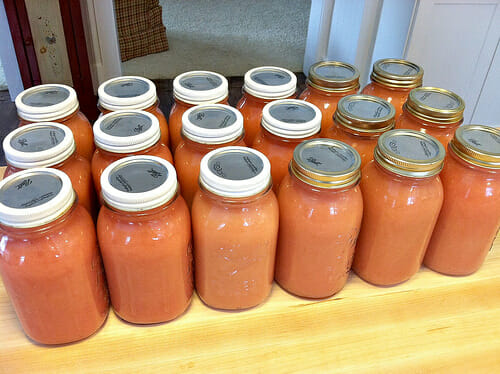 Well, maybe I don't exactly LOVE the entire caning process, but the end results are worth it as we eat applesauce with almost every meal, and it's super convenient baby food!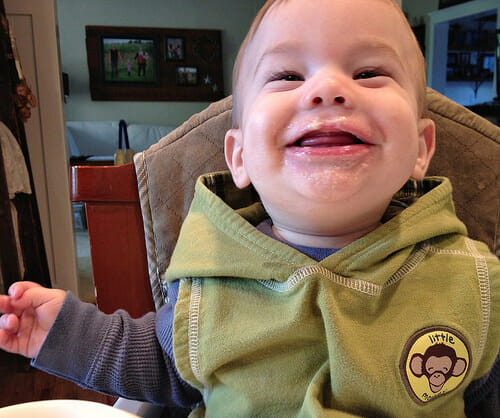 Since it's apple season here in Michigan (and many parts of the country) I've been getting lots of requests for applesauce canning posts and information; and although I'm not an expert, I can say that my mom, my grandma, and I have all been canning applesauce this way for years and years… and years. We've never been disappointed.
.
Almost two years ago, I shared a long tutorial about how I can applesauce — and since I just finished canning applesauce for this year, I thought it was time for a re-post.
What I'm sharing below is mostly reposted from back in 2012 with a few new tips and links thrown in… however, I'm sure you'll notice that Nora looks just a bit younger in these pictures!
I don't know about you, but the whole process of canning applesauce always seems so overwhelming to me… but once I'm finished, I realize that it really only takes a few hours for me to can enough applesauce for almost two years (and we eat A LOT of applesauce).
Also, I've found that with canning, so much of it is learned through experience and "hands-on" training. So while I can't give you a hands-on experience via my blog, I hope that the step-by-step photos and instructions below will at least be a good guide to help you get started!
Step 1: Buy and wash your apples.
I always get my apples from local orchards — it's usually the most frugal approach to get large quantities of apples, and it's also often the "freshest" option. We buy most of our fruit from Moelker's Orchard.
I almost always buy a variety of apples (the orchard will be able to recommend good "applesauce apples"). I personally prefer red apples to yellow/green apples and my favorite "blend" is Idared, McIntosh, and Empire.
I usually can anywhere from 2 to 3 bushels (about 4-6 large paper grocery bags full). I've found that one bushel of apples gives me almost 20 quarts of applesauce — but this depends on how thick or thin you like your sauce, how big the apples are, how much you cut out of the apples, if you peel the apples before cooking, etc.
.
Step 2: Cut the apples up.
This is for sure the most time-consuming part — it works best if you either do it the night before and have helpers.
You can easily cut up the apples the night before and soak them in saltwater for a few minutes. Once you remove them from the salt water, you can put them in any pan or food storage tub and the flesh should stay white until the next day.
If you process the apples like I do in the food mill (see instructions below) you can leave the skins on — which will save you TONS of time, produce more applesauce, give your applesauce a deliciously sweet flavor, and a fabulous pink/red color.
When you're cutting the apples, the trick is to waste as little of the apple flesh as possible. I cut the apples into quarters, cut out the tiny seed area, and then cut each quarter into 4 -6 chunks.
This is a "sticky" process so I cover my table with an ugly plastic tablecloth.
I usually put one plastic container on my lap for the apple chunks and another container on the table for the "discarded" seeds pile. Again — this part seems overwhelming, but once you get in your groove, it goes quickly (although you'll definitely want to use a good paring knife!)
.
Step 3: Cook the apples.
If you don't have many large stock pots, you might want to borrow a couple. I often have 3 or 4 large pots cooking at one time to help the process go faster.
Simply fill the pans to the top with chopped apples, add a cup or two of water (not exact at all — just to keep the apples from burning to the bottom), and boil until VERY soft. I stir the pans every few minutes and scrape the bottom so the apples don't burn.
Depending on your stove, your pans, how full your pans are, and how big your apple chunks are, the cooking process could take anywhere from 15-30 minutes.
.
Step 4: Pour cooked apples into a large food mill.
As I mentioned above, you'll save yourself LOADS of time and get more applesauce by not peeling your apples before you cook them; but if you leave the peels on, you'll need to run the cooked apples through a food mill to separate the peels.
My grandma actually just gave me her food mill to keep since I'm basically the only grandchild that does any canning and she decided she's too old to can much anymore 🙂
The food mill makes canning applesauce so much easier and faster — it's definitely worth the $40 – $50 if you can applesauce each year (although I know my Grandma found hers at a garage sale for $5!)
As you can see by the picture, the food mill simply clips onto the edge of a counter or table. Then, when the apples are cooked, you pour the entire pot directly into the top of the food mill…
Then start cranking the handle and pressing down on the apples. The sauce will start coming out the bottom and the peels will be "discarded" out the side.
I always run the discarded peels through the food mill once or twice just so I don't waste anything!
Doesn't it look SOOOOO delicious!
.
Step 5: Add water and/or sugar to the sauce.
After I run the apples through the food mill, I dump the sauce into a large bowl and add more water if it looks too thick — this makes it easier to pour out of the jar and also helps to "stretch" the quantity a bit.
You may also add sugar at this point — however I don't think I've ever added any sugar to my sauce because the apples are sweet enough on their own.
.
Step 6: Ladle applesauce into clean jars.
I always use quart jars because we go through applesauce very quickly; however, if you're worried you won't eat it fast enough, you could use pint jars instead.
I use one of these handy canning funnels specifically design for canning jars. They make the process so much easier — and much less messy!
Just make sure all your jars are very clean (I run my through the dishwasher the day before) so no germs or bacteria gets inside the jars.
.
Step 7: Put lids and rings on each jar.
Once the jars are filled with applesauce (leaving about 1/4″ of headspace at the top of the jar) it's time to put a canning lid on each jar and then secure the canning lid with a ring (make sure you have the appropriate size lids and rings for your jars — they come in both regular and wide mouth).
Follow the directions on the boxes of lids as you'll need to boil the lids for a few minutes before topping each jar to soften the seal.
Once the rings are screwed on as tightly as you can by hand, you're ready to process the jars — although you don't necessarily need to to this immediately.
I usually take some time to clean up the kitchen and get things put away before processing the jars (they can easily sit out on the counter for 24 hours or more).
.
Step 8: Process the jars in a hot-water bath.
This is the easy part… but it still takes a while.
With applesauce and other non-acidic foods, there is no need for fancy (and expensive) pressure cookers. A simple hot-water bath canner like mine will do the job at a fraction of the price.
A canner holds 7 jars (I only have 6 jars in the picture above, but you can put another jar in the middle hole) so unless you have access to multiple canners, you can only process 7 jars at a time.
I usually like to have 2 canners going at the same time — especially now that I have a bigger, more powerful stove. However, you can easily manage with one canner.
Once the jars are covered with water (just barely covered otherwise it will boil over). Put the lid on and turn the burner on high. It will take a while for the water to come to a full rolling boil, but once it does, set your timer for 20 minutes.
After the jars boil for 20 minutes, turn the burner off, remove the lid, and CAREFULLY remove the jars from the canner onto towels to dry and cool.
Let the jars sit for 24 hours and then make sure they've all sealed (they've sealed if you can't press down on the middle "bubble" on the lids).
.
Step 9: Wash and store the canned applesauce.
If the jars all sealed properly, you can then remove the rings (after they sit or 24 hours), wash the jars to remove any sticky residue, and store them in a cool place.
The applesauce should last for a few years if properly sealed and stored (we keep ours on shelves in the basement)
If one or two of the jars don't seal, you can just stick them in the freezer (they will last several months) or in the fridge (if you can eat it within a few weeks).
DONE!
That's the whole process — and while I know it might seem overwhelming, it only took me 5 hours to do about 40 jars from start to finish. I did have my mom helping me for almost 3 hours, and Dave was home to watch the kids, but I promise, it's not as bad as you might think.
Plus, if you've ever tasted homemade applesauce before, you'll agree that it's worth a little extra work 🙂
.
If you're still not sure you can handle canning, just start small. Do 5 pounds of apples — which should probably make 2 or 3 quart jars of sauce. If you like it, do more. If you hate it, you won't have wasted much.
And if you don't have time to can applesauce right now, don't worry… you can usually get apples from the orchard until January or February, so you could save this project until winter (which is what I usually do).
Finally, if you don't have any canning supplies, consider trying my 8-Minute Microwave Applesauce recipe.
What are your favorite ways to use up apples?