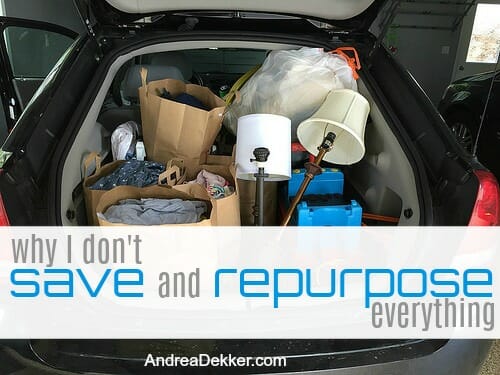 Several years ago, back when I worked as a professional organizer, I organized for a woman who saved every single tiny scrap of everything… because there was always another use for it.
One of the times I organized for her, I spent over an hour peeling the paper off broken crayons, recycling the tiny paper scraps and sorting the crayons into plastic bags by color — all so she could donate them to a local art teacher who hadn't even requested the crayons.
I questioned her several times throughout the process, hoping she would see how ridiculous it was for her to "waste" her money paying me to do something totally unnecessary. We could have tossed the broken crayons in 5 seconds and moved on to something much more important (her entire house eventually needed my help).
As I drove home from that appointment, I promised myself I would NEVER EVER let myself be so obsessed with saving, reusing, repurposing, or recycling that I wasted other valuable resources like time, money, and energy.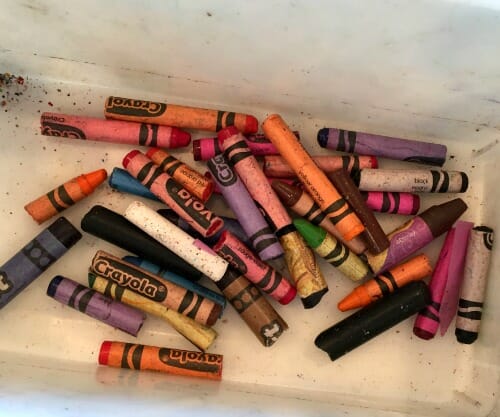 I know Dave and I could do a better job of recycling more, wasting less, reusing more, and disposing less — but sometimes, I just have to choose space and sanity over saving the planet.
I realize this might sound somewhat egotistical and self-centered, but there is only so much time and energy I can put into recycling and reusing on a daily basis.
Honestly, every single week I am inundated with opportunities to recycle, repurpose, reuse, etc. — and that's all fine and wonderful, except for the fact that it all requires quite a bit of extra effort on my part (and a whole lot of extra space to sort and save it all in my home!)
Nora's school collects Box Tops, soup labels, and a long list of other supplies.
Our church, Dave's school, and Nora's school all ask for "paper donations" for their Paper Gator.
The local high school is collecting scrap metal.
Our neighbor's church is collecting a specific list of used baby items.
Our church collected scraps of fabric for the GEMS program (but they all needed to be precut to specified sizes).
Our friend is requesting used egg cartons for a VBS project for her church.
Our other neighbor's mother-in-law is asking for old pickle jars (which I actually do save to can my own pickles in).
A local organization is asking for gently used shoes and coats for their foster care ministry.
Most art teachers will take old men's t-shirts for smocks and broken crayons (but prefer the papers be ripped off first).
A local hospital is asking for extra yarn to give to the ladies who knit newborn hats.
A local retirement home takes old greeting cards and fabric scraps for various craft projects.
My neighbor will sometimes use Nora's too-small clothes for her daughter.
I have a cousin who would probably take James' too-small clothing if I wanted to drive it out to her.
There's a local organization that takes old pill bottles (I have no idea what they do with them).
There are places to recycle batteries, broken technology items, and certain types of hazardous waste.
There are organizations that make rags out of tattered clothing that's too junky to donate.
Our library takes new and used books.
The list goes on and on and on — and these are just the examples I thought of in about 3 minutes.
THEN, there's the glorious world of Pinterest where we can literally find a way to reuse, repurpose, and recycle everything… in really cute and creative ways.
It's enough to make a person save everything all the time.
Although I'm far from a recycling goddess, I definitely DO think all of these opportunities and organizations are wonderful. I'm so glad there are people and places who are passionate enough about recycling and reusing specific materials to help save our planet and our environment.
However, I simply cannot (and will not) do all of it!
I will not drive myself crazy trying to save every scrap of fabric and yarn, every greeting card, every piece of paper that comes through my door, every box top or soup label, every battery, every egg carton, or every dried up marker and broken crayon.
I will not feel bad tossing socks with holes because (in my opinion) kids' socks are too small to do anything useful with and Dave's dress socks aren't cotton so there isn't much of a use for them either.
I will not feel guilty if I choose to drop all of our too-small clothing off at one single donation center instead of spending enormous amounts of time and energy dividing it up for various neighbors, relatives, and specific organizations that only want certain sizes or items of clothing.
I will not save piles and piles of unneeded, unused, unwanted, unloved things "just in case" there could be a cool or useful way to repurpose them in the future.
.
Again, I completely understand that not everyone shares my unenthusiastic views of recycling everything all the time — but I do think that with all things in life there has to be a "happy medium" and a whole lot of moderation.
Without moderation, our homes and our spaces can quickly and easily turn into holding grounds for all the things we worry we might need someday, all the things we could potentially reuse in the future, all the things we could technically give to so-and-so the next time we see them, and all the things some other person or organization could possibly use for something at some point.
If we try hard enough and spend enough time and energy, I'm almost certain we could figure out a way to reuse and repurpose everything — but is that really how we want to live our lives?
Yes, saving the planet is a great goal; yes, we need to consider future generations; yes, we all need to do our parts; BUT we also need to consider how we are using our other resources as well. I honestly don't think we're being great stewards if we regularly waste large amounts of time, energy, space, and money in an effort to reuse, recycle, and repurpose every single thing that comes through our doors.
My "Happy Medium"
As I mentioned above, when it comes to recycling, I know Dave and I could do more — but at this point in our lives, there are lots of other ways we choose to spend our time and energy.
That said, there are several ways we repurpose, recycle, and reuse… in ways that fit our current lifestyle.
We bring our paper recycling away to whatever Paper Gator is the most convenient when we fill one paper bag with paper.
I have a small tin in the kitchen that I use to save box tops for Nora's school. When it's full, I put them in a baggie and send them to school with her.
We buy almost everything we possibly can used and secondhand.
We cut old t-shirts into rags.
We use old rags (and sometimes Dave's old socks) to do really gross cleaning jobs and then toss them.
We donate any baby items we have to the baby pantry at our church (they request different things each month and if we have extras, we donate them).
If I come across something I know our neighbor would like for her daughter, I put it in a small bag in the laundry room and drop it off ASAP.
We bring old technology items to a local organization when they have their free drop off days.
We use cloth napkins 98% of the time.
We use old milk jugs to water plants and old OJ containers and toilet paper rolls for craft projects.
I'm sure there are actually a lot more things we do, but these are the ones I thought of right away.
The point is that we make SOME effort to save and repurpose items we no longer want or need — but we don't go crazy trying to save everything or find the perfect new owner for all our castoffs.
In the years I spent working with my many in-home organizing clients, I can say (without a doubt) that physically removing the unneeded items from their homes was the hardest part of the entire process.
The clients were excited to weed through their things with me. They were eager to purge. They were overjoyed when they realized how much more space they had. BUT, they almost always struggled to take the final step and completely remove their purged items from their home.
Often, the items sat in their basement for a bit, then moved to the garage, then to the trunk of their car… before they realized they could actually use _______, so they pulled that item back out. Then the neighbor asked to borrow _________, which was also in their trunk ready to be donated, so they gave it to their neighbor. Then they reasoned it was probably a good thing they didn't donate their boxes yet since so many other people could potentially use their things.
So out the boxes came; often, they sat there for months and month and months. SO FRUSTRATING!
I always offered to take all the donated items away for my clients (and mail them a tax form if they wanted it) but so few people ever took me up on that offer. They had such a hard time parting with their things. It was actually kind of sad in my opinion.
My clients spent the money and did the work… but just couldn't take the final step, and there really wasn't anything I could do to "force" them to remove the items from their home. Once, I even offered to discount the client's services if she let me take her boxes to the donation place, but she still wouldn't budge!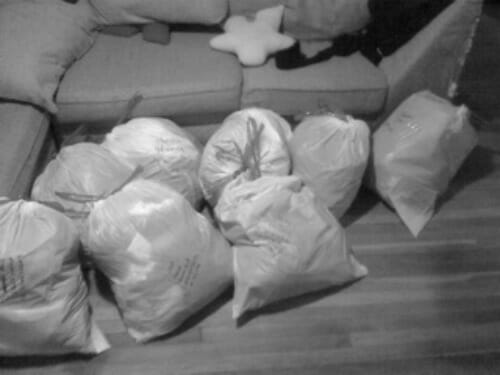 My Plea for You!
Do you feel like your home is packed full of things you hope to sell on specific websites, give to specific people or organizations, bring to specific donation centers or recycling facilities, or just things you are saving because you might have a chance to use them again someday?
If so, I'm begging you to gather all of that stuff up, put it in the trunk of your car, and either deliver it to all those different people, places, and organizations within the next 48 hours, or simply bring everything to the nearest donation drop off center TODAY.
I know it might be difficult, but I'm almost positive you will feel an instant "lightness" about your home and life — maybe as soon as the drive home!
There is a time and a place for saving, recycling, and repurposing — but there is also a time and a place for simply moving things out of your home as quickly and as efficiently as possible.
With the summer season nearly upon us, I hope this post is the motivation you've been waiting for to finally lighten up your home!