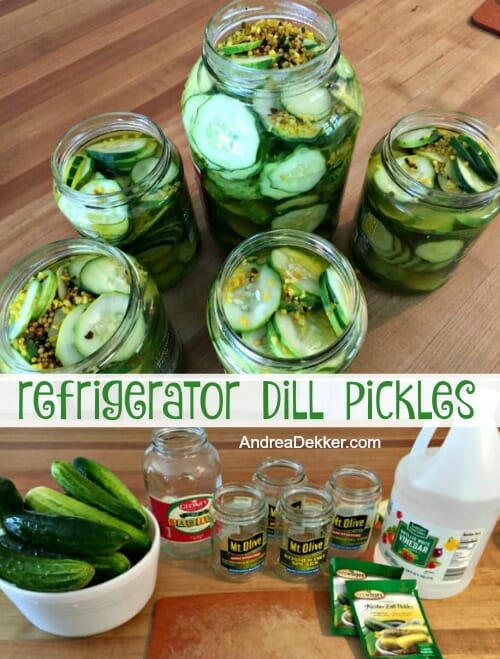 I would consider Dave and myself fairly NON-picky eaters. Of course, we both have our favorite foods, but we will try almost anything… and we like almost everything we try.
That said, neither one of us will eat pickles — any type of pickles.
We don't like the taste, we don't like the smell, we just don't like pickles.
Ironically, dill pickles were one of the very first foods Nora ever ate (at almost 2 years old)! She would eat strawberry yogurt, instant mashed potatoes, and pickles… that's it!
So of course, I fed her pickles!
(In case you're wondering how we ever figured out she liked pickles… it's because my dad jokingly let her suck on a pickle at Culver's. We were all beyond shocked when she actually kept it in her mouth and swallowed it!)
Since then, all 3 of our older kids have been obsessed with dill pickles — they will eat them with almost any meal I allow, and Nora frequently requests them as "dessert". Crazy girl!
A few years ago, once I realized how many pickles we went through every year, I decided to try pickling my own garden-grown cucumbers… and to my surprise, the process was SOOOOOOOOOO simple!
I've been making several jars of refrigerator dill pickles every year since, and the kids just love them (I haven't let Clara try pickles yet… we'll wait and see if she joins in on the pickling craze too!)
The one super nice thing about refrigerator pickles is that you don't need any traditional canning equipment and you can make as big or as small of a batch as you'd like (you could literally just try one jar if you want).
Of course, the one down-side to making refrigerator pickles is that you'll need extra space in your refrigerator to store them (they last 6-8 months). Thankfully, we have an extra full-size refrigerator in our outbuilding that we use for our pickles (among other things!)
I'd like to eventually try canning pickles, but for now, these refrigerator dill pickles are so quick and easy to make, and we can easily eat them all up within the 6-8 month time-frame.
If you'd like to try "canning" your own cucumbers, I doubt you'll find an easier recipe to start with!
Recipe for Refrigerator Dill Pickles
INGREDIENTS:
cucumbers
vinegar
water
Clean jars with tight-fitting lids (they do NOT have to be traditional canning jars)
**NOTE: I have no affiliation with Mrs. Wages; this is just the only brand our Meijer sells and it's what I've always used with great success!
DIRECTIONS:
Mix up vinegar, water, and "spice" mixture via the directions on the back of the Mrs. Wages package and bring to a boil.
While vinegar mixture boils, thinly slice cucumbers and pack them into clean jars (I run mine through the dishwasher right before so they are still hot).
Ladle hot vinegar mixture into jars until cucumbers are covered.
Tightly screw lids onto jars.
Let cool at room temperature for several hours.
Refrigerate and eat within 6-8 months.
Yes, that's it!
The whole process takes maybe 20 minutes, and most of that time is spent slicing the cucumbers (I just use a knife).
This time of year, I make a double batch of refrigerator pickles every 3-5 days to keep up with all the cucumbers we have in our garden… I give some of the pickles away, and the kids enjoy the rest until they are gone (they never actually last the full 6-8 months in our fridge!)
I'd love to know… do you love pickles or hate them?
As always, visit my virtual recipe box for more simple, delicious, family friendly recipes!