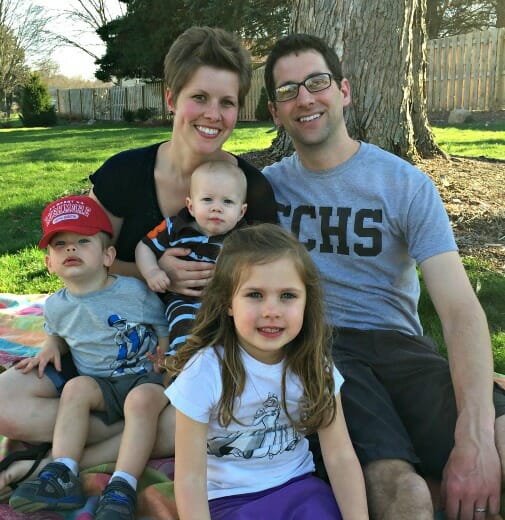 Over the last few years, I've noticed a really annoying trend in newspaper columns, magazine articles, blog posts, and even Facebook rants… all about how 21st century parents are apparently trying too hard, doing too much, making life too easy for our children, getting the raw end of the deal, etc. etc.
Many of the articles (written about parenting in the 60's, 70's, and 80's) make exaggerated statements like (some are paraphrased)
"My mom just drank Tab and locked us outside all day… she never volunteered at school… she didn't entertain us because we entertained ourselves." (source)
"We played outside ALL day while my mom stayed inside talked on the phone…. now days, kids can't play outside unless they are fenced in and have multiple parents watching everything they do." (source)
"We only got 2 gifts at Christmas… my parents didn't care about entertaining us… they never did a single craft with us." (source)
"My mother served as supervisor for the indoor chores… that's why people had kids… we were free labor." (source)
I could list 50 more statements with 50 different sources if I spent the time digging them all up — but I think you get the idea.
Basically (for those of you who don't want to read the full articles), they state that parents today are putting too much effort into parenting.
The articles also subtly imply that it's NOT cool to be the parent who:
…is overly concerned with the safety and wellbeing of their children.
…devotes lots of extra time to their family.
…plans fun activities, crafts, birthday parties, etc. for their kids.
…invests too much time and energy into their children's lives.
…puts their family's needs before their own and makes sacrifices for their children.
.
While I understand the overall thought process behind many of the articles (and I do agree with a few of their points) I'm quickly tiring of the condescending tone, and don't think it's a healthy message for today's parents.
Yes, parenting today is MUCH different than parenting back in the 60's, 70's, and 80's — but LIFE today is also MUCH different than life back in the 60's, 70's, and 80's!
There are good differences and bad differences… pros and cons… but no matter how hard we try, we cannot go back to life in the 60's, 70's, and 80's.
In case you forgot, it's 2016!
If we want to be good parents for our kids in 2016, we can not pretend to live in the 60's, 70's, or 80's in an effort to appease the people who apparently think 21st century parents are overprotective and too focused on our children.
Yes, it's probably true that children of past generations had more freedom and more responsibility BUT that's in large part because parents in the 60's, 70's, 80's (and even the 90's for that matter) didn't have to worry about half the things we have to worry about in 2016.
They didn't have to worry about child trafficking… at the grocery store. (source)
They didn't have to worry about being arrested for letting their 9-year old play at the park by herself. (source)
They didn't have to worry about someone calling Child Protective Services because they left their toddler in a locked car for 5 minutes on a cool day while they picked up their 4 year old from preschool. (source)
They didn't have to worry about someone calling the police if they let their 7 year old walk to the park alone. (source)
They didn't have to worry about having their children taken away because they had a homebirth and didn't take the kids in for a routine checkup even though the children were healthy and thriving. (source)
And don't even get me started on all the cyber-space and technology issues that I haven't had to think too much about yet (but I know those days are coming!)
So you see… we CANNOT parent the same way.
.
Yes, there are always parents who take things to the extreme by planning insane birthday parties, buying over-the-top gifts, planning every minute of their child's life, giving cell phones to their 7 years olds, and doing everything for their children — but I have a feeling those types of "extreme parents" also existed back in the 60's, 70's, and 80's.
In my opinion, the vast majority of 21st century parents are doing a fantastic job navigating the ever-changing, ever-evolving culture, as well as adapting to the constant influx of new technology, new rules and regulations, new safety guidelines, etc. (seriously, these change ALL the time!)
I promise, we love our children just as much as they did in the 60's, 70's, and 80's.
You know, I actually find it humorous that on one side, we are "scolded" for investing too much time and energy into our children's lives, and at the same time, everywhere I go, I have older parents tell me to "cherish every moment, because it goes so fast" and gush about how they wish they could go back and spend more time with their children.
So what is it? Are we doing too much or not enough?
You want to know my opinion?
I think we're doing ENOUGH!
We are doing the best we can with the information and resources we have — and that's all anyone can ask.
We will most likely "fall short" in some areas — at least according to others. However, there's a fairly good chance we will soar in other areas — providing many more opportunities and resources for our children than ever before in the history of time.
In my opinion, the majority of the articles I referenced above are written from a "grass is greener on the other side" perspective… and with rose colored glasses.
They only recall a tiny sliver of what life was like back in the 60's, 70's, and 80's — they leave out lots of details.
While I know some of them are written simply for a reaction, it still bothers me because I know some parents are much more impressionable and "swayed" than I am. Maybe they aren't as confident in their decision making as others, or maybe they're struggling through a rough patch and these articles simply solidify that they must be doing everything wrong.
Obviously, I can't stop people from writing what they want to write, but I CAN share my opinion in hopes of encouraging today's parents.
I promise, you are not completely ruining your children's lives by planning a fun birthday party, giving them a nice gift, spending extra time with them, going above and beyond for them, or raising them differently than your parents raised you.
You're doing just fine!