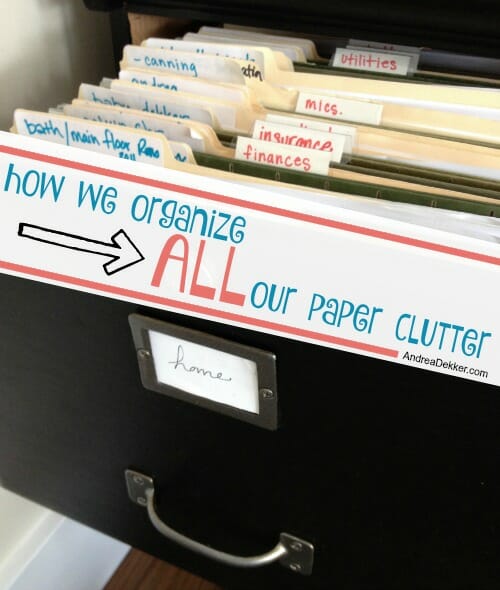 Over the years, I've written dozens of posts about paper organization… and while I can ALWAYS come up with more tips, tricks, and ideas to simplify and organize those dreaded paper piles, I thought I would take the opportunity to summarize many of my paper organizing posts I've already written in attempts to create an "at-a-glance" reference for most of your paper organizing needs.
I figure it's a fitting time of year to talk about paper clutter, considering today is April 15, which means TAX DAY here in the States. Plus, with spring cleaning in full swing, and the end of the school year in sight, I know many of you will be handling lots and lots of papers over the next couple of months.
If you're on a mission to get your paperwork organized, this post is a must-read!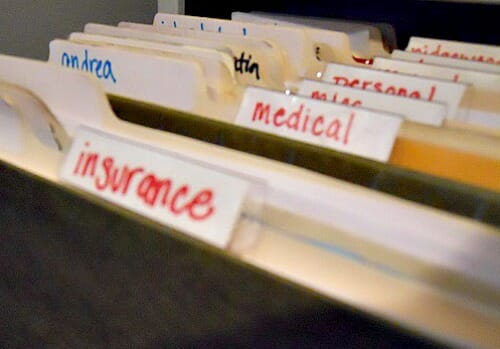 Tax Documents
Since today is Tax Day, I figured I'd start by sharing my SUPER SIMPLE method of organizing our tax documents.
Essentially, I use 2 manilla file folders each year (one for personal taxes, one for my business taxes). I keep these 2 files at the front of my 2-drawer filing cabinet and ANY time I get any sort of tax-related document, it goes directly into those files.
When it's time to file our taxes, I simply verify that all the necessary information is in those 2 files, and drop them off at our accountant. Once I get our taxes back, I change the year on the file folders and re-use them for the next year.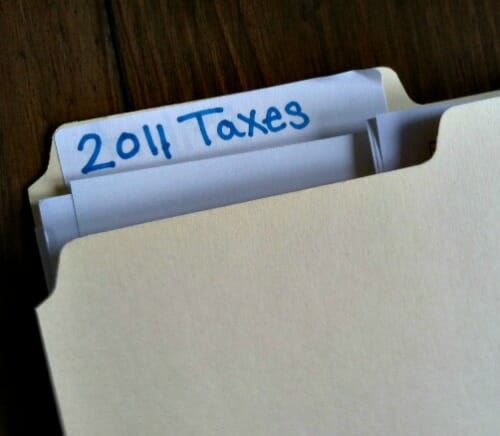 This organizational method has worked marvelously for both our personal taxes and my business taxes — and usually only requires 15 minutes of my time mid-February when I quickly organize the contents of the folder for our accountant.
I rarely ever have to worry about forgetting anything, misplacing anything, or not giving adequate information to our accountants — and if we were filing our own taxes, it would be even more handy to have everything in one convenient location!
You can read more details of how this system works for us in this post.
.
General paperwork
There are hundreds of books and thousands of blog posts on how to organize paper clutter — so there's no way I can sum up everything in one little paragraph.
Instead I'll share a post I wrote specifically about how WE massively pared down our own paper clutter a few years ago.
Also, here's a post that goes into detail about how we set up the files within our filing cabinet.
The biggest issue I see with people NOT keeping their paperwork organized is because it's not convenient. If you need to walk downstairs to a dingy filing cabinet in the back corner of the back bedroom in the basement every time you need to file something, I can guarantee you won't stay on top of your paperwork!
However, if you do a lot of your paper sorting in your kitchen and have a simple filing system in your kitchen (or very close by) it will be significantly easier to stay on top of things.
When it comes to organizing YOUR paperwork, the important thing to realize is that there is no one "right way" to do things. It has to work for you, your family, your lifestyle, your paper needs, etc.
.
Important paperwork
At the end of 2012, I was nearing the due date of my second baby, and I decided it was finally time to get really serious about organizing all our important documents and paperwork "just in case" something ever happened to Dave or to me (or to both of us).
I wanted to make it VERY easy for any of our family members to log into our online accounts, contact the right people to get access to our bank accounts, know where our money was and how to access it in the event of an emergency, etc. etc.
So… I created a "Family Emergency Binder" where I compiled ALL our family's important information into one easy-to-access binder. (NOTE: I have a free printable worksheet you can use to create your own emergency binder)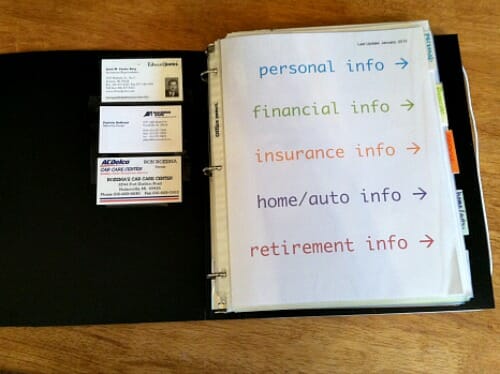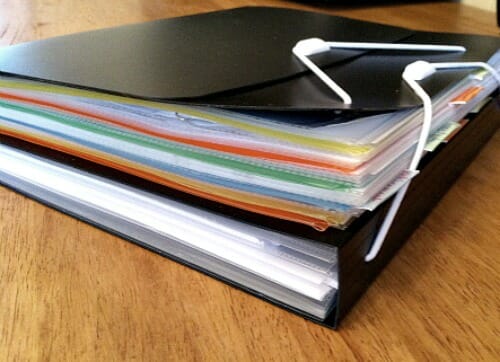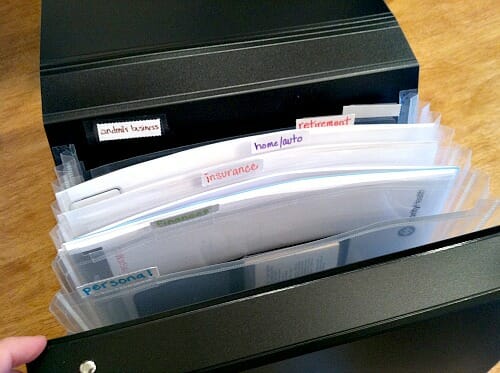 I originally put this binder together thinking it would be helpful for OTHERS who might need to step in and run our finances for a bit in the event of an emergency, but I never realized how extremely helpful it would be for ME on a regular basis.
There have been so many times over the past few years when I've needed a piece of information and knew exactly where to find it. In a matter of seconds I can quickly flip through our binder and get the information I need!
And no, although I'm asked over and over and OVER again, I am NOT worried that someone is going to break into our home and steal this binder.
In my opinion, the likelihood that someone will break into our house and have time to search for this binder (instead of stealing other valuables that are right out in the open) is extremely small! And considering I benefit from our organized binder on a regular basis, that's a risk I'm willing to take.
Plus, since I'm the one who handles all the financial stuff in our house, I have the immense peace of mind knowing that if something ever happened to me, Dave (or another family member) would be able to fairly easily pick up where I left off and have all the information they needed at their fingertips.
You can read more about how I set up our binder in this post (and download a free printable worksheets)!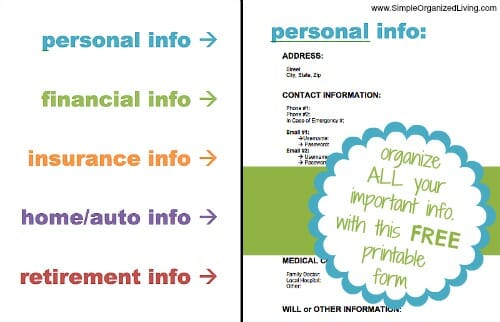 .
Photos
I've written SO many posts about photo storage and organization, but I'll try to do a quick summary here and link to any other posts below!
Dave and I digitized all our photos when we were first married, so now all our childhood photos are digitally stored on a portable hard drive (and on a couple back-up discs). I then used those photos to make digital photo albums for Dave and for me.
Now that our family is growing, I make one "family" album every year, and then individual "child" albums for each child each year.
This system works REALLY well for us right now — and although it was a little bit of work to set up initially, I spend a minimal amount of time dealing with pictures and photo clutter (and we take A LOT of photos!)
Here are several links to all the various posts I've written about how I digitize our photos and how I create my photo albums.
How I originally organized all our paper photos when I was preparing to digitize everything
How I organize our digital photos with Flickr
How I first started creating digital photo albums
How I use templates to greatly reduce the time I spend working on my digital photo albums
Random questions and answers regarding our digital photo albums
One more thing… if you'd love to digitize your photos but just don't have the time, energy, or computer knowledge to do it, you might consider using LegacyBox. We used this service to digitize and preserve many of my parents old photos and VHS tapes and were very impressed with their services.
Here's the post I wrote about that!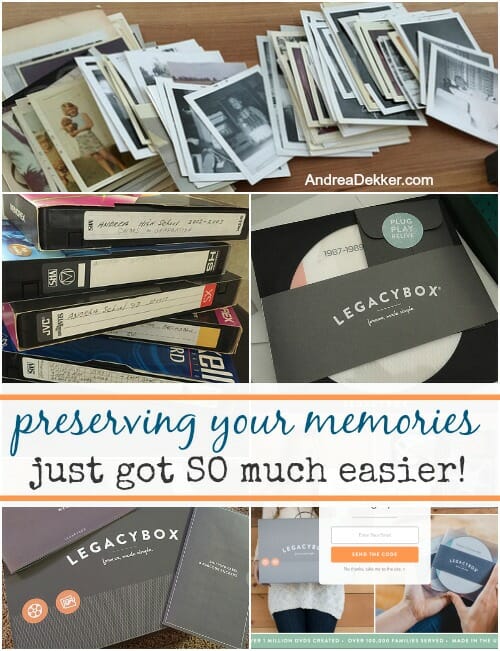 .
A few more paper clutter posts:
Click on the links below to read more about how I organize these various forms of paper (or e-paper) clutter.
Kid's craft papers and supplies
Coupons (I don't use many coupons anymore, but if you do, this system works really well)
Email clutter (how I "zero out" my Inbox almost every day)
E-statements, E-receipts, and other online paperwork
Usernames and Passwords (this includes a free downloadable form you can use to store and organize all your various usernames and passwords)
Medical and insurance paperwork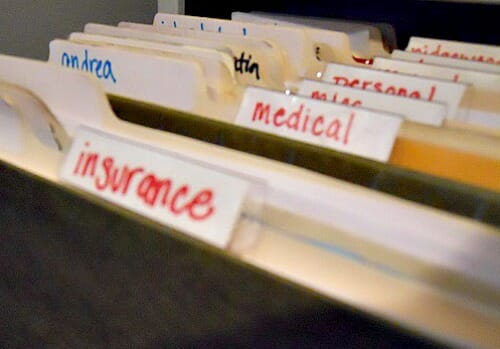 .
Tools We Use:
In general, we don't use many tools to help us organize our paper… but here are a few that have been helpful.
Manilla file folders (I always get the left-tab folders, not the triple-tabbed, because it's easier to find what you need when all the labels are on one side)
Hanging file folders (make sure you get the correct size for your filing cabinet — letter size or legal size!)
Portable hard drive (ours is specifically for Mac computers, but you can easily find similar styles for whatever computer you have)
Duo Binder (for our important paperwork and for craft projects — we have 4 or 5 of these floating around!)
Also, one of my blogging friends, Lisa from Organize 365, published a fabulous eBook all about how to manage your paper clutter. You can read more about that eBook, The Sunday Basket, in this post!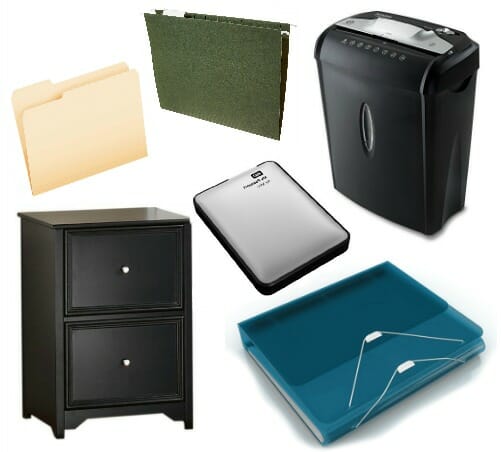 One Last Thought…
I personally know how great it feels to finally sort through all those piles of papers and come up with a workable organizational system. Everything looks so clean and clutter-free, all your papers are either digitized or neatly organized and "in their place", and you're feeling pretty good about everything you accomplished (and rightfully so!)
But then you get the mail, your kids come home with all sorts of paperwork, your newspaper is piled up on top of that, you empty out your wallet with various recipes, you find a special coupon you've been looking for, and your spouse comes home with a pile of papers that they will "get to eventually".
All of a sudden, you're buried under paperwork again… and wasn't it just clean and organized 10 minutes ago?
I've said it before and I'll continue to say it over and over and over again…
Maintenance is CRUCIAL!
As with all things, your perfectly organized system WILL get ruined and messed up if you actually continue living your life.
Although I certainly don't want you to spend every waking moment obsessing about every little piece of paper that comes into your home, I do know that you have to develop some sort of regular maintenance plan to prevent paper from piling up all over again.
This might be spending a few minutes every night (or for sure every week) sorting through the mail, recycling the day-old newspaper, entering important dates into your calendar (and then tossing the paperwork), dealing with your kids school papers, etc. etc.
It will probably also mean doing a mini purge every 6-12 months to stay on top of things.
Even after 10 years of diligently dealing with our papers on a daily and weekly basis, I still do an annual purge every year when I get my tax return back from our accountant. At this point, it only takes me about 15 minutes to weed through our filing cabinet, but I'm always amazed at how many papers I purge every year!
If your plan is to get your paperwork in order once, and then be done with it, you will be sorely disappointed after just a couple of weeks when you realize you still have more work to do!
Please don't get discouraged — this is TOTALLY NORMAL. You just need to get in a routine of regular paper management, and then you'll be able to keep things relatively neat and organized most of the time.
Do you have any other paper organizing tips?