ABOUT
Wife to Dave.
Momma to Nora and Simon.
Lover of all things "white".
List maker.
Meal planner.
Diaper changer.
Farmhouse renovator.
Closet organizer.
Life simplifier.
Welcome to AndreaDekker.com!
Andrea Dekker is a brand, a business, and a blog that focuses on simplifying REAL life for real families with real budgets, real schedules, real homes, and real lives.
If you're looking for Simple Organized Living, you've come to the right place — we've rebranded! (Read more about our rebranding process part 1, part 2, part 3, and part 4)
However, Andrea Dekker is a person too…
Hi Friends!
I'm the simple living enthusiast behind the Andrea Dekker blog, business, and brand — thanks for visiting my little corner of the Internet!
If I could describe myself in one word, I would choose "REAL". 
People who know me a little better might say "blunt" or "candid" — but I prefer "real"

What you see is what you get with me. I don't sugar-coat things, I say it like it is, I present the facts in the simplest way possible, and I don't waste time "beating around the bush". So yes, I might be blunt or candid at times, but I say what I think and I'm always true to my beliefs.
Sometimes this gets me in trouble… but for the most part, I consider it an asset. My friends and family always know they can count on me to give them a REAL, honest answer — even if it might sting a bit and even if it's not what they want to hear.
I try to bring that "realness" to AndreaDekker.com as much as possible. 
My house, my family, and my life are far from perfect, but that's OK — I'll share them with you anyway

It's all here and more.
My hope is that AndreaDekker.com will be a resource to motivate, encourage, and inspire YOU to make positive changes in your home, your family, and your life. So grab a comfy chair and a cup of coffee… I'd love to have you stick around for a while!
.
More about Andrea:
I'm this little girl's favorite person in the whole wide world…
This little dude is one of the happiest little boys I know!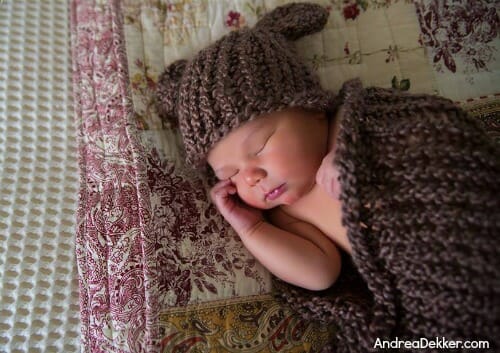 And I'm lucky enough to call their daddy my best friend.
We live in a 120+ year old farmhouse — it's our dream house, and we've been renovating it since the day we moved in.
You can follow our renovations here and here.
Our home was featured in the April, 2013 issue of HGTV magazine (read more here.)
I work full-time from home — writing, speaking, coaching, managing this blog, and working as a Virtual Assistant for other blogs. There are days when it gets pretty stressful and crazy around our house, but at the end of the day, it's 100% worth it. (Read more about what an average work week looks like for me.)
I'm a firm believer that "less is more", and am constantly on the look-out for ways to simplify and organize every aspect of life — the way I manage my time and money, the recipes I make, how I clean and organize our home, and especially in my role as a work-from-home mom, wife, and business person.
Even more about me and my blog:
And if all this isn't enough, here are 10 thing you probably don't know about me.
My passion is simplifying REAL life… thanks for letting me share it with you!