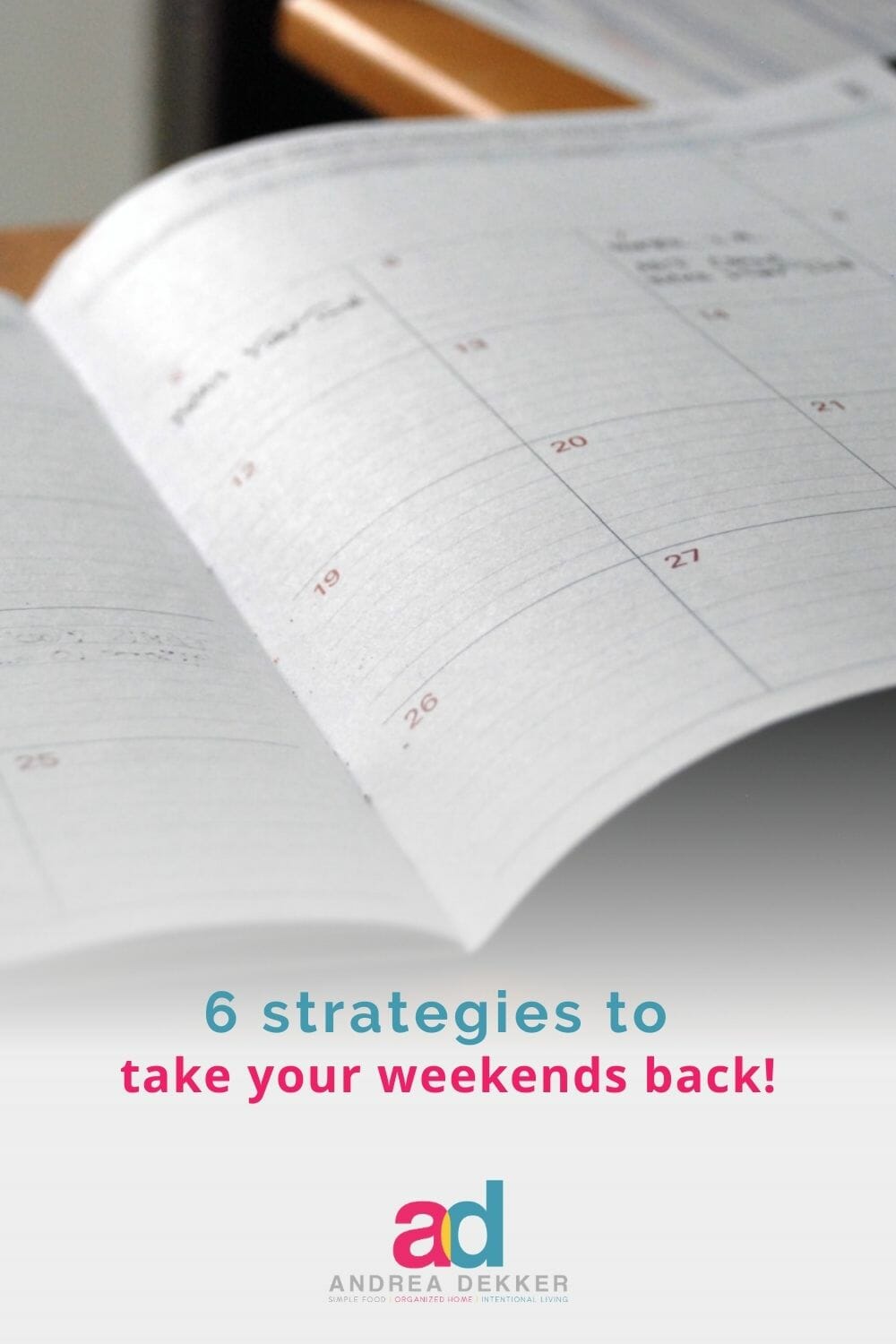 Inside: Weekends shouldn't be jam-packed and chaotic. These 6 strategies will help you enjoy a slower, simpler, more restful weekend (starting this week!)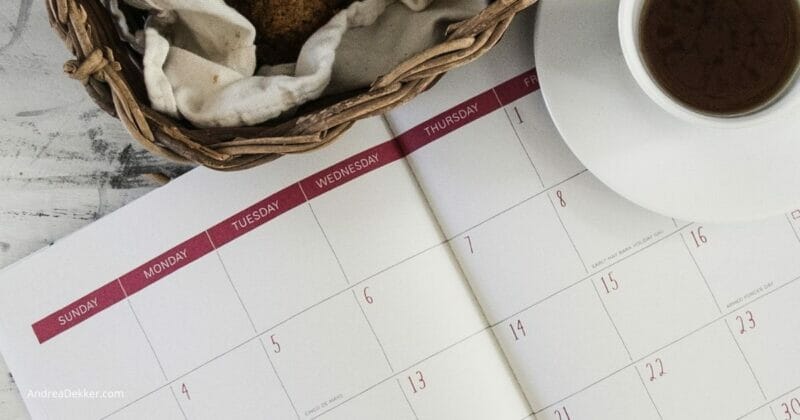 Dave and I regularly joke that we don't go on vacation because it's too much hassle — especially with 4 young children. We literally feel like we need a vacation after our vacation just to regroup and gear up for normal life again.
In the same light, we like to keep our weekends very low-key and free.
Dave's school responsibilities require long hours, late nights, and early mornings Monday through Friday. He usually has a pile of school work to tackle at home every weekend, so in his free time, he prefers to "lay low" as much as possible on Saturdays and Sundays — a request I am more than happy to comply with!
After all, who wants to get to Monday morning, only to feel the need for another day off to "recover" from a busy, stressful, too-full weekend?
Sadly, this is the reality for so many in our busy-obsessed culture… but it doesn't have to be!
We are in control of our time, we can choose how we spend our "free" days each week.
We can take our weekends back… for good!
Before we get too far into today's topic, I must pause and ask you to read with an open mind. I know there are an unlimited number of excuses for why my strategies might not work… but you know what they say about excuses, right?
Excuses make sure our lives stay the same as they were yesterday.

~ Annonymous
Truthfully, what works for me might not work for you, but if you'd like your weekends to feel simpler and rested instead of stressful and rushed… a different approach might be just what you need.
After more than a decade of helping families simplify their homes and lives, and a lifetime of pursuing a simpler life for myself, I'm confident the strategies below are doable for the vast majority of families.
I don't promise it will always be easy or fun, and in many cases, these strategies could take a while to fully implement. But if you want your weekends back, if you crave a little downtime (with family, friends, or alone), if you'd like to feel more rested and refreshed for the week ahead, the strategies below are worth your effort.
Trust me!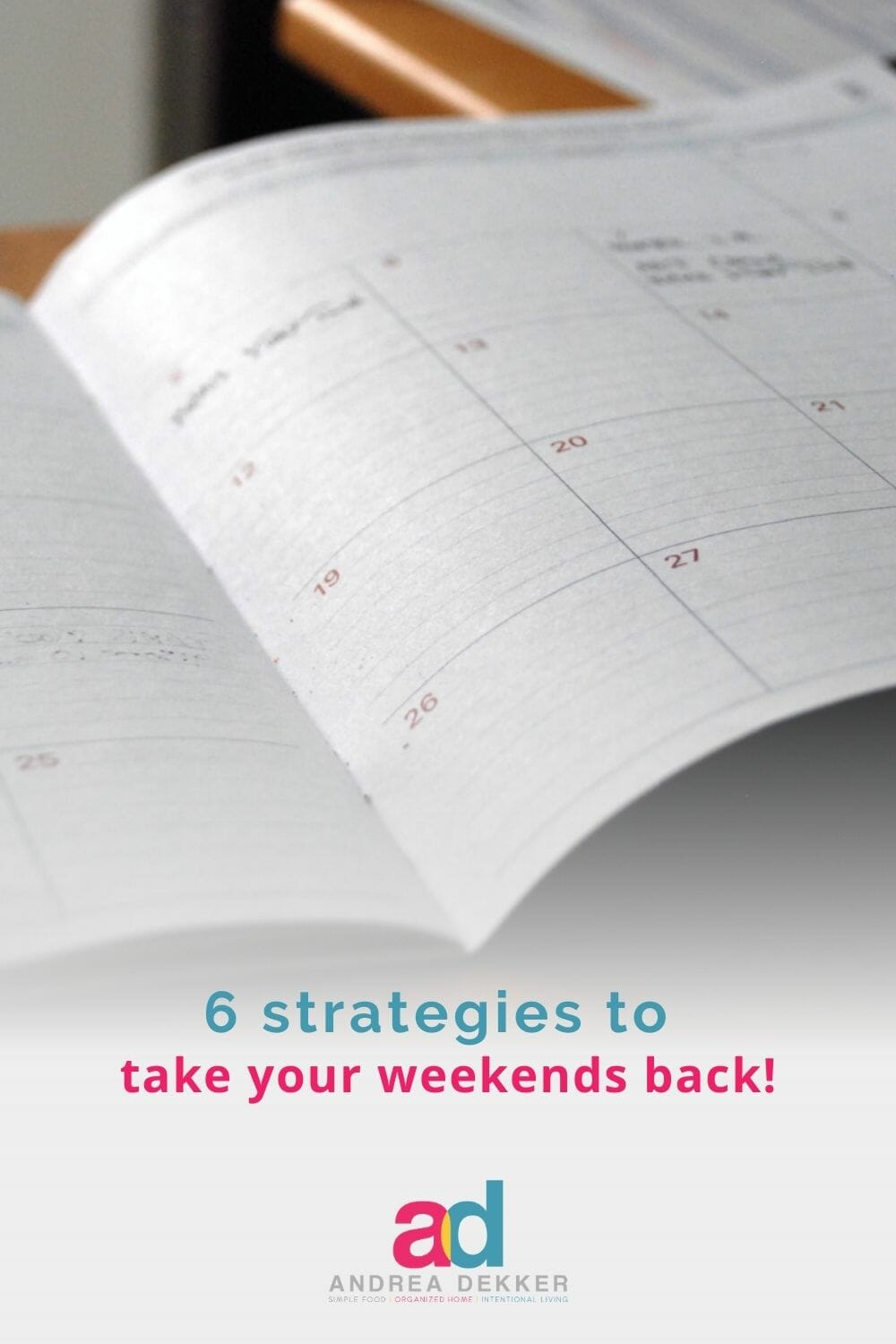 1. Tackle Laundry Before the Weekend
Laundry is one of the TOP complaints I hear about weekend busyness — it seems to magically multiple throughout the week until there's enough dirty clothing to require a full day of laundry each weekend.
Definitely not how I want to spend my Saturdays!
To be fair, I occasionally do throw in a load of laundry on Saturday morning, but for the most part, I do all our laundry on Tuesday mornings and Friday evenings — a routine that has worked wonders for me over the last 5+ years.
I know families with 2 working parents who do one or two loads every evening (Monday through Friday) and take the weekends off.
I have another friend who starts one load every morning before work. She changes it out on her lunch break and puts it away when she gets home.
And many others choose to delegate laundry to their spouse or children throughout the week.
NOTE: I know these ideas might not work perfectly for your specific situation — the point is, there are SO many out-of-the-box ways you can fit laundry into your weekdays and elliminate that mountian of laundry waiting for you on the weekend.
2. Clean After the Weekend
For years and years, my goal was to have the house thoroughly cleaned by the time Dave got home from school on Friday afternoons. I figured this would free up our weekends a bit… and it did.
However, I often felt annoyed by how dirty things got with everyone home all weekend (and various friends, neighbors, or relatives dropping by)… so I'd do a bunch more cleaning on Monday again.
Then I got smart 😉
I now do a fairly thorough full-house clean every Monday morning and don't think about cleaning all that much during the week (or over the weekend).
I do quick touch-ups in the bathrooms and kitchen throughout the week (as needed) and I always wipe down the toilets and sinks if we have company on the weekends. Other than that, my "save the cleaning for Monday" routine has made for a much more relaxing weekend.
As an added bonus, I enjoy a clean house ALL DAY Monday since Clara is the only one home with me and she's not overly messy on her own!
NOTE: if you are home with many young children, this system might not be as effective for you, but I'm confident there are plenty of options to reduce the amount of time you spend cleaning on the weekends (like tackling one cleaning task each weekday).
3. Prep and Plan Your Menu
It's a popular trend to spend the weekend prepping food for the week… but since I don't want to be stuck in the kitchen all weekend, I actually take the exact opposite approach!
Although I do enjoy cooking (most of the time) I've found that cooking throughout the week is much more enjoyable when I get a break on the weekends.
Of course, I can't totally close the kitchen (we still need to eat) but I can plan ahead in an effort to cut back on my time in the kitchen without resorting to fast food all weekend.
Breakfast Leftovers:
Almost every Friday morning, I make a big batch of waffles, sausage, bacon, and sometimes muffins or a quiche. We then reheat these foods for breakfast on Saturday and Sunday (with the addition of fresh fruit, yogurt, and eggs).
This means I can still serve hot breakfasts every morning with very little effort — in fact, Dave usually takes over one of the mornings which is such treat for me.
Dinner Leftovers:
This same concept can be applied to other meals throughout the week as well.
We often "save up" leftovers for the weekend, letting everyone pick and choose their favorites and re-working various ingredients for a "new meal" with very little effort or mess.
NOTE: if you normally eat leftovers for lunch, consider packing a sandwich instead and saving your leftovers for the weekend. It might not work, but it's worth a try!
Plan for a Meal Out:
It's not unusual for us to swing through Culvers, order a pizza, or make a frozen pizza for one of our weekend meals, but these outings are planned in advance (not a last-minute thought when I'm too exhausted to cook).
Dave and I have never been big on "date nights" but if that's something you enjoy, I encourage you to stick with it and save the leftovers for your kiddos!
Whatever you choose, I'm confident a little time away from the kitchen will leave you more refreshed and ready to embrace another week of "we're hungry" and "what's for dinner" requests!
4. Use a Weekly To-Do List to
A few weeks ago, I shared how I improve my efficiency and productivity with weekly to-do lists. Since then, SO many of you have shared your weekly to-do list success stories with me!
YAY 🥳
It's true, utilizing a weekly to-do list is one of my top tips to tackle so many of those nagging "to-do-someday" tasks that often fill up our weekends because we didn't make time to do them during the week.
Some weekend projects and errands are inevitable (or maybe you're the type who actually enjoys running errands on the weekend) but if you prefer to stay home on the weekends, a weekly to-do list might be your solution!
5. Edit Your Weekend Activities
We are at the stage in life where the vast majority of our friends, neighbors, relatives, etc. spend countless precious weekend hours driving their children to and from various sporting events and school, church, or community activities.
We see them as they come and go, in and out of their driveways all day Saturday (often on Sundays too). We see their pictures on social media with captions like "another whirlwind weekend with 3 soccer games, 2 football games, a youth group party, and an all-day school tennis tournament."
Friends, I know we're told this busy weekend lifestyle is "normal" but I'm here to tell you there are other options!
Dave and I have very intentionally chosen to keep our weekends (and our evenings) free from almost all outside events and activities — especially activities that pull our family in opposite directions. (No, this was/is not easy, but we feel it's worth it).
We still participate in church events, we still hang out with friends and family, we still have lots of fun on the weekends… but it's on our own terms and it's almost always a family affair.
In many ways, our current society has created a culture that revolves around the "Fear Of Missing Out". As parents, we are lead to believe that our children will somehow "miss out" on valuable opportunities if they aren't involved in multiple sport, music, art, and community programs.
I realize there are many benefits to learning and experiencing a wide range of activities… but based on my own extensive experience with extra-curricular activities, I'm not convinced our children's lives will be worse off by not participating in every single opportunity that comes their way.
An added bonus: Fewer weekend games and activities mean fewer mid-week practices and meetings — which means more time available during the week to eat together as a family, pick away at meal prep, cleaning, & laundry, and get to bed on time (so mornings are less rushed).
It's all a cycle that ends with feeling rested and relaxed or rushed and resentful.
YOU get to choose.
I could fill pages with my thoughts on this topic… but for now, I simply encourage you to scale back a bit.
If your weekends feel frazzled, rushed, and chaotic, rework your schedule so you aren't gone as much… or if you are gone, make sure it's for an activity your entire family can participate in (not just sitting on the sidelines watching one child).
NOTE: This might be a totally new thought process for you… chances are, it will take a while to implement as you won't necessarily want to drop out of something mid-season. Just keep your goals and values in mind and continue making progress.
6. Make a Weekend Bucket List
I know from experience how easy it can be to squander our weekend hours away without much to show for them (fun, work, or otherwise).
Dave and I try to create some sort of "weekend bucket list" on Fridays so we're both on the same page throughout the weekend.
Our lists include things like:
haircuts for the boys
visit the library
movie night on Friday (a newish tradition our family really enjoys)
dinner with relatives on Sunday
clean out the garage
go for a bike ride
leaves (a perpetual weekend project from October through December!)
make cookies
disassemble and move the swingset
have a fire with s' mores
specific school projects for Dave and blog projects for me
We currently have many outdoor projects on our weekend list… soon we'll have more holiday parties and activities on our list.
The point is: we are intentional about how we spend our weekend hours.
As a result, we go to bed most Sunday evenings feeling rested and refreshed — ready for our 4 am alarm and for another productive week ahead.
Your Next Steps…
I realize the thought of implementing all 6 strategies might sound overwhelming… my solution is to "start small".
Choose ONE strategy and test it out for a few weeks to see if it works for you (tweaking as necessary). Then add another strategy.
Any of these strategies will make a difference in the feel and flow of your weekend — and implementing one is always better than feeling overwhelmed and not implementing any.
Don't let yourself get discouraged and don't let your friends or family members "rain on your parade". Just keep pushing forward… it will be worth it!
Start small and start today… you might be surprised where you find yourself in a few months!
---
Additional Reading
I highly recommend each of these books if you're feeling that tug to slow down — look for them at your local library!
---
It's time to take your weekends back… for good!
If a simpler home and life is something you value, you won't regret the sacrifices you make now to create that reality for your family for years to come.
---
I'd love to know… is there anything specific you do (big or small) to enjoy simpler, slower, more relaxing weekends? Share in the comments below!