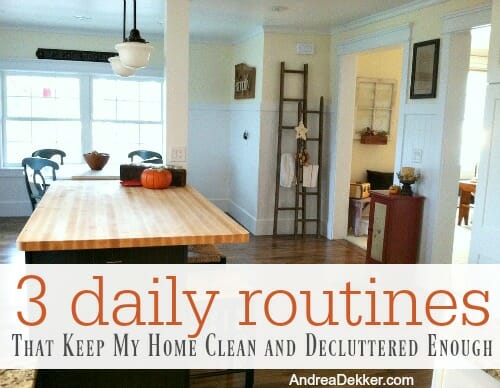 Since my kids and I are in our home for the vast majority of our days, it's important to me for things inside our home to be relatively neat, clean, organized, and decluttered.
This does NOT mean my kids can't make a mess playing with their toys, pulling all the books off the shelf to find the one they wanted, or getting out mountains of art supplies to complete a certain craft project.
It also does NOT mean I spend all day cleaning, picking up, decluttering, wiping, etc. (although, I'll be honest… there have been days when I feel like this is all I do!)
If I really had to estimate how much time I spend keeping my home clean and organized enough for my family and I to feel comfortable and happy living here, it would be fairly minimal.
In fact, the more I've thought about this over the past few years, the more I realized I basically utilize 3 simple daily routines to manage the inside of my home.
1. Morning Routine:
make the beds
open the curtains
put away any clean dishes or folded laundry from the night before
make and clean up breakfast
do at least one "household chore"*** (start a load of laundry, clean a bathroom, sweep the floors, vacuum, etc.)
***The boys take a while to eat breakfast (they chat and giggle with each other — it's very cute!), so I usually pick one household chore to do every morning while they finish breakfast, as Clara is usually still sleeping.
2. Afternoon Routine:
make and clean up lunch
prepare as much of our dinner as I can ahead of time (I do this while the boys finish their lunch)
do a whole-house pick-up around 3:00 before Dave and Nora get home from school
3. Evening Routine:
make and clean up dinner
run the dishwasher (I run it every night right after dinner, even if it's not completely full)
do a whole-house pick-up before baths
do one more household chore (I do this while Dave is giving the boys a bath and Nora is in the shower. Clara just watches me!)
clean out dishwasher and wash dishes when necessary
fold laundry when necessary
make my to-do list for the next day (including what household chores I will try to tackle in the morning and evening)
.
That's it!
Of course, there are days or weeks when I do more deep cleaning or a post-vacation laundry marathon… but for the most part, these 3 daily routines allow me to keep our house clean enough, organized enough, decluttered enough, and simplified enough for me to feel comfortable living here.
Thinking through these routines has also helped me to realize how little time it actually takes for me to keep our home clean and organized enough — it's just a few minutes here and a few minutes there. I don't have to spend hours and hours to keep our home neat and clean… so I don't need to make silly excuses like "I don't have the time"!
If you'd like to get your home a bit neater, cleaner, or more organized, I'd suggest thinking through your day and setting up a few quick routines throughout the day (at convenient times for you).
Do your kids sleep in later than you or go to be earlier? Can you work something in during those times?
Do your kids get on the bus before you leave for work? If so, challenge yourself to do one thing before work every day.
Is there a time that works for you (and your kids) do to a full-house pick-up each day?
When you really take the time to think through this, you might be surprised how much margin time you might find each day — and how easily you can work a few home management tasks into those pockets of margin time.
What are some of your daily home routines?