INSIDE: Do you struggle to stay on top of messes and clutter in your home? If so, learn how to utilize routines to get your home clean & decluttered in less time!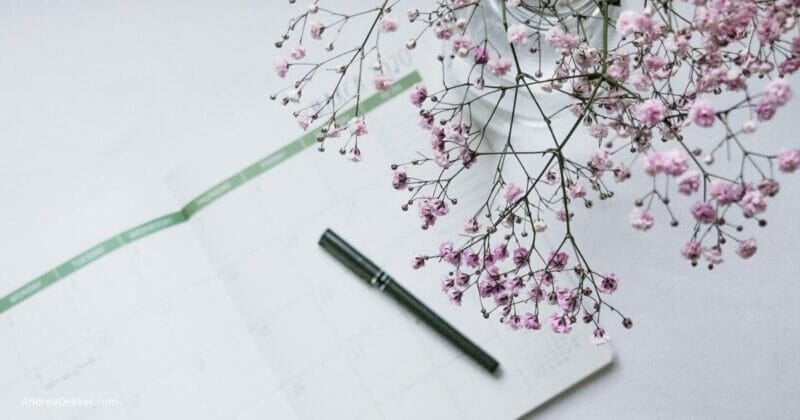 After weeks of being home nearly all day every day, I'm reminded how quickly our home becomes messy, cluttered, and disorganized… IF we're not intentional about staying on top of it all.
Of course, this doesn't mean my kids can't make messes, play with their toys, pull 47 books off the shelf to find the exact one they want, or get out mountains of art supplies to complete a certain craft project.
And I certainly don't spend all day cleaning, picking up, decluttering, wiping, etc. Although, I'll be honest… there have been days when I feel like this is all I do. 😂
Yes, it's important to me that our home is relatively neat, clean, organized, and decluttered — but not at the expense of my sanity.
Not at the expense of barking at my children to pick up all. day. long.
And certainly not at the expense of living an enjoyable and fulfilling life.
My goal when keeping our home neat and decluttered is to spend as little time and energy as possible while maximizing the results.
I do this is through routines!
Different than strict "schedules" that dictate specific time periods and orders, routines are much more forgiving.
A routine is simply "a sequence of actions regularly followed".
Our family currently utilizes 3 daily routines to keep our home clean and decluttered enough.
Outside of these 3 daily routines, we spend very little time on housework.
Let's take a look at these amazing routines that help us simplify home management on a daily basis!
#1. The Morning Routine:
make beds (the kids do this)
open curtains
get fully ready for the day
do a load of laundry or put away laundry from the night before (more laundry tips and our routine)
make and clean up breakfast
plan/prep for dinner
do at least one household chore from my to-do list (start a load of laundry, clean a bathroom, sweep floors, vacuum, etc.)
NOTE: Dave and I wake up quite early, so we get ready and tackle several of our personal to-dos before our children wake up. The list above is what we do after the kids are awake.
#2. The Afternoon Routine:
do a quick pick-up and clear the table of any craft projects before lunch
make and clean up lunch
prepare as much of our dinner as I can ahead of time
do one household chore (it's often something outside during Summer months)
NOTE: As our children get older, it's much easier for me to accomplish more throughout the day. But back when I had 4 children 5 and under, these post-meal time periods were the best (sometimes the only) times during the day when I could squeeze in a quick household task or another to-do.
#3. The Evening Routine:
clean the kitchen after dinner
run the dishwasher (we run it every night even if it's not completely full)
prep breakfast and pack lunches for the next day
feed my sourdough starter
do a full-house pick-up before baths (everyone helps)
do one or two more household chore (I do this while Dave is monitoring the bath/shower process)
clean out dishwasher (and wash dishes if necessary)
swap out all bathroom and kitchen linens and wipe down the germiest areas in our home.
make my to-do list for the next day
NOTE: After 14 years of studying simple living practices and applying them to my own life, I'm confident a solid evening routine is one of the best ways to set yourself up for a successful and fulfilling day ahead (read more about our evening routine).
Of course, there are weeks when I do more deep cleaning or a post-vacation laundry marathon… but day in and day out, these 3 routines keep our home clean enough, organized enough, decluttered enough, and simplified enough that we feel comfortable living here.
And isn't that the goal?
That our homes feel clean and organized enough.
Not for our friends or our neighbors or our mothers… but for us.
The beauty of routines is that they are usually fairly easy to adapt to your own needs.
And, once you find a routine that works well for your life, family, and schedule, you can "rinse and repeat" over and over and over again until it becomes a habit you do without even thinking about it.
For example, Dave and I go through the motions washing dishes and emptying the dishwasher every night without thinking much about it. Similarly, our children make their beds, open their curtains, and get ready for the day without reminders.
These are the habits we've adopted from the routines we intentionally created.
As a result, these tasks feel effortless and we aren't prone to procrastination because we do them without thought (you can't procrastinate when you don't think about something.)
Ready to simplify your home and life with routines?
If you have no idea where to start, give our routines a try — morning, afternoon, and evening.
Then, as you go through the motions with our routines, think about ways you can adapt them to better fit your needs.
Consider the times you have the house to yourself and can be most efficient.
Think through periods of otherwise idle time that you could put to use.
Ask your family for their opinions (you might be surprised what suggestions they offer up).
Finally, keep in mind these routines are meant to serve YOU, to make your life easier, to maintain your home in less time with less effort.
They will feel like work at first, but eventually, they should become second nature — to the point where you don't need to think about what you're doing.
So let your kids pull every book off the shelf, let the laundry pile up for a few days, let the table be overrun with craft supplies… because you have routines that will get your house back to clean and decluttered enough in no time.
In the meantime, you're free to focus on anything other than housework for a while!
Have you utilized routines to simplify your life?
If so, I'd love to hear more!