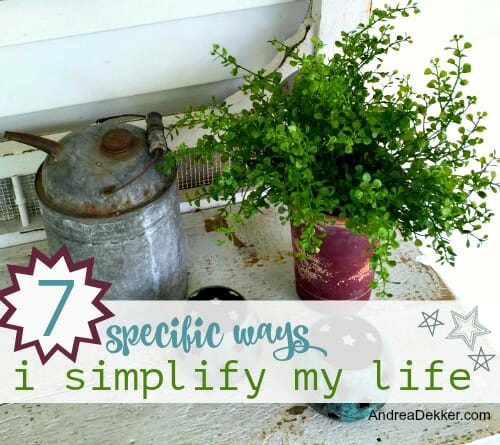 I am (and always have been) on a mission to simplify and streamline my life to allow more time and energy for the things, people, and activities that are most important to me.
Ironically, simplifying my life has taken a huge amount of effort (at least initially). It took time for me to learn new habits, develop routines, understand how I function best, find my most productive times of the day, etc. — much of this is still a work in progress.
I will never be "finished" simplifying my life, but rather, always moving forward with the mindset of simplifying my days… and I will hopefully continue to share that journey with you!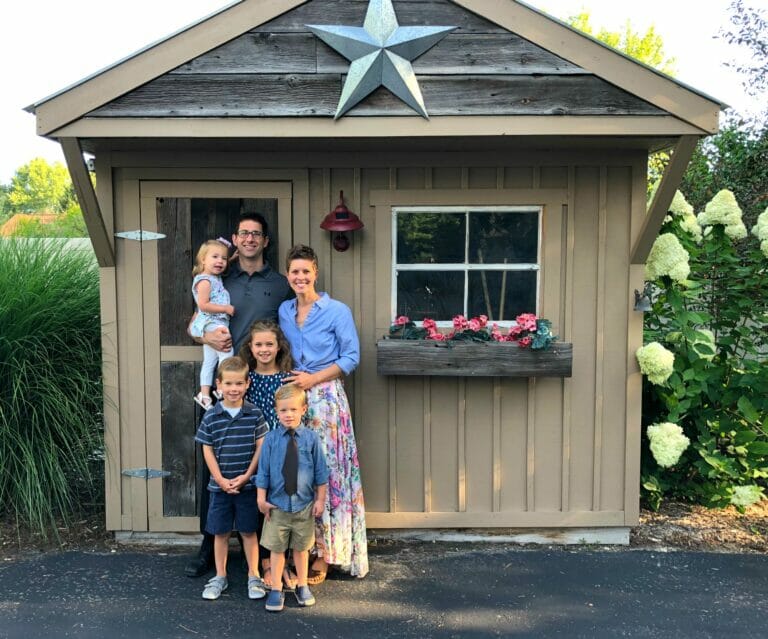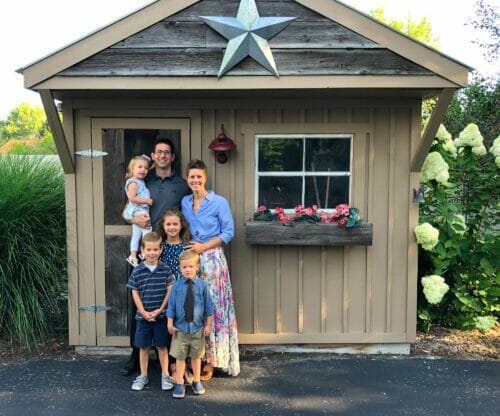 Throughout my life, I can't think of anyone who has complained that their life is "TOO simple"… I'm not even sure life can be "too simple"!
What do you think?
I know many of you come here looking for specific tips to simplify and organize your own lives, so today's post is a compilation of 7 specific ways I simplify my life — as well as one over-arching life simplifier!
I hope this list is helpful for you!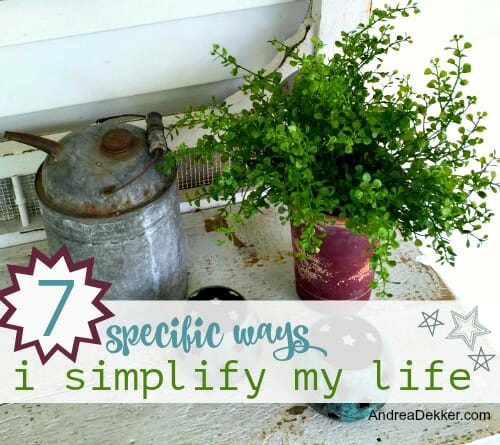 1. I Avoid Overstimulating Situations:
Over the past 5 years, I've realized that I tend to avoid spending significant amounts of time in places (or with people) that are very loud, messy, chaotic, or cluttered because I know I'll end up feeling crabby and cranky — simply because I'm over-stimulated.
Think of it like a young child being carted back and forth to multiple Christmas parties throughout a long weekend in December — weird foods, strange people, so much extra noise, unfamiliar surroundings, lack of routine, loud music, noisy rooms, no time for naps, etc. etc. At some point, the child simply has a meltdown and/or massive temper tantrum because they are WAY overstimulated and just can't take it anymore.
THAT is how I feel too… but since I'm an adult, it's not acceptable for me to have a temper tantrum!!
So instead, I am very aware of my surroundings and make a solid effort to avoid over-stimulating environments. And yes, this does apply to my own immediate family too. It's one reason I choose to wake up so early right now — the glorious absence of over-stimulation makes it worth every minute of "lost sleep"!
NOTE: this is one huge reason we often end up entertaining SO regularly — Dave and I would both rather have people at our house than go somewhere else.
.
2. I Keep My Environments Fairly Clean and Clutter-Free:
I've mentioned it before, and I'll say it again — I am NOT a minimalist.
However, I DO need to have my spaces visibly clear to feel calm — and since I'm home most of the day, this means I put forth a decent amount of effort to keep my house neat, organized, and clutter-free most of the time.
Obviously, my kids play and make messes… I cook and make messes… we entertain and make messes… but the messes get cleaned up before we move on to making new messes!
This might not be as important to some of you (and that's OK), but I feel more uptight and frazzled if my surroundings are filled with TOO MUCH STUFF. I can sense when I start to feel more stressed due to messy surroundings, and I know I either need to start picking up or remove myself from the area (if it's not my house).
NOTE: yes it does take effort to maintain a clean and clutter-free home, but not nearly as much effort as it would require for me to live with clutter all day, every day!
.
3. I am Very Aware of How Much Sleep I Need
I have always been very aware of how much sleep I need, and how the lack of sleep negatively affects me — even back to elementary school when I HATED sleepovers due to the lack of sleep.
I never had a curfew in high school because my parents knew I would be home on time to get to bed, and I honestly never pulled an all-nighter in college.
I like feeling well-rested — and although there have been years of my life when my own sleep needs were put on the back burner because of sleepless children, I am now in a position where I am much more "in control" of how much sleep I get each night — yay!!
While I do not get 8 hours every night, I AM always aware of how rested (or tired) I feel throughout the day, and I go to bed as early as I can based on how tired I am. Sometimes this means I'm in bed before 9 pm (remember, we wake up at 4 am), other times I feel totally "with it" until 10:30.
I do NOT think early mornings and early evenings are the best choices for every person, but I DO think it's important to be aware of how much sleep you need and how tired (or rested) you feel, as sleep plays a huge role in all other aspects of our lives.
NOTE: if you feel you cannot possibly get any more sleep, you might have too much on your plate right now (see #5 below).
.
4. I Eat Simple Foods At Home
Dave and I have never been fans of going out to eat — in fact, we enjoy it less and less as we add more children to our family!
I love the idea of having a "night off" from the kitchen, but almost EVERY time we go out to eat (or even bring food home) we agree that it wasn't worth our time or money.
We would both rather eat at our kitchen table versus sitting in a dimly lit, noisy restaurant, eating huge portions of over-priced sub-par food and leaving feeling stuffed yet unsatisfied.
I honestly even think our kids feel the same way (although they won't admit it to your face!) The last time we went to Culvers' they said, "so we just get a burger and fries — no fruit, veggies, or other side dishes?" HAHA!
At home, we drink tons of water (not many other beverages), we eat lots of simple meals that include fresh fruits, fresh veggies, meat, and homemade bread, I choose foods that can be prepared ahead of time so there's not a huge last-minute rush to get dinner on the table, and I serve the food already on plates so the table is mostly open while we eat.
NOTE: I do not necessarily think eating "simply" equates to eating "homemade" or "from scratch". Even if you are very busy or just don't enjoy cooking, you can still simplify the foods you eat (processed foods, frozen foods, etc.) and choose to eat at home more often.
.
5. I Say "No" Regularly
Over the past 10 years of writing online, one thing that has remained consistent is my message to "just say no" — especially if you feel over-committed or like you just don't have the gifts to do a certain job well.
In my opinion, saying "no" shows respect (for yourself and the other person) and is a necessary skill to have if you want to live a simplified life.
To be clear, I also say "yes" to SO many things! I won't bore you with the laundry list of volunteer positions Dave and I hold within our church, schools, and community — but the list is long and we most definitely use our gifts!
I love saying "yes" just as much as the next person, but I do NOT love feeling overly stressed, overly tired, crabby, cranky, irritable, etc. etc. So I am very careful with my "yeses" and I take time to think through new opportunities and how they will affect my schedule, my family, and my life before agreeing to them.
Dave is great about this too — always checking with me before taking on another commitment at school. There have been many times when we both want to say "yes" to something (because it's a fun opportunity or because we want to help someone out) but we know the consequences will be too great, so we say "no" for the time being. I honestly can't think of one time when we've regretted saying "no".
NOTE: I know many of you wonder how we will handle extra-curricular activities with our children as they get older… and the truth is, I don't know! For now, we have chosen to say "no" to many of these opportunities, but that will most likely change in the future — at which point we will need to say "no" to other things in our schedule. You can read more about our thoughts on extra-curricular activities in this post.
.
6. I MAJORLY Monitor My Media
I never read the paper, I never watch the news, I don't subscribe to any magazines, I have no "NEWS" or "Info" apps on my phone, and I can't even remember the last time I watched TV.
I don't listen to podcasts, I don't follow anyone on YouTube, I don't use a Feed Reader, I only subscribe to 4 blogs via email, and I'm (surprisingly) not very active in any social media. Outside of interacting with readers on my business Facebook page and looking up recipes or craft ideas on Pinterest, I rarely log onto any social media sites.
I do not stay up-to-date with politics, celebrities, or current events in any way. I don't know the latest movies, I don't know any up-and-coming music artists, I don't know what the new fashion trends are, and I have no idea what the trendy toys or brands are right now.
And I honestly don't care!
I know some of you might be appalled by this, and it's not something I'm necessarily proud to admit… but it's the truth, and it's a huge life-simplifier for me right now.
There are select few times when it would be useful to be more "in the know", but in general, I have found that being uninformed also equates to being happier, experiencing more satisfaction and fulfillment in my own life, feeling less anxious, being less fearful, having less stress, etc. etc.
NOTE: I'm often asked how I handle technology with our children… and I am NOT against it at all! However, I will say that our children have never used a computer or smartphone, and Nora is the only one who has used a tablet due to reading assignments she got from school. They do not watch live TV but instead watch commercial-free shows via PBS, Netflix, or Hulu that we cast to our TV using Chromecast.
.
7. I Have No Desire to Be More Than I Am
This wording might sound a little strange — but I'm coming at this point from a business perspective.
I am inundated with emails on a daily basis from freelance writers who want to write for my blog, companies who want to collaborate with me for their next 'big product launch', advertisers who are looking for in-content links or who want me to sign up with their ad networks, affiliate organization who want me to sign up for their programs, publishers who want me to write a book (usually for almost no money), news agencies who want me to provide content for a segment or article they are working on, etc. etc.
That might sound glamorous and awesome — but to me, it just sounds like more work, always trying to be bigger and better.
A few weeks ago, I read one of the best quotes I've ever come across regarding MY thoughts about Simple Living from a professional standpoint:
Of course, it might be pleasant to be extraordinary, famous, and world-beating, but maybe it will be an even greater achievement to stay sane and kind.

We might opt not to conquer the world in favour of living a longer, and more serene life. We are not backing away from a challenge, we're simply shifting our sense of what the real challenge might be – and more importantly where the real rewards may lie.

A quiet life isn't necessarily one of resignation or flight, it may constitute a supremely wise recognition that the truly satisfying things are available away from the spotlight and the big cities, on modest salaries and as far as possible from the manic, sleepless competition to 'win' the professional status race. (source)
Honestly, this is EXACTLY how I feel when it comes to my career (and I know Dave does too). We want to make enough money to cover our expenses, save for retirement, and be able to provide for our family… but beyond that, we have no desire to work ourselves to death just to get the next promotion or do the next big thing or buy top-of-the-line products.
NOTE: I do not think it's bad to want to grow a business or build professional skills. I just personally don't have that desire right now.
.
And let's not forget planning ahead…
Woven throughout all 7 of these concepts is the theme of Planning Ahead. It infiltrates every single part of my life, my schedule, my home, my kitchen, my business, my family, etc. so I felt that I couldn't list it as a stand-alone point.
Without constantly and consistently planning ahead, I would not be able to enjoy the simple lifestyle I have now because I would be playing "catch up" more often than not.
Without planning ahead, I would often find myself in stressful chaotic situations and end up over-stimulated.
Without planning ahead, I wouldn't have the time or energy to keep my home neat and orderly.
Without planning ahead, I wouldn't be able to go to bed at 9:30 because I'd have too much left on my list… which means I wouldn't be able to wake up as early either.
Without planning ahead, I wouldn't be able to cook from scratch, make my own bread, grow and preserve my veggies, etc. etc. I also wouldn't be able to entertain so regularly or bring meals to others as often as I do.
Without planning ahead, I wouldn't be able to do nearly as much for our church, our schools, our community, our family, or even for myself. I would end up overcommitted, stressed out, and very unhappy.
Without planning ahead, there is no way I could successfully run any type of business out of my home while raising 4 children and renovating our old farmhouse. There simply wouldn't be enough hours in the day.
.
I think you get the idea!
If you feel the need or desire to simplify your life, there's no better time to start than RIGHT NOW!
It doesn't have to be complicated or time-consuming. You don't need to do everything (or even anything) on MY list. Just pick one small part of your own life, consider how you might simplify it, and then do something TODAY to work towards that goal!