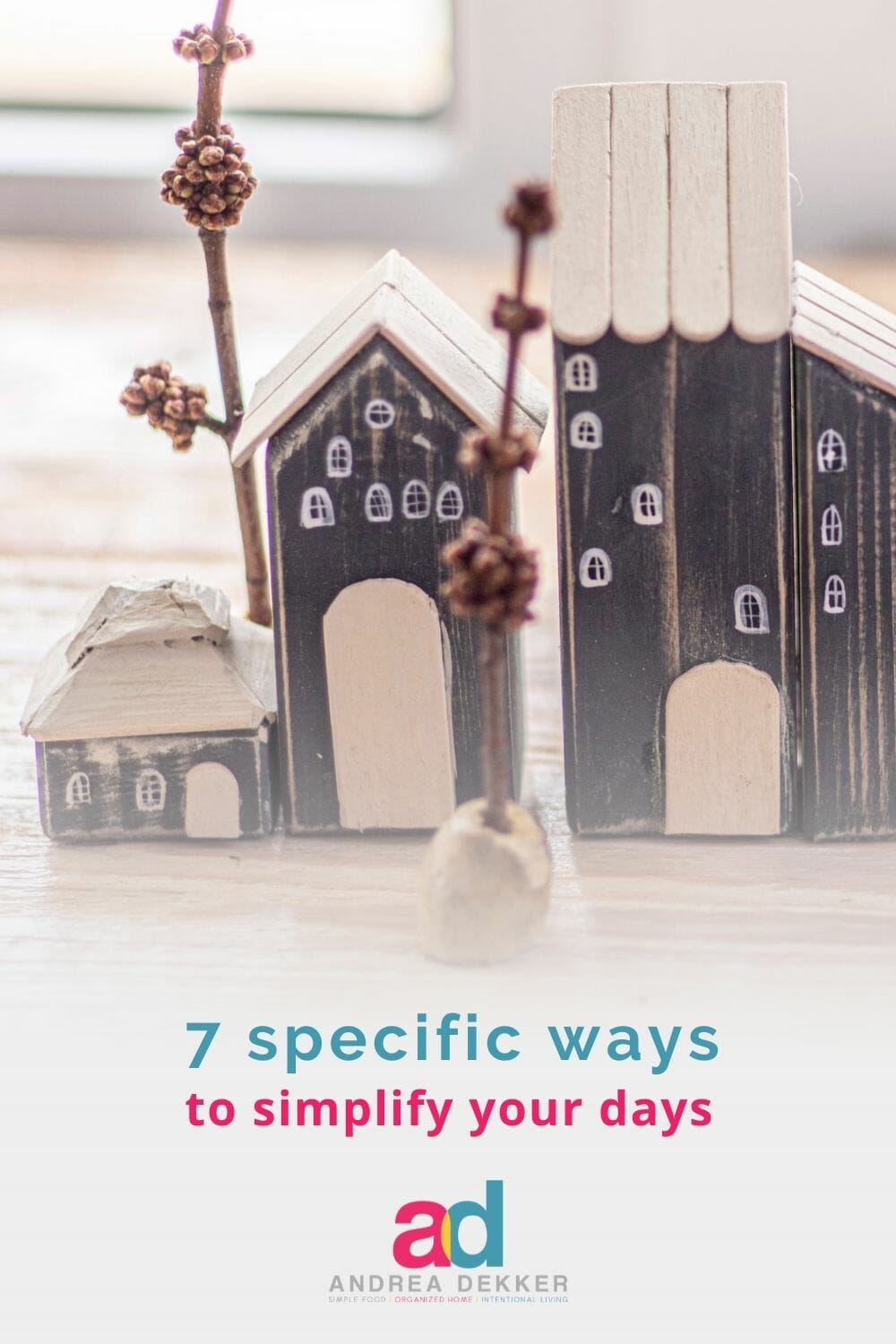 When chaos and disorder threaten to take over, implement a few of these ideas and enjoy simpler days in the midst of our fast-paced culture.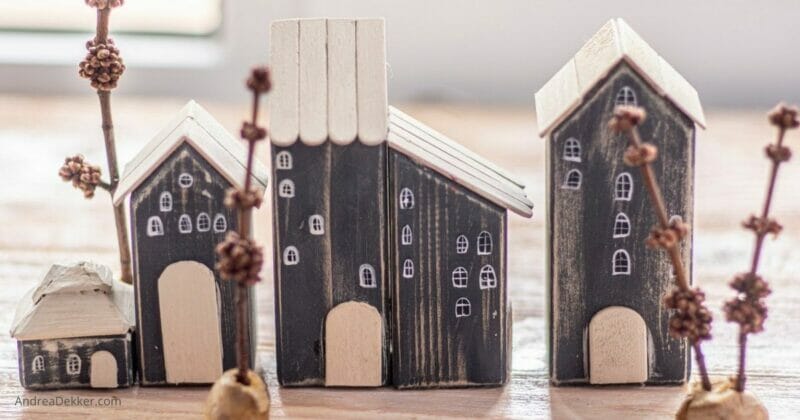 My life has always felt noticeably better when I make an effort to simplify my schedule and my surroundings — allowing more time and energy for the things, people, and activities that are most important to me.
Ironically, living a slower and simpler lifestyle in today's fast-paced culture requires a fair amount of effort and intentionality!
It's always a work in progress — a continual balancing act where true equilibrium is rarely achieved for more than a moment or two.
Thankfully, I'm not one to back down from a challenge or give up when the going gets tough.
Of course, there's no quick fix or magic formula to create a "simpler life" — it's one of those things that just requires time and effort until you find your groove and what works best for YOU.
That said, when I look back over my own journey towards a simpler home and life, I can pinpoint a handful of specific things that have made a big difference for me and my family.
I know MY list won't apply to every family or situation… nevertheless, I hope some of the ideas are helpful for you!
1. I Avoid Overstimulating Situations:
Over the past several years, I've realized that I am easily overstimulated by loud, messy, chaotic, and cluttered spaces and people.
Think of it like a young child being carted back and forth to multiple Christmas parties throughout a long weekend in December — weird foods, strange people, so much extra noise, unfamiliar surroundings, lack of routine, loud music, noisy rooms, no time for naps, etc. At some point, the child simply has a meltdown and/or massive temper tantrum because they are overstimulated and just can't take it anymore.
That's sort of how I feel too…
As a result, I'm simply more conscious of my surroundings and make a solid effort to avoid spending long periods of time in overstimulating environments whenever possible. And yes, this does apply to my own immediate family too (they tend to be very loud and messy at times). It's one reason I love those early morning hours of peace and quiet.
This is also why Dave and I don't do much traveling and why we enjoy entertaining so regularly — we'd rather have people at our house than go somewhere else!
2. I Keep My Environment Clutter-Free:
I'm not a minimalist… but I feel much calmer when my surrounding spaces are visibly free from most clutter. And since my surrounding spaces are usually my home, I put forth a decent amount of effort to keep my home neat, organized, and clutter-free (most of the time).
Obviously, my kids play and make messes… I cook and make messes… we entertain and make messes… but the messes get cleaned up before we make new messes!
It's amazing how much more relaxed and productive I feel (both at the same time) when my spaces have a sense of order to them.
3. I Try to Get Enough Sleep
I've always been the type of person who prioritizes my sleep — even as a child. I hated sleepovers, I didn't have a curfew in high school because my parents knew I wouldn't stay out late, and I never even came close to pulling an all-nighter in college.
Of course, there have been years of my life when my own sleep needs were put on the back burner because of sleepless children, and even though those years are in the past, I still don't always get 8 hours of sleep every night. But I do pay attention to how rested (or tired) I feel throughout the day, and I go to bed as early as I can based on how tired I feel.
I don't think early mornings and early evenings are the best choices for every personality or family structure, but I do think it's important to be aware of how much sleep you need because we're always more irritable and less productive when we're tired (two things that don't mesh well with simple living).
4. I Eat Simple Foods At Home
Dave and I have never been fans of going out to eat — in fact, we enjoy it less and less as we add more children to our family!
That said, our kids get pretty excited about "going out to eat" (even if it's just Culvers or pizza) so we force ourselves to do it every now and then… but we would both rather stay home.
At home we drink tons of water, we eat lots of simple meals that include fresh fruits, fresh veggies, meat, and homemade bread, I choose foods that can be prepared ahead of time so there's not a last-minute rush to get dinner on the table, and I serve the food already on plates so the table isn't cluttered up with pots and pans while we eat.
I should mention that I don't necessarily think eating "simple foods" equates to eating "homemade" or "from scratch". Even if your schedule is quite full or you just don't enjoy cooking, you can still simplify the foods you eat (frozen or pre-packaged foods from the grocery store) and choose to eat at home more often.
5. I Say "No" Regularly
Over the course of my adult life, I've gotten better at confidently saying "no" when a decision doesn't align with my current season of life.
To be clear, I also say "yes" A LOT! I won't bore you with the laundry list of volunteer positions Dave and I hold within our church, school, and community — but the list is long and we make a point to use our gifts.
However, saying "no" is a vitally important skill to develop… unless you prefer living in chaos.
In my opinion, the ability to say "no" shows a high level of self-respect and self-control. For example, you might say no to a vacation that isn't in your budget — alleviating stressful debt in your life. You might say no to hitting the snooze button one more time and thus, starting your day on a more positive note. You might say no to a toxic relationship that always depletes you and drags you down. You might say no to a trashy book or movie that could cause you to feel discontent with your own life.
Saying no is so much more than turning down volunteer requests or shrugging off responsibilities. It's truly a skill we MUST learn if we want any hope of living more simply and intentionally.
The fact is, we are ALWAYS saying no to something… don't let it be your family or yourself!
6. I Monitor My Media
I don't read the paper, we don't have cable, I don't subscribe to any magazines, I don't have any "NEWS" or "Info" apps on my phone, and I don't follow anything on social media anymore.
I don't know the latest movies, the up-and-coming music artists, the newest fashion trends, or the popular toys. I also don't know many current events or world news — and I'm OK with that.
I have one Christian news source that keeps me in the loop on the basics, but other than that, I focus my mental energy on what's going on in my home, in our church, in our school, and in our local community.
I'm not saying this is the best or right approach to media, but my brain truly can't deal with all the problems of the world (or even all the problems of my Facebook friends), and considering I'm a stay-at-home-mom, I don't think I should be forced to deal with the problems of the world!
At this point in my life, monitoring my media helps me stay sane and makes me a better mother, wife, and friend (to the people I actually see in real life).
I feel so passionate about this that we actually rearranged our home back in March of 2020, to make our TV less visible and less intrusive in our home. It worked wonderfully!
7. I Plan Ahead
Yup, you knew this one would make the list eventually! In fact, in many ways, the concept of planning ahead infiltrates every point on the list above.
Without planning ahead, I wouldn't have the time or energy to keep my home neat and orderly.
Without planning ahead, I wouldn't be able to go to bed at a reasonable hour because I'd be playing catch-up all day… which means I wouldn't be able to wake up as early either.
Without planning ahead, I wouldn't have time to cook and bake, to grow my own veggies, to entertain, or to bring meals to others.
Without planning ahead, I wouldn't be able to do nearly as much for our church, our schools, our community, our family, or even for myself. I would end up overcommitted, stressed out, and very unhappy.
I think you get the idea…
Simple living is work… but simple living is worth it.
If you feel the desire to simplify your life, there's no better time to start than RIGHT NOW!
It doesn't have to be complicated or time-consuming. You don't need to do everything (or even anything) on MY list. Just pick one small part of your own life, consider how you might simplify it, and then do something TODAY to work towards that goal!
You won't regret it.