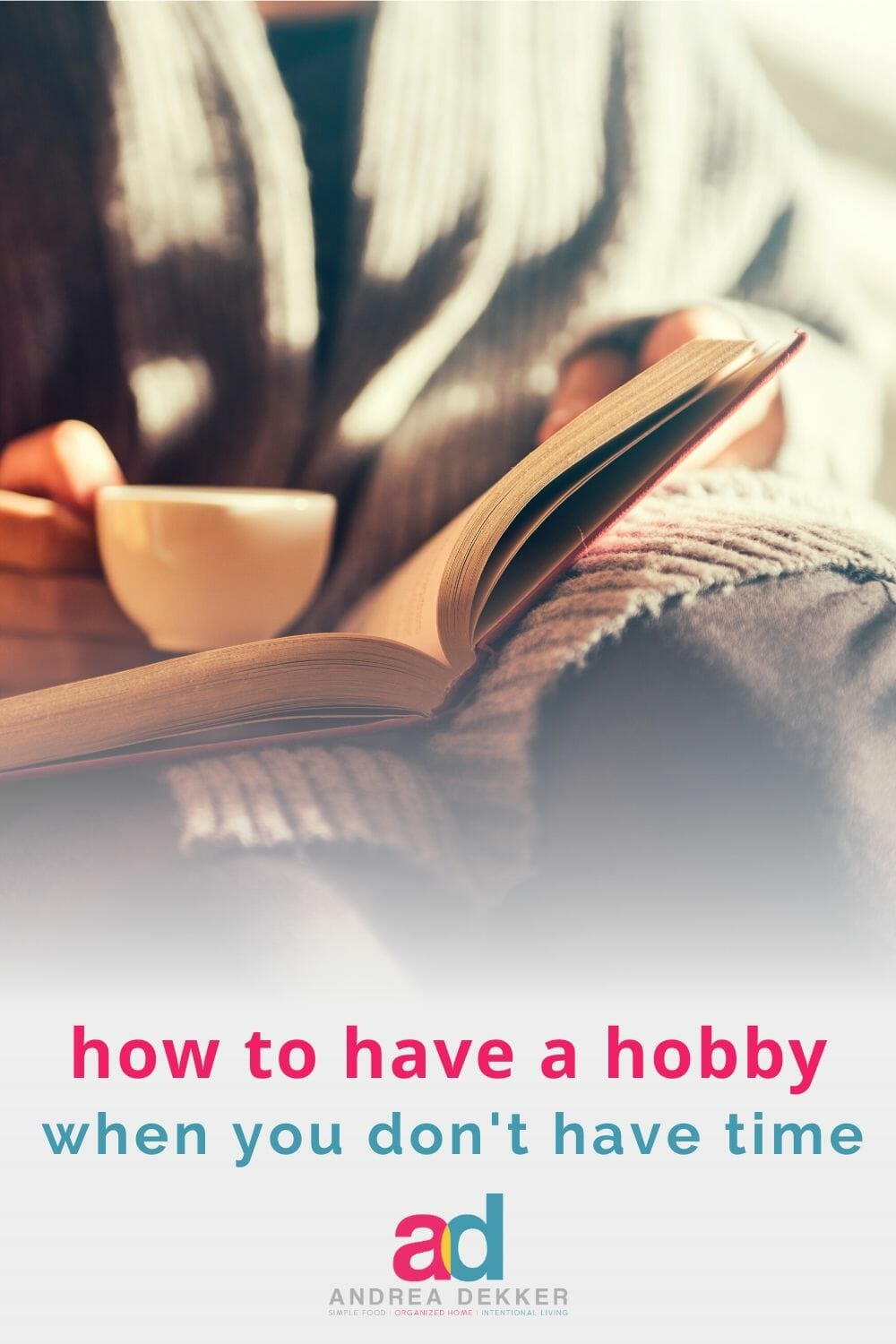 Inside: 6 practical tips and real-life motivation to make time for your hobbies and passions every day… even if you think you don't have the time!
The other day, I was listening to a favorite podcast (on 1.5x speed) while prepping dinner — something I do quite regularly.
In an effort to make fun of me (or maybe emulate me) the kids all decided to get their pretend phones that we recently jimmy-rigged with 4 sets of earbuds leftover from various Apple purchases.
They thought it was hilarious. Truthfully, so did I!
For a split second though, I felt a twinge of guilt — wondering if it was a wise parenting choice to let them see me "on my phone" during the day.
But they knew what I was doing.
I've explained that listening to podcasts is something I find enjoyable and that grownups get to do fun things too.
I truly believe it's healthy for the kids to see Dave and I regularly make time in our everyday lives for hobbies and other enjoyable activities.
Hopefully, it sets a good example that being a grownup isn't just all work and no play!
That said, I get questions and comments on a regular basis, asking for advice to make time for hobbies and other enjoyable activities when the days are already so full of to-dos.
If making time for hobbies is something you struggle with, the 6 ideas below offer practical tips you can implement in your own daily life.
At the very least, you can see how Dave and I make time for our hobbies — even with 2 full-time jobs, 4 kids, and an ever-growing list of home and yard projects!
I promise we don't have superpowers — if we can do this, you can too!
1. Break Hobbies Down Into Smaller Chunks
This concept won't work for some hobbies like golf or tennis or watching a full-length movie… but there are countless other hobbies that can be broken down into 5 to 10-minute chunks of time and enjoyed throughout the day (even if your schedule is jam-packed).
For example:
read 1 chapter of your book (or even just 1 page — yes, I do this at times)
color one page (or a portion of a page) in your coloring book
spend 5 minutes journaling
add a few pieces to a puzzle (I have so many friends who are on a puzzle craze during quarantine)
do 10 minutes of yoga or stretching
listen to a 15-minute podcast on 1.5x speed
practice an instrument for 10-15 minutes (Dave has been working on the guitar since Christmas — I'm impressed)
add your favorite hobbies here_________________!
I fully admit this method is not as productive, as efficient, or as enjoyable as immersing fully into a hobby for hours at a time. BUT the reality is that most of us will never have multiple hours of "free time" to devote to our hobbies.
You know I'm right!
By breaking them down into smaller chunks, it's possible to fit small bursts of hobby time into every single day (yes, I'm speaking from experience!)
Try it for yourself — you might be surprised how much progress you make over a week's time. I can't even begin to count the number of books I've read over the past few years… all 3 or 4 pages at a time!
2. Put Your Hobbies On Your To-Do List
I know this might sound silly and overly Type-A to some of you — but it works!
I make my to-do list every night before I go to bed, and after I get a feel for all the things I NEED to do the next day, I pick and choose various hobbies I know I can work into tiny pockets of free time.
By taking 5 minutes to actively think through my hobbies and add them to my list, it drastically increases the odds that they actually happen.
All the little examples I mentioned above are fairly easy to work into tiny pockets of time throughout the day — BUT ONLY IF I'M INTENTIONAL ABOUT IT!
If I don't take the time to add them to my list, it's inevitable that I end up "wasting" that time instead — often on social media.
This is the planner I've used for years.
3. Wake Up Earlier
Yeah, you KNEW this tip would be on my list!
As self-proclaimed early birds, Dave and I wake up at 4 am by CHOICE, and these morning hours are prime time for some serious hobby work.
Yes, I do use my early morning hours for slightly more productive tasks as well, but it's not uncommon for me to wake up early "just" to work on my digital photo books, stretch for 10-15 minutes, or do a little baking (all while listening to a podcast)!
If you do the math, waking up just 30 minutes earlier each day gives you 3.5 extra hours EVERY WEEK to do whatever YOU want to do!
Not too shabby!
NOTE: I did NOT do this during the 3 years when Nora never slept. Hobbies are great, but sleep was better!
4. Create a Space for In-Progress Hobbies to Live
If your hobby requires parts and pieces, it will be more challenging for you to utilize small pockets of time throughout the day because you'll spend half your time just digging out all your supplies and then putting them away again!
Instead, brainstorm ways you might be able to create a space in your home for these in-progress hobbies to live.
It should be a place that's out of the way of daily life, but still easily accessible when you have 10-15 minutes to work on your hobby.
For Example:
A few summers ago, Dave had a goal to completely organize and rebuild ALLLLL his childhood Lego sets. At the time, we had 3 very young children so he knew he couldn't have the tiny Legos in the house. He also knew it would be an extended project that he'd need to leave out for weeks at a time until he finished.
His solution was to set up a mini "Lego Land" in our outbuilding.
Over the course of that summer, he worked on it a little each day and eventually finished. We now have all his sets sorted and organized, and our kids LOVE building with these Legos!
Pro tip: use a sheet to corral small Legos – it will save you from stepping on them later!
Another example is my sewing supplies… as much as I wish everything was neatly tucked away and out of sight, it just makes more sense to keep my sewing machine out all the time.
I call it "organizing in plain sight" and it allows me to quickly work on a project for 10-15 minutes without wasting valuable time hauling out all my gear and putting it away again.
5. Take Hobbies With You
This is so easy to do nowadays — thanks to smartphones.
I always, always, ALWAYS have some sort of digital book on my phone that I can read whenever I'm stuck waiting anywhere (or whenever Dave is driving).
I also try to take small projects along with me in the car — things like cards or letters to mail or even my planner so I can make meal plans or to-do lists for upcoming days and weeks.
And, if you want me to be really honest, there are times when I set the alarm on my phone, recline my seat, and take a 15-minute power nap in the van (the kids watch a movie) while I'm waiting for the next thing, or killing time in between activities. Seriously, I felt ridiculous the first time I did it, but I figure it's a better use of my time than scrolling social media, and I can always use more sleep!
Here's a similar bag to the one pictured above.
6. Integrate Hobbies Into Your Daily Activity
This is probably my most favorite tip because it's so effective. Plus, it doesn't require any "extra" time to work a hobby into my daily routines.
I think it's easiest for me to explain by simply giving you several examples of how I make this work in my own life.
Example #1 – yardwork + playing with kids:
Yardwork is one of my favorite hobbies — but I rarely ever have hours and hours of time to devote to it.
Instead, I use the time when I'm already outside with the kids to fit small pockets of yardwork into my day.
I simply grab my bucket and gardening gloves and walk around the yard pulling weeds, deadheading annuals, pruning perennials, etc. With just a few minutes here and there (on a daily basis) our yard looks great and I'm able to enjoy one of my favorite pastimes without sacrificing quality time with my kids or eliminating anything else from my day.
Example #2 – online courses + digital photo books:
I'm currently taking a couple of online classes — both of which require me to watch several online videos, lectures, etc.
I often use this time to drag and drop photos into my digital photo books while listening and watching the lectures (and taking notes when necessary).
The "mindless" work of the photo books is the perfect multi-tasking option that keeps my hands busy but leaves my brain free to absorb lots of golden nuggets of information!
Example #3 – listening to podcasts while cooking, baking, cleaning, etc.
Another example, which I already mentioned above, is listening to podcasts or audiobooks while I cook, clean, garden, fold laundry, etc.
It's amazing how quickly I can plow through books and podcasts with almost ZERO extra time.
Here's the link to my boots (I found mine at a second-hand store)
Honestly, it DOES require a bit of effort and you will need to MAKE time (it won't just magically appear) but consciously working to make time for your favorite hobbies and leisure activities can have such a positive effect on your entire life.
Not only will you feel happier and more fulfilled, but your brain will also enjoy a nice break from all your "must-do" activities.
It's amazing what a short 10-minute burst of hobby time does for me — I have a feeling you will notice the effects too!
How do YOU make time for your hobbies?
p.s. I'm sharing my list of current favorite podcasts later this week… the ones I listen to while I wash dishes, pull weeds, make dinner, etc. Check back on Thursday!