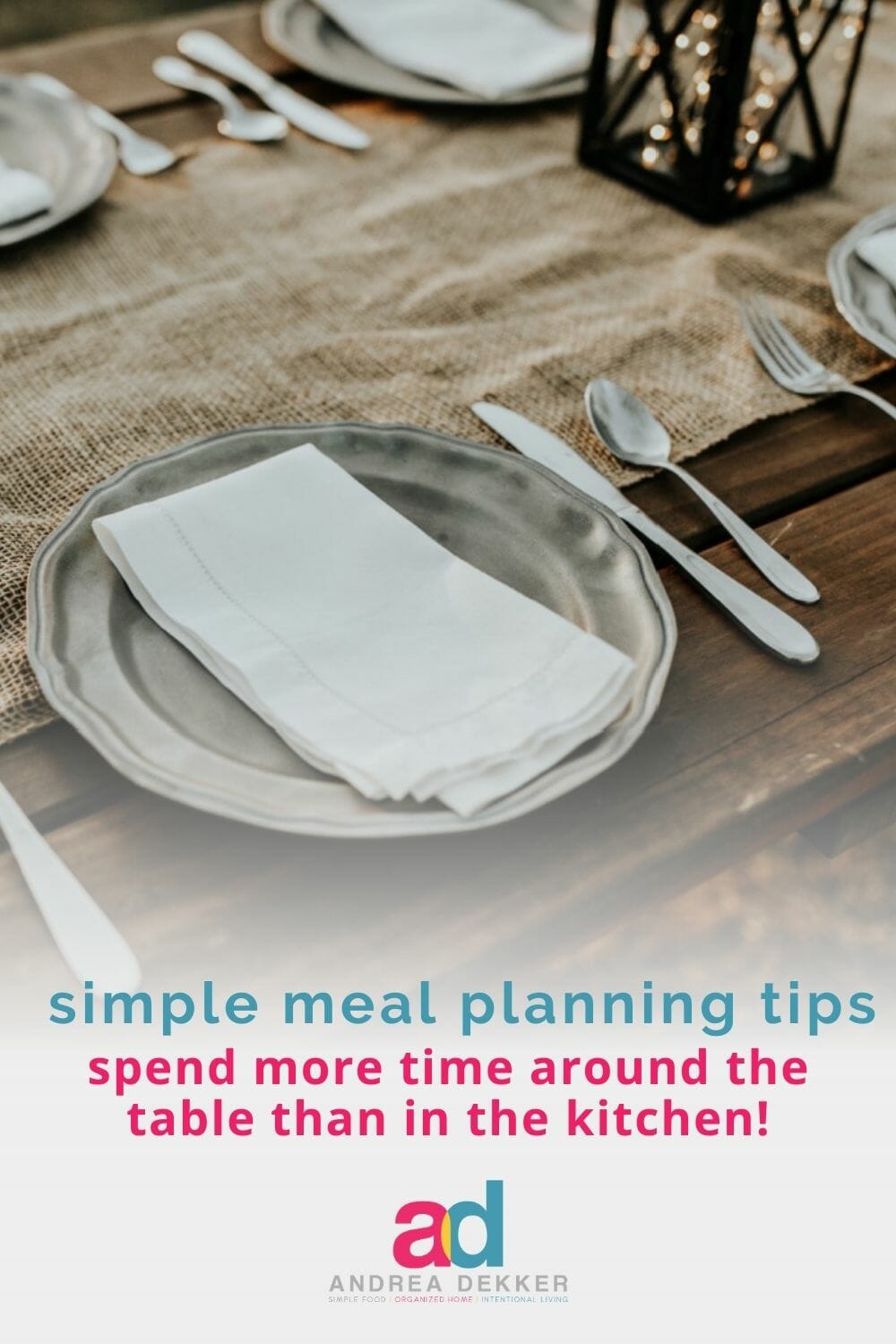 Are sit-down family meals a priority for you? If so, gather family and friends around your table… I'll show you how to feed them without spending all day in the kitchen — complete with a sample meal plan and recipe links!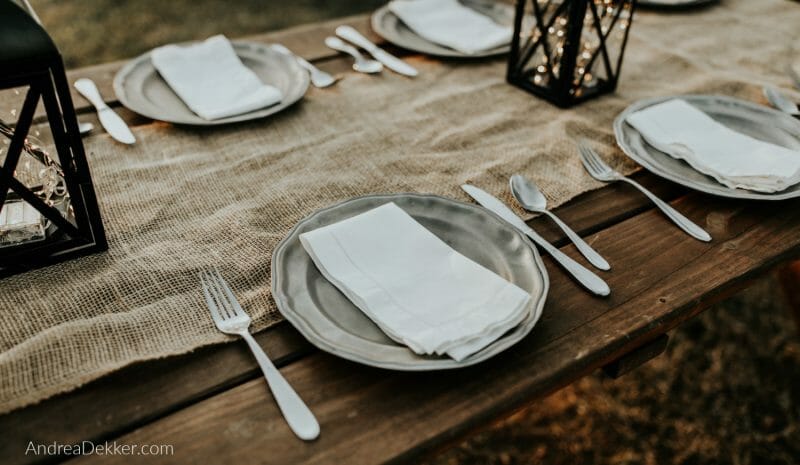 As someone who generally enjoys spending time in the kitchen — cooking, baking, and preparing food for my family — there are still so many other things calling for my attention each day.
And? I don't know about you, but I'd rather spend more time around the table than in the kitchen!
Can you relate?
After more than a decade of faithful meal planning, I've developed a loose "routine" of sorts that allows me to gather my tribe (and usually a few extra mouths) around the table 7 days a week withOUT extra stress or hours upon hours spent in the kitchen!
No, I don't do massive freezer cooking days.
No, we don't order pizza, fast food, or to-go meals on a regular basis.
No, we don't have a personal chef (although that would be fun!)
---
Instead, I create simple meal plans that rarely require more than 2 or 3 afternoons in the kitchen each week to produce hot homemade meals every day of the week!
Curious how you can adapt my system for your family?
Keep reading!
---
1. It All Starts with a Simple Meal Plan
I know, I know… meal planning isn't fun, BUT if your goal is less time in the kitchen, a meal plan is a MUST.
Just remember to keep it simple!
Meals like: grilled cheese, spaghetti, or even cereal still count as a "meal plan".
For the first week, choose 4 or 5 simple family favorites you know your family will eat, and you already know how to make.
Now, write it down — on a post-it, in your planner, in your notes app, on the fridge. Do NOT just assume you'll remember!
2. Plan your meals based on your schedule.
Once you've decided on 4 or 5 simple meals, then look at your calendar for the week and decide which day of the week you want to eat them.
If this step seems like over-kill for you (or if you like to "play it by ear") I beg you to at least give it a try for a week or two.
By coordinating your meal plan with your schedule, you will avoid SO many pitfalls.
For example, if you know you'll be gone all day Wednesday, you can schedule a slow-cooker meal to be ready when everyone walks through the door. Or if you have more time on Friday, you can plan to make a double or triple batch of your meal to help boost your freezer stash.
Remember to schedule "leftovers" for a day — and probably at least one "free night" where you can order pizza or takeout.
NOTE: I often write the meal plan directly in my planner so I can see which meal goes with which day.
---
3. Make your grocery list.
There's no sense planning a bunch of meals if you don't have the food in the house to make them!
Start by "shopping your pantry and freezer" to see what ingredients you already have and what you'll need to buy.
Add any necessary items to your shopping list and make a plan to head to the store soon.
BONUS: By working with a meal plan and a list, you'll likly spend less time and money at the grocery store each week!
4. Plan and prep ahead throughout the week.
This step has the potential to be the trickiest if you're not already in the habit of planning and prepping your meals ahead of time… but as you develop this habit, your time in the kitchen will continue to decrease!
One of the most helpful things I do is to constantly think at least 2 meals ahead… after breakfast, I might prep some of the food for dinner that night — or if it needs to defrost, I'll do that the night before.
(This is why it's SO helpful to have a meal plan!)
One glance at the meal plan and I notice we need a pound of ground beef for a pasta dish tonight and more ground beef for tacos in 3 days. I save so much time (and dirty dishes)by cooking 2 pounds now and saving half for later in the week.
I'm also not waiting until the very last minute to prep my food — because that's when I get frazzled or distracted, which causes everything to take longer.
5. Make at least one meal for the freezer.
Although I'm consistently awed by women who have the ability to complete a massive freezer-cooking day, it just doesn't work for me (I've tried, many times!)
Instead, my goal for each week is to put at least one meal and one baked good in the freezer for later.
When I look at my meal plan for the week, I usually choose one meal to make a double or triple batch, with the intention of putting some in the freezer for later.
Since I'm cooking anyway, it requires very little extra effort to make 2 of the same meals — resulting in one less day of cooking in future weeks!
NOTE: Soups, stews, casseroles, and pasta dishes all freeze exceptionally well.
Helpful Resources:
Click the images below for more FREE resources to help you simplify meal planning and freezer cooking!
---
A Sample Meal Plan:
It's often easier to try something new when we have concrete examples instead of just theories or methods… so in an effort to make meal planning EVEN SIMPLER for you, I've written out a very detailed "sample meal plan" for our family.
I share some of our favorite recipe links along with why I plan certain meals on specific days based on our current weekly schedule.
I truly hope this is helpful for you as you seek to simplify and streamline your time in the kitchen.
SUNDAY = Simple
In past seasons of life, we have often spent Sundays with extended family and friends — or enjoyed church potlucks.
Since those group events are unfortunately not happening much these days, we now enjoy simple meals at home on Sundays — I must admit, it's quite relaxing!
Our current routine has been french toast casserole, sourdough crépes, or cinnamon rolls for breakfast and sandwiches or leftovers for lunch.
I often make quiche for dinner — with the intent of having leftovers for breakfast on Monday.
Quiche Recipes:
---
MONDAY = Slow Cooker
Mondays are currently my main workday (housework and online work) so I almost always plan a slow cooker meal.
NOTE: I have the house to myself on Mondays since the older 3 are in school and I swap childcare with my sister — she watches Clara on Mondays, I watch her son on Thursdays.
I usually prep my slow cooker meals Sunday evening (when I'm making the quiche) and dump it in the slow cooker mid-morning on Monday.
Leftover quiche for breakfast and a slow cooker meal for dinner means I can accomplish almost all my work-related to-dos for the week AND clean our entire house fairly thoroughly without getting bogged down with meal prep!
It's a fantastic way to start off my week!
Slow Cooker Recipe Ideas:
---
TUESDAY = Casserole
After several days of easier meals and leftovers, I usually do quite a bit of cooking and baking on Tuesdays.
This works especially well since Tuesdays are my "main laundry day" — I rotate between cooking, baking, and folding laundry (with my 2 trusty helpers)!
I often start the day with a double batch of sourdough pancakes and sausage (I make enough for 2 mornings).
I also do some baking — maybe a batch of banana bread (putting one loaf in the freezer) and a few dozen cookies and/or bars (putting half of everything in the freezer) and a few loaves of whole-grain bread.
Then I make a double (or even triple) batch of a family favorite recipe — one for tonight, the other(s) for the freezer.
Make-Ahead Recipe Ideas:
I serve these meals with fresh fruit, applesauce, some type of veggie or salad, and often bread or rolls.
NOTE: Tuesdays are almost always my biggest "kitchen day" but, it allows for a much lighter load the rest of the week — plus, I can do the bulk of the kitchen clean-up at one time!
---
WEDNESDAY = Quick meal
Wednesdays have become my day to run errands, get groceries, schedule various appointments, and tackle a few projects around the house (organizing, decluttering, yardwork, quick fix-it projects, one of my deep cleaning tasks, etc.)
We usually eat leftover pancakes and sausage for breakfast, and dinner is often something I pull from the freezer the night before — either a fully prepared meal or pre-cooked meat that I then make into a quick meal after getting home for the day.
Quick Weeknight Recipe Ideas:
NOTE: here's a huge list of meals I can make in 30 minutes or less!)
---
THURSDAY = Big meal
After pancakes 2 days in a row, I usually switch it up with oatmeal and smoothies for breakfast.
I'm often home all day on Thursdays, so I tend to plan a bigger meal for dinner… steak, a roast, a pork loin, even a full turkey or ham dinner (I stock up on turkeys and hams when they go on sale.)
I do usually have a method to my madness though — with plans to use the leftovers for a weekend meal (I try not to cook much over the weekend).
Big Meal Recipe Ideas:
---
FRIDAY = Finger foods (or fast food)
I usually make a big batch of waffles and a pound of bacon on Friday morning — with the intent of eating the leftovers on Saturday morning.
If we do any type of fast food or pizza, Friday night is usually the night… but like I mentioned earlier, it's definitely not an every-week sort of thing.
We have "family movie night" on Fridays, so it's not totally uncommon for the kids to get all ready for bed REALLY early, then we'll have pizza or Culver's or a tray of yummy finger food before popping some homemade popcorn and watching a movie in the den.
I think the entire family's favorite is "meat and cheese" (a.k.a. a Charcuterie Board).
I load up a big tray with various fruits, veggies, meats, cheese, dips, crackers, etc. and everyone just picks at it until it's all gone!
SO easy, and great for the end of the week because I can just use whatever we have left in the house.
Easy Finger Food Recipes:
---
SATURDAY = Leftovers
Saturdays are the one day we all 'sleep in' a bit, so the fact that I don't need to make breakfast creates a super relaxing vibe to start off our weekend (we have the leftover waffles and bacon from Friday morning).
Lunch is almost always sandwiches, and dinner is almost always leftovers from earlier in the week (sometimes everyone gets to choose their favorites, other times I use a combination of leftovers to create a new meal).
Our family LOOOOOOOOVES leftovers — I am so thankful!
Leftover Meal Ideas:
NOTE: Dave and I almost always eat leftovers for lunches during the week — otherwise we'd probably have enough leftovers for 2 dinners each week.
---
If you took notes, you'll see that I only cooked a full breakfast on Sunday, Tuesday, and Friday… and I only prepared a full dinner on Tuesday and Thursday.
The rest of the meals were either leftovers from earlier in the week or quick meals pulled from the pantry, fridge, or freezer.
And… if we plan for fast-food, or if we get invited to someone's house for dinner, that's even less time in the kitchen for me that week!
Not too bad, considering we eat around the table for almost every meal of the week!
Of course, I know this meal planning method won't work for every family or every situation.
Even if you can't use my exact recipes or meal planning technique, I hope I've inspired you to evaluate your current system in the interest of saving time in the kitchen, simplifying your meal planning efforts, and streamlining your entire weekly routine.
I promise, you DON'T need to slave away in the kitchen to enjoy quality time together around the table… after all, the type of food you serve really isn't the most important part anyway!
Do you have any tips to save time in the kitchen?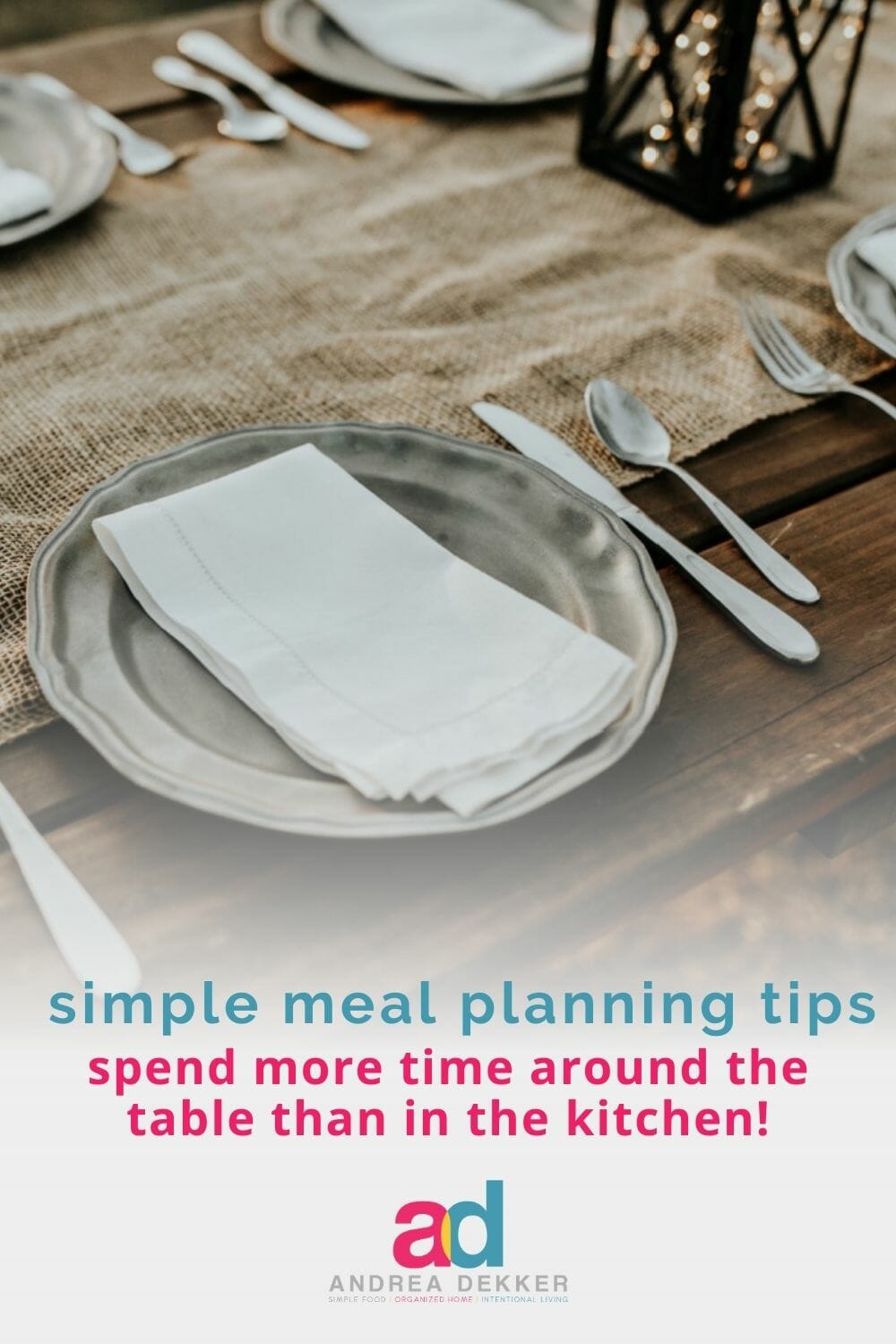 Visit my virtual recipe box for more simple, delicious, family friendly, recipes!