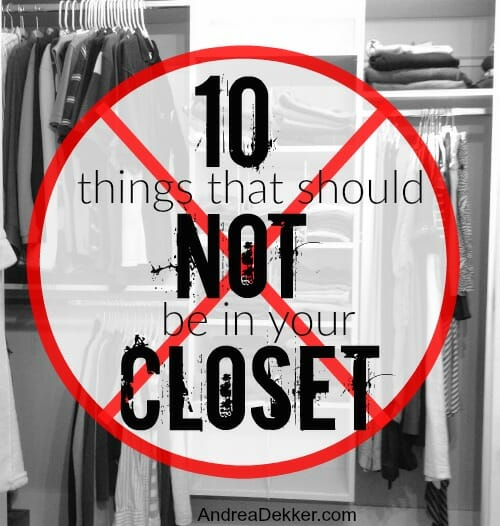 Back when I worked as an In-Home Professional Organizer, closets were one of my top requested services… and I saw A LOT of crazy closets.
I once organized for someone who had a secret door in the back of their closet that went into another whole room of storage. I also organized a closet that was so tall it had FOUR levels of hanging bars. They had one of those library ladders on wheels to get to the top 2 bars. I also organized for someone whose closet was so big that they had a treadmill and TV in their closet — so they would work out in their closet, shower, and head right back to their closet to get ready for the day.
Clearly, those closets aren't the "norm". In fact, most of the closets I worked in were very modest in size, and way WAY too crowded. It was so fun to weed through everything and leave my client with a neatly organized space they felt great about.
In my own experience, having a neat and organized closet not only makes it MUCH more fun and enjoyable to get dressed each day, it also saves me time searching for items I can't find, and it keeps my clothing looking nicer because it's not all jammed in and wrinkly.
An organized closet makes me happy… and with a little daily maintenance, it's really not hard to keep it organized all the time.
If your closet could use a little makeover, I'd recommend scanning through my list below and removing all the many things that should NOT be in your closet.
1. Anything you can't wear.
Yes, this means camping gear, exercise equipment, office supplies, pantry items, holiday decorations, wrapping paper, kids clothing, pet supplies, etc.
If you're searching for more space in your closet, your first order of business is to remove anything that's not clothing, shoes, or accessories.
2. Anything you don't want or need.
If you don't want something and you don't need it, there is no reason it should take up prime real-estate in your closet.
And honestly, you could apply this to any other space in your home — if you don't want or need it, it should be removed from your home. Period!
3. Anything that's not yours.
Unless you share a closet with your significant other, you really shouldn't have anything in your closet that isn't yours.
4. Anything that's too small:
I truly do understand how motivating it can be to keep a few of your favorite too-small items in your closet, just waiting for that day when they fit again.
However, if it's been more than a year since those favorite things fit, I can almost guarantee that they will be out of style by the time they do fit — and in the meantime, you're wasting valuable closet space holding onto things that probably make you feel somewhat resentful.
5. Anything that's too big:
Yup, these items need to go too.
I'm definitely not a fashion guru, but I know that wearing baggy, "too-big" clothing doesn't do anything for me and doesn't deserve a space in my closet!
6. Anything that doesn't fit your lifestyle:
When I got married, I had lots of dress clothes because I worked in an office every day. When I switched to working mostly from home, I got rid of a HUGE chunk of my wardrobe because I no longer needed all those dressier outfits.
Now, 3 kids later, my wardrobe has changed again — mainly to items that are easy to mix and match, items that are easy to layer, items that are easy to wash, and lots of black 🙂
7. Anything that doesn't "go" with your other items:
As I mentioned above, I'm a big fan of mix-and-match items… and I wear a lot of black.
Although I have no desire to have a super minimalistic wardrobe, I have found that by wearing mostly neutral colors (black, grey, white, cream, navy) and then mixing in a few pops of color via my accessories (a scarf, earrings, a cardigan, etc.) I can really get a lot more "mileage" out of my clothes.
I certainly don't expect you to only have 3 colors of clothing — but in general, when you look through your closet, think about what items you wear most, and then purge the items that don't mix and match with anything else.
Also, when you shop for new clothing, stop and think if the items you are buying will match with items you currently have in your closet. If not, then don't buy them!
8. Anything you have multiples of:
I have admitted to finding a shirt I love and then buying it in 4 or 5 different colors (and sometimes 2 shirts in the same color!) so I'm clearly not opposed to all multiples.
However, if you know you have a weakness for certain items of clothing — like comfy leggings, a great pair of skinny jeans, slippers, black sweaters, or decorative scarves (ahem, those are a few of my weaknesses!) just be careful that you don't go crazy.
There was one point in my life that I had more than 20 different black long-sleeve tops… and although I wore them all, they all fit, and I liked them all, I did realize that it was unnecessary to keep them all. It was kind of a wake-up call to me — and just realizing how many "multiples" I had in my closet helped me to curb my tendency to always search for more cute black tops.
I'd say that unless your job requires you to wear the same thing every day (and I know some do) you can probably purge anything you have 4 or 5 of!
9. Any empty hangers:
You'd be surprised how much space empty hangers can take up — so get them out of your closet!
10. Anything you don't LOVE:
I saved the best for last…
It doesn't matter if it still fits, if it's still in perfect condition, how much it cost, or even if it still has the tags on it… in my experience, if you don't love it, you won't wear it. Period.
Obviously, there are exceptions to every rule — and I'm certain there are various exceptions to every rule I listed above. However, I also think that if we are really honest about what we wear, what fits us, what we feel great in, etc. we could most likely remove A LOT of excess from our closets.
And if you're feeling uneasy about actually purging everything I mentioned above, a less scary option might be to remove everything listed above from your closet… but not necessarily remove it from your home. Maybe put it in boxes in the basement or in a spare bedroom closet. If you don't find yourself looking for it after a few months, it's probably safe to donate!
Remove anything in these 10 categories and enjoy a lot more closet space!
What could you remove from your closet?