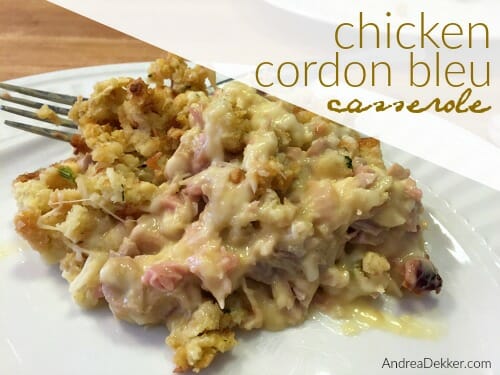 Our entire family loves the pre-packaged Chicken Cordon Bleu entrees from the frozen section of the grocery store. It's one of our kid's favorite meals (I serve it with rice and they also love rice) so we have it at least once a month.
However, one of the "healthier habits" I'm hoping to follow through with in 2016 is to eat less processed meats — and those frozen Chicken Cordon Bleu entrees are about as processed as you can get (but boy are they yummy!)
Instead, I've been making a Chicken Cordon Bleu Casserole that my kids seem to like almost as much as the frozen entrees. In fact, the last time I made this casserole, Nora looked me right in the eyes and said, "Thanks for making this yummy food for us, Mom".
I was shocked! Usually she's the one who is the quickest to complain about almost anything I make (even if she does like it) so it was a big deal for her to voluntarily compliment my cooking 🙂
Not only does this casserole taste yummy, it's also ridiculously simple to make!
Since I almost always have ham and chicken pre-cooked and chopped up in bags in the freezer, I can usually make the casserole in less time than it takes my oven to preheat!
Of course, you can also easily make this casserole in the morning, or the night before (or even pop it in the freezer for later). It's pretty hard to mess this one up!
Recipe for Chicken Cordon Bleu Casserole
Makes a 9″ x 13″ pan — approximately 8-10 servings
INGREDIENTS:
3 c. chicken; cooked and diced
3 c. ham; diced
2 c. swiss cheese; shredded
2 cans (10.5 oz) cream of chicken soup (or make your own)
1 c. milk
1 package (6 oz.) stuffing mix (or make your own)
1/4 c. butter called for in stuffing mix
DIRECTIONS:
Preheat oven to 350º
In a medium bowl, mix chicken, ham, cheese, soup, and milk together
Dump mixture into a greased 9″ x 13″ dish
Prepare stuffing according to package directions
Spoon stuffing mixture on top of meat and cheese mixture
Bake in preheated oven for 30 minutes, or until fully heated through
Eat and enjoy!
Since we have a smaller family, I usually only make a half batch of this casserole at a time… either that, or I'll make a full batch in 2 separate containers and put one in the freezer. However, since I usually always have cooked and chopped ham and chicken in the freezer, this meal takes almost no time at all to put together so I usually don't "waste" freezer space storing the prepared meal.
Of course, you can easily make your own homemade cream of chicken soup and your own homemade stuffing if you'd rather not use the pre-packaged option. And I've also seen similar recipes that call for crushed croutons to be sprinkled on top — or even just toasted bread crumbs.
I think this is just one of those recipes that you can mix and match similar ingredients based on what you have on hand and it will almost always taste good!
Oh, and if you are lucky enough to end up with leftovers, they taste FABULOUS!
What are your favorite kid-friendly casseroles?
Visit my virtual recipe box for more simple, delicious, family friendly recipes!