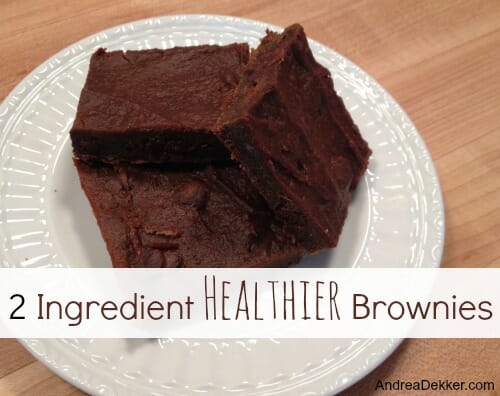 Dave and I love chocolate, we love desserts, we love snacks, and we love pretty much any type of sweet food. We've apparently passed this love of sweets on to Nora as well 🙂
We will eat almost anything sweet — especially if chocolate is involved. And you know me, I'm always on the look-out for super simple recipes that can start from a boxed mix if necessary.
I knew that mixing a cake mix with a can of pumpkin made really yummy (and a bit healthier) cake… but since the Dekkers definitely prefer brownies over cake, I decided to see if this super simple 2-ingredient method would work with a brownie mix too.
To my delight… it does!
I was fortunate enough to have a few cans of pumpkin left over from Thanksgiving, since cans of pumpkin can be somewhat difficult to find year round. But you can always order some from Amazon.com if you run stuck — or just save this recipe until fall 🙂
I should mention that although I'm not a health food nut, I am smart enough to realize this recipe isn't actually a "healthy" brownie… nope, it's just a little "healthIER" than the regular stuff!
Recipe for 2-Ingredient Brownies:
Makes 1 pan of brownies
Ingredients
Brownie Mix (18 oz. box — any flavor works, but we definitely prefer some type of chocolate)
1 (15 oz) can pumpkin pureé (NOT pumpkin pie mix)
1/2 cup semi sweet chocolate chips (optional but definitely recommended!)
NOTE: You can also mix up the dry ingredients for your favorite brownie mix and then add the pumpkin in place of the wet ingredients
Directions:
Preheat the oven to 350F.
Grease whatever pan you choose to use.
In a medium bowl, mix brownie mix and pumpkin. Pour mixture into baking dish.
Bake according to the instructions on the back of the box (depending on what size pan you're using).
Allow to cool before cutting into squares.
I'll be honest, I was hesitantly optimistic about how these brownies would taste. I looked up a few similar recipes on the internet, on Pinterest, and on AllRecipes.com and almost ALL the recipes claimed that, "you can't even taste the pumpkin."
I didn't believe that could be true — and it's not.
You CAN definitely taste the pumpkin, but in my opinion, it's not bad.
Here are a few of the pros and cons of these brownies:
PRO'S
They are healthier than using oil or butter to make brownies.
They don't have egg for those with allergies.
They are so ridiculously simple to make — I had them ready for the oven in about 3 minutes.
They are much more "fudgy" than normal brownies — which we love.
They are not crumbly — a.k.a. great for kids!
They are chocolate 🙂
CON'S
They definitely taste "pumpkiny" which could be a turnoff for some people.
They are thinner than normal brownies — I might try them in a smaller pan next time.
They probably won't win a "best brownie ever" award — at least not by me.
They use pumpkin which can be difficult to find year round.
For me (and for Dave) the pro's of this recipe out-weighed the con's — and the fact that they were so simple to make meant that I just had to share them with you.
Plus, Nora really REALLY liked them — and you know that's saying something!
In general, I'll probably stick with my other "healthier" baking tip of substituting applesauce for the oil and still using eggs… but I figured this recipe is a nice change of pace — and perfect for anyone allergic to eggs.
So if you're looking for a really simple, healthier brownie mix, I'd suggest giving this one a try.
What are your favorite simple desserts?
Visit my virtual recipe box for more simple, delicious, family friendly, recipes!