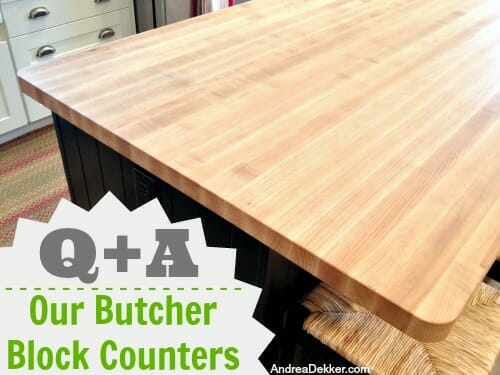 Ever since we finished our kitchen renovation (summer of 2012) I've gotten lots of questions about our butcher block island counter top. I've answered all the emails and many of the comments — but I've put off doing a blog post on the topic as I wanted to make sure I actually knew what I was talking about 🙂
So after almost 2 years of caring for our butcher block counter (and after a couple conversations with the company we purchased it from) I feel like I'm able to answer some of those questions.
Below are my answers to some of the questions I've gotten over and over again.
Where did we purchase our butcher block?
We looked around for a long time and ended up going with a local company, Tontin Lumber. They get most of the wood for their counters from West Michigan trees — so that was cool for us. They are also only about 20 minutes from our house so I could go to their shop and actually meet them, see their work, etc.
Another reason we had to go to a more local/custom shop is because out counter is 38″ deep — and most "big box" stores like IKEA, Lowe's, Home Depot, etc. can only go up to 36″. We didn't realize this when we were creating our kitchen, otherwise we maybe would have gone with a 36″ deep counter top to save money (see below for cost breakdown). However, I'm 100% positive the quality of our counter is so much better — not to mention it's totally custom built to my exact specifications and for our specific kitchen needs.
What size is your counter?
Our island is actually a pretty good size. It's 38″ deep by 72″ wide, and it's 2″ thick.
Also, since we took out the load-bearing wall between our kitchen and dining room, we had to install a HUGE beam in the ceiling… and then we needed support that beam with a post. We figured out a way to tie that post into our island so it didn't look totally ridiculous — but that meant we needed a custom cut-out in the corner of our island.
Fortunately, Tontin could do that for us, no problem!

How much did it cost?
We paid cash, so we got a deal — but even still, it cost around $800 for the counter and delivery.
It would have been about half the price if we could have ordered something 36″ deep from a big box store, but again, I feel the quality and "customness" of our counter probably makes up for the price difference.
Also, I've been to some kitchen home shows and I've seen butcher block counter tops that are WAY WAY WAY more expensive than ours. Like thousands and thousands of dollars! So I feel like $800 in the grand scheme of our kitchen is pretty reasonable.
What do you need to do to care for it?
When we were renovating our kitchen, I knew that I really wanted the island counter to be butcher block. The only thing I was initially a bit hesitant about was how much work it would be to maintain.
The guys at Tontin Lumber assured me that it was not a difficult process and just required very minimal maintenance a few times a year. I figured I could do that — and honestly it's not bad at all.
Since the island is where we do most of our food prep each day, I'm always wiping it down with a cloth and warm water. Also, when I wash dishes, I always take some of the clean, warm, soapy water and really wipe it down.
The main thing with butcher block counters is to make sure they don't get too dry. So every couple of months (or whenever I remember and/or whenever I notice it's getting dry) I use Boos Mystery Oil and Board Cream. The oil is a food safe oil that's a mixture of mineral oil, linseed oil, and tung oil. The Board Cream is a special combination of natural unbleached beeswax and food grade mineral oil.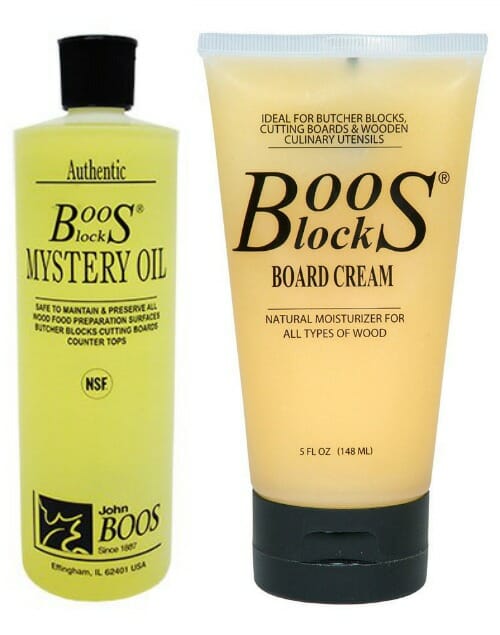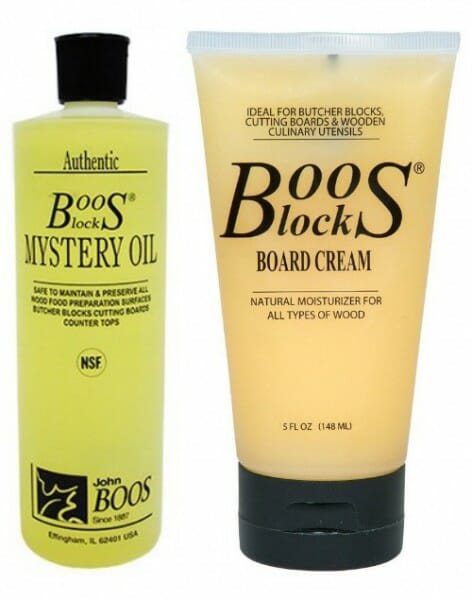 First I wipe down the counter to make sure it's clean. Then I rub the oil into the board with a rag or paper towel. After 5-10 minutes, I "massage" a good amount of the board cream into the wood with my hands.
The whole process takes less than 30 minutes (including the 10 minutes of waiting) and the counter looks brand new every time I do this — plus, my hands are super soft and moisturized.
Oh and one more thing. If you ever do get huge gouges, cuts, etc. in the board, all you need to do is sand it down maybe 1/16 of an inch and you have a brand-new looking board!
Is it sanitary?
I'll be the first to admit that I think using wooden cutting boards is totally gross (and I don't ever use them). I realize that the wood cutting boards are better for your knives — but I just can't do it!
That said, I honesty have no issue with our butcher block counter. I know, I'm weird.
Obviously I don't needlessly rub uncooked meats or other unsanitary items on our counter. I also do use a cutting board most of the time, just to keep the counters cleaner, and looking new.
I'm told (by multiple reliable sources) that butcher block is actually much more sanitary that we might think. And that by simply keeping it oiled and not letting it dry out, it actually is quite sanitary.
I haven't personally done any germ testing on our counter — so take this information for what it's worth 🙂
Are we still happy with our purchase?
Yes! Not only do I absolutely LOVE how it looks in the center of our kitchen, I really like how it functions too.
The one thing we noticed almost immediately is how "quiet" the butcher block is — especially compared to our other granite counters. The wood absorbs the sound of dishes, glasses, sliver ware, etc. so it makes loading and unloading the dishwasher a much quieter task than if we had granite on the island.
While I don't think I'd ever want butcher block counters in my entire kitchen, I do REALLY like having it for our center island.
Is there anything we don't like about them?
Honestly, no. Besides the few minutes it takes me to rub a little oil on them every few months, they don't require any extra work.
I can't believe it's been almost 2 years since our kitchen renovations! Dave and I are both so happy with how it turned out (and that it's done!) and we both really like how the butcher block island counter is the center of the kitchen.
It visually warms up the space and provides the perfect gathering spot for friends and family to be near me while I cook — but still out of my way 🙂
If you have more questions about our counter, leave them in the comments and I'll do my best to answer them all.