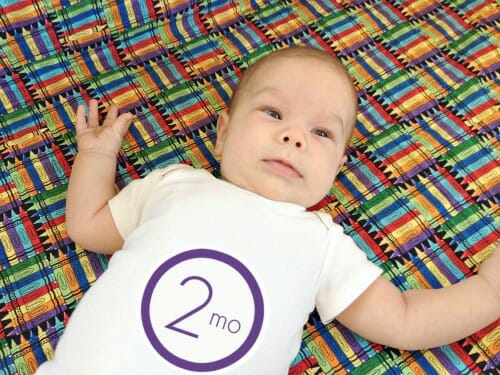 Yesterday was Simon's 2 month "birthday" — yes, time is flying by!
It's been a pretty good month for us, especially after we got a prescription for some acid reflux medicine that has made a very noticeable difference in his happiness.
He's not crying nearly as much, he's more content being on his back, he no longer screams 100% of the time in his car seat, and he's even been enjoying his bouncy seat for 10-15 minutes at a time (which means I don't have to hold him ALL day!)
Simon is taking a bottle like a champ.
We feed him from a bottle EVERY time, except in the middle of the night when a bottle isn't super convenient. He's doing great and I'm loving the freedom I have to do whatever I need/want to do without stressing over being around to feed him every 2 hours (he's still eating every 2 hours ALL day long but going longer at night).
And since he's taking a bottle, it makes giving him the acid reflux medication so easy… just put a tiny bit in his bottle and he never even tastes it.
We're doing mostly breast milk yet, but he doesn't seem to mind at all if we mix in some formula!
.
Simon sleeps pretty well (at least compared to Nora). He still wakes up a couple time a night, but he usually just eats and goes right back to sleep. Yes, there are definitely nights when he's awake more than I'd like, but he's usually sleeping by 8:00pm and we've already had 2 nights where he slept for 8 straight hours, so that's definite progress! Of course, those hours are from 8pm – 4am so I'm awake for about half those hours, but I can't tell you how amazing it is to have at least a couple hours of quiet at night to regroup, do some work, and get organized again.
Simon is a good napper in the sense that he naps ALL the time, but they are all really short 15-30 minute naps. It's sort of frustrating for me because I just want to get something done during the day, but since I'm used to Nora not napping, I realize that 15-30 minutes is better than nothing at all.
Since Simon isn't throwing a fit every single time we put him in his car seat, we can now go for walks — and we could ALL use a little more fresh air after a very long, very cold winter.
I've been waiting until Dave gets home from school so we can each push a stroller. However, last week, our double stroller arrived so now I can cruise around with both of them by myself.
I did try putting Simon in a wrap and pushing Nora in the stroller a few times — but that was never very comfortable for me (especially for long walks) and I don't think Simon loved it either.
I'd always be super sweaty by the time I got home, my back would always be a bit sore from trying to walk more "gingerly" as to not shake him like crazy, and I never felt like I was getting any amount of exercise since I was walking at a slower pace.
I know friends who have gone without a double stroller, but I knew I wanted one. I spent a lot of time researching the different options and feel confident that the one I chose will fit our needs. I'm sure I'll be doing a post about it some time in the next few weeks — and I'll share more details then.
Nora still loves her brother and kisses him constantly… but I think the novelty of a new baby might be wearing off a bit. The other day she asked if she could "box him up and give him to the mail lady."
It was all I could do to not bust out laughing!
As many of you know, the first 2 months (probably more like 4-6 months) are REALLY hard — especially for someone like me who thrives on order and schedules. There is no order or schedules when babies are 2 months old. BUT, I can tell we're starting to find our new "normal".
It's getting easier, we're finding our groove, I don't feel as overwhelmed, and I think the whole family is learning to work as 4 rather than 3.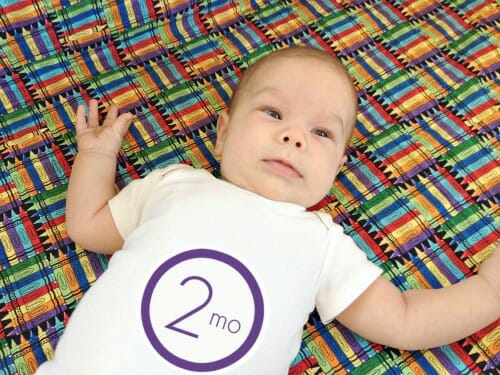 Happy 2 months Simon!