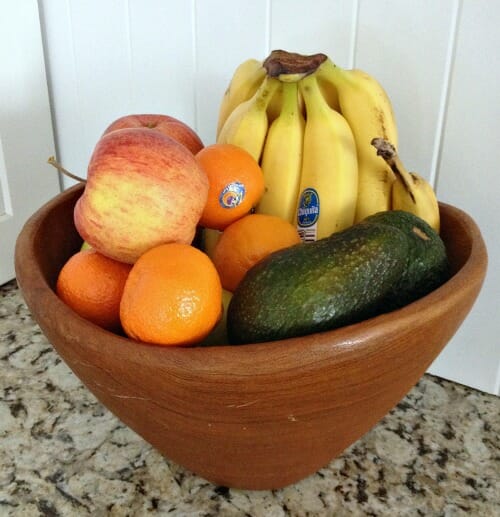 For those of you who have been hanging around my blog for a while, you most certainly know that I am NOT a health nut.
Yes, we eat a balanced diet, lots of fruits and veggies, a mix of from-scratch and semi-homemade meals, and I drink a TON of water. However, I have a huge sweet-tooth, Dave and I love Culver's, and I'm always a fan of those recipes that save me time by starting with a box or a bag of something.
I'm not totally against all processed foods, I don't eat all natural or organic, and unless it's medically necessary at some point in my life, you won't catch me going gluten-free, dairy-free, sugar-free, vegetarian, vegan, paleo, or participating in any of the other super restrictive diets on the market today.
Of course, I don't think it's bad or crazy or ridiculous if you are a hard-core "foodie" (just don't look in my pantry or freezer!) I also don't think it's bad to eliminate certain foods from your diet, do periodic cleansing diets, or eat certain foods based on food sensitivities or allergies.
That's just not how I choose to deal with food.
If someone told me, "you must stop eating sugar" I would literally crave sugar 24/7 and probably end up eating significantly more sugar than I would have before.
Similarly, if someone told me, "you can never ever eat bread again" I would most likely become consumed with the thought of eating bread, different bread-laden recipes, and the smell of freshly-baked bread. (Seriously, let's hope I never need to be gluten-free for more than 2 hours!)
For my entire life, I have had an "Everything In Moderation" approach to food — which I'm sure started with my parents. We almost always had dinner together as a family — and while it was never "gourmet" it almost always consisted of a meat, a potato or starch, at least 1 or 2 vegetables, and some sort of fruit. We also, always had dessert. ALWAYS!
Food was rarely ever a privilege or a punishment — it was just food. It was there to eat when we were hungry, or pass up when we weren't — and yes, we were allowed to snack frequently throughout the day.
I don't remember ever worrying about how much I was eating, what I was eating, or what I wasn't eating. I also honestly don't remember thinking of food as "bad" or "good" until later in high school when I obviously knew which foods were healthier options than others.
Even still, I can truthfully say that I've never gone on a diet, I've never counted calories, and I try not to weigh myself very often because I just don't like the idea of turning food (something that I love so much) into this game of what I should and shouldn't eat or obsessing over 1 extra pound.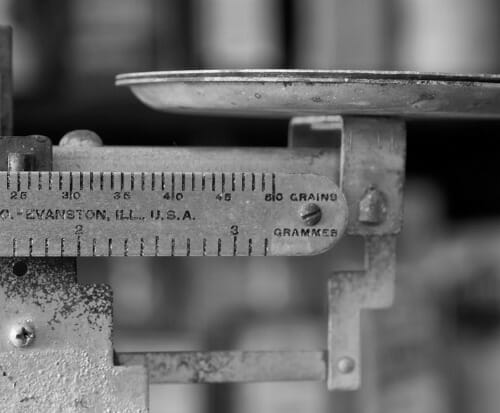 However, over the past few months, I've been feeling the desire to expand my food horizons a bit and allow myself to "splurge" on a few more healthier grocery options.
1. I've been buying much healthier breads (we eat a lot of bread)

2. I've been experimenting with eating healthier fats — my food blogging friend Liz explained these as "fats that don't come from animals"
These are not huge changes — but they are a start.
They are not life-altering — but they are simple and specific, so I can easily stick with them.
.
With just 2 simple food goals in mind, I can easily navigate my way through the grocery store (with 2 kids trying to distract me) without feeling overwhelmed by a massive amount of changes to my diet.
I simply buy all the "regular" groceries on my list, but swap in healthier whole grain bread in place of the $0.99 cheep-o bread I used to buy, and add in a few extra healthier fats like high-quality nut butters, avocados, hummus, olive oil, nuts, and seeds.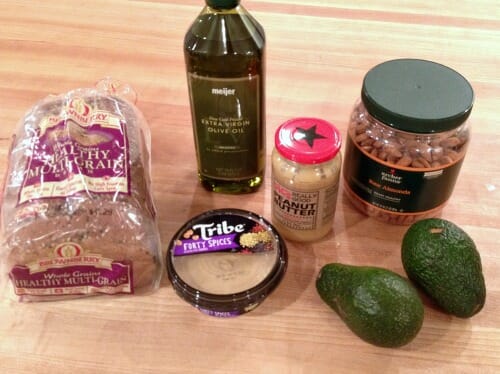 I want to make it VERY clear that this is NOT a diet or an attempt to lose weight. I honestly don't even know if I'll feel any different or notice any obvious changes — and I'm totally OK with that.
I have no intentions of eliminating anything from my current diet, nor do I plan to restrict what I eat in any way. I will not stop eating our monthly Culver's meal, our Sunday night frozen pizzas, or snacking on M&M's with Nora while Simon is sleeping. I will not feel guilty indulging in dessert after dinner each night, enjoying an occasional PB&J on deliciously soft white bread, or having a bowl of ice cream before bed.
However, I WILL consciously choose yummy turkey avocado sandwiches on whole grain bread for lunch, dip my raw veggies in hummus instead of ranch, switch to a hard boiled egg and apples with peanut butter instead of another brownie, and add a few almonds to my daily M&M's snack 🙂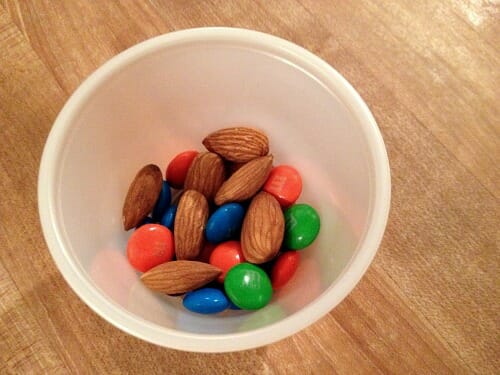 I know I technically haven't shared a list of my personal goals for 2015, but don't worry, I'm sure I will eventually. I've just been thinking about these food goals a lot over the past month or so, and I'm excited about the simple changes I've made in my diet already.
I figured that since SO many people make food and dieting goals in the new year, I'd share my ultra-simplified take on a food goal — in case there are any other non-foodies out there who are just looking for one or two healthy-habit food tweaks to make.
I know that I've always been somewhat intimidated by the thought of making a food or healthy-living goal because that's just not "my thing". However, by keeping things REALLY simple and focusing on a couple very specific (yet do-able) changes to incorporate into my current diet, I haven't felt even the slightest twinge of panic or intimidation.
In fact, I've felt empowered!
Please know that I have no intention of turning this blog into a healthy-living blog, nor do I plan to talk much more about these 2 simple diet tweaks. The main reason I wanted to share this post with you today is to get you thinking about 1 or 2 small, simple changes you can make in your own life this year.
Obviously you shouldn't feel the need to choose these same changes — and they don't even need to be food or health related. Just some sort of small positive change you can focus on and work towards this year.
I promise, those small positive changes will add-up over time, and (in my experience) expand into more small, simple, positive changes.
Are you making any small, simple, positive changes?