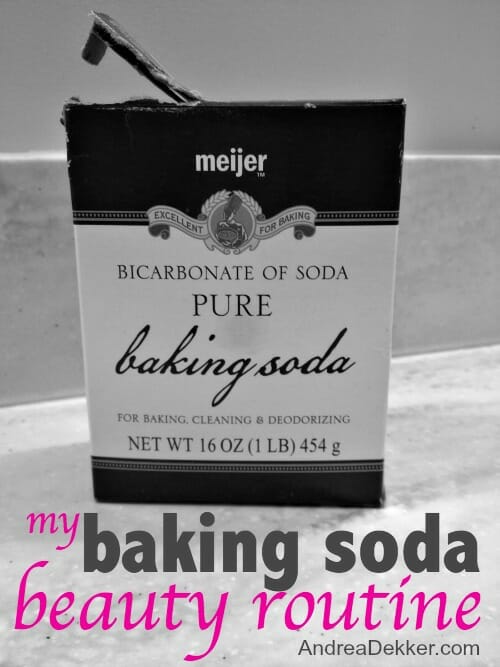 This time of year, I always rekindle my friendship with my box of baking soda. Not for baking, or cleaning, or freshening — although those are all excellent uses for baking soda.
I use baking soda to soften my skin, to soothe my hands, to scrub my face, and, in general, to simplify my beauty routine.
Yes, baking soda is super frugal, yes it's "green" and all-natural, yes it's SO simple — but those are NOT the reasons I use baking soda in my beauty routine.
I use baking soda because it works!
It's course enough to scrub away dry, rough skin but gentle enough that it doesn't hurt. Plus, I always have it in the house.
I actually keep a box of baking soda under my bathroom sink, then once a week (approximately) I dump a bit into the palm of my hand and hop into the shower. I consciously keep that hand out of the water for a bit while I get my body wet.
I then use my other hand to rub small amounts of dry baking soda on my knees and elbows. Then I rub the rest of the baking soda together with both hands — scrubbing extra long in between my fingers. After it's rubbed into my hands pretty well, I rub my hands on my face to slough off the dead skin.
Since my skin is already wet, the dry baking soda almost instantly makes a paste that seems to be just the right texture to scrub my skin. I know some people who add salt into their baking soda scrub, but that seems to be too rough for my taste, and it stings my cracked hands and lips!
This process takes me less than 5 minutes and makes a HUGE difference in the softness of my skin. Also, my oil cleansing feels even more amazing after a good facial scrub!
.
If you wanted, you could put the baking soda in an old spice jar and keep it in the shower (and then just shake it out as needed). I just don't like extra stuff in my shower — especially if I'm only using it once a week.
Oh, and I should mention that I also use baking soda to "wash" my hair. It's a fabulously frugal way to eliminate the hairspray and gunky build-up (especially for people who use a lot of product in their hair… ahem!) I wouldn't recommend doing this daily, but I think you'll be surprised at the difference it makes when you do it once a week, or even once a month!
Here's another post where I go into more detail about my "baking soda shampoo".
If you're looking for a very simple, very frugal addition to your beauty routine, grab a box of baking soda and enjoy an extra long shower today!
Your skin will thank you 🙂