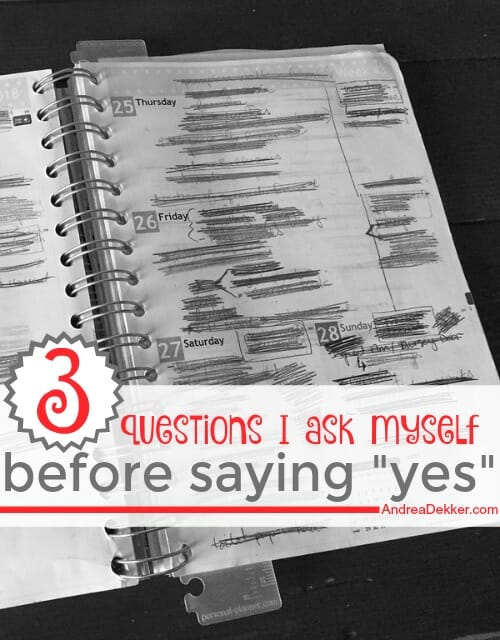 Over the course of my life, I have been asked to take on numerous different responsibilities — many of them as a volunteer, some as a paid opportunity. There have also been many things I've simply WANTED to do because they sound fun or exciting.
But before I say "Yes" to any of these extra requests for my time (fun or not as fun), I ask myself a few questions (more on that below!)
With 4 children and a work-from-home job, I must be intentional and strategic with how I allocate my few "extra hours" each day.
NOTE: this picture is not related to the post — I just thought it was fun!
Everything from personal hobbies and house projects to volunteering within our church and schools — even many of my business offers (sponsored posts, book deals, speaking events) get filtered through the questions below before I give my final answer.
I'll be honest, some of the questions might sound selfish — but if you really stop to think about things, a big part of properly managing one's own time IS being slightly selfish.
People and organizations will ALWAYS take more of our time if we are willing to give it — this is not because they are bad people or greedy organizations; it's because we live in a world where "more" is always desired!
YOU are your own advocate. YOU have a choice.
Remember that as you read through this post… and as you make decisions about how and where you will allocate your extra hours each day!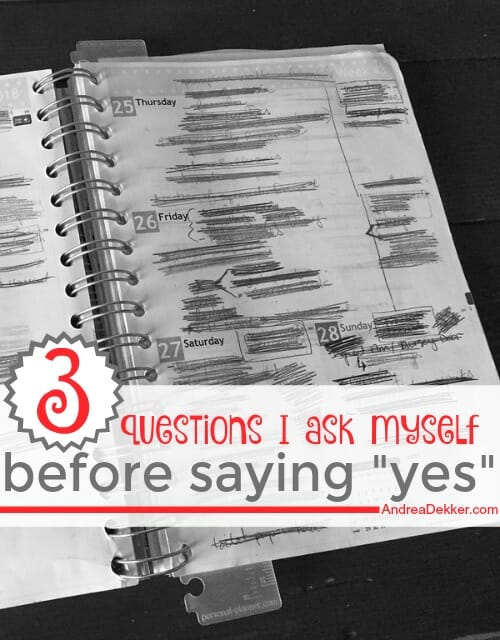 1. Is this something I'm excited and/or passionate about?
If I'm not excited or passionate about something (personal project, a committee, a school activity, house project, a hobby, new eating or diet plan), I will dislike doing it, I will try to find excuses not to do it, I will complain about doing it, and it will start to mentally drag me down.
I do PLENTY of things I'm not overly excited about every day (laundry, cleaning bathrooms, weeding, packing lunches, etc. etc.). I certainly do not need to add extra unnecessary time commitments for things and activities I'm not at least a little bit excited or passionate about.
I like to ask myself this question FIRST because, as you'll read below, this question casts a "filter" for me to ask my next questions.
.
2. Is this something I have the skill to do well?
I am always an advocate of life-long learning… and there are seasons of my life when I have excitedly taken on many challenging tasks that I did NOT have the skill to do (with the intention of learning new skills throughout the process).
However, for the most part, I try to reserve my "yeses" for things, activities, events, and occasions I feel I have the skill to do well.
When I have the skills to do something well, the whole process is more fun, more rewarding, more efficient, and more enjoyable.
This is not to say I don't try anything new or that I never push myself to grow and learn — it's simply to point out that (for me) I would rather say "yes" to requests for my time if I know it's something I have the skills to do well (and will then enjoy doing).
.
3. Is this the best season of life for me to do this?
Before we had children, Dave and I were what I call "volunteer junkies" — there were weeks when we were regularly gone EVERY single evening after work, volunteering for church, school, and community programs.
We went to all the extra school functions, we participated in so many church functions, we were overly-involved in various community programs, and I was leading and speaking for a number of classes, workshops, and events every month.
We were excited about it all and truly enjoyed spending our time this way.
We had the skills to do everything well.
We were DINKS (dual income, no kids) and had tons of discretionary time to devote to these extra activities.
Nowadays, we have to be much more careful about over-extending our yeses!
There are still lots of things I'm excited about, and lots of things I have the skill to do. However, this is not necessarily the best season of life for me to say "yes" to every opportunity that comes my way… unless I want to be crabby and sleep-deprived every day!
For the time being, I've focused my efforts on projects and tasks that allow me to be at home with my family and are doable with young children.
improving my abilities to cook from scratch and integrate so much produce into our meals
heading up the nursery committee at church
directing the children's choir at church (3 older kids participate)
serving as Sunday School Superintendent with Dave (3 older kids participate)
serving as Room Parent for Nora's class at school
volunteering for various other school opportunities
inviting people over for dinner on a regular basis
keeping up with my digital photo books (really my only hobby at this point)
accepting smaller work projects I can do from home when kids are sleeping or at school
attending various church, library, and community programs that are family-friendly and during the day
Obviously, my list will look much different than your list — the important thing to note is that YOUR list fits with YOUR season of life, YOUR skillset, and YOUR current priorities!
AND REMEMBER… this is just ONE season of your life.
Your list of activities will change in the future… and just because you say "no" to something now doesn't mean you can't do it again in the future.
Dave and I have a long list of things we hope to do once our children are a bit older — I'm excited for that time and for those opportunities to use my gifts, but I'm also really enjoying where I'm at right now too.
It's a constant balancing act, but worth the effort!
.
BONUS: Does this need me?
Although I do not encourage you to do this regularly, there have been times in my life when I've answered "No" to questions #1 and #3 above… but at the same time, I KNEW I needed to say "Yes" to the request because I had the skill and the project needed me.
No one else stepped up to do it, it needed to get done, and even though I wasn't necessarily excited about doing it nor was it the best season of life for me, I COULD do it.
I'm certain we all have examples of these types of time requests in our own lives, and I think it's a good question to honestly ask ourselves. However, saying "Yes" to these types of requests should be OCCASIONAL instances, not regular occurrences.
Just because others have said "No", doesn't mean we always and forever need to pick up their slack.
.
I know there are countless other smaller questions — or different variations of these questions — you could also ask yourself.
For me, these 3 or 4 questions usually help me put things into perspective and honestly evaluate whether saying "Yes" is the best answer for me right now.
How do YOU decide when to say "yes"?