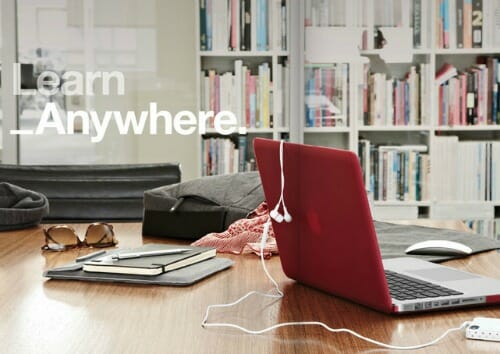 I LOVED school — every day, everything about it, all the extra curricular activities, the classes, my teachers, (most of) my classmates, everything!
If I remember correctly, I only missed 2 days of school (ever) for being sick and I don't think my parents ever had to force or bribe or motivate me to get out the door to school each day. In fact, due to my over-planned personality, I had all my bags and lunch ready to go the night before and was always ready well before I had to leave each morning. 🙂
I participated in as many extra curricular activities and events I could during my school year (it was a full schedule but I'm glad I did it then) and I really thrived in a structured school environment.
Looking back, I can confidently say I attended superb schools with fantastic teachers and administrators. I took it all for granted when I was in school but now that I see how much work it is for Dave to be a really good teacher, I appreciate what I had even more.
I went to college because I was positive I wanted to be a teacher (boy, was I wrong!) Instead, I got a business degree that has served me well these past (almost) 12 years — not to mention I had a fabulous college experience, learned a lot about life, met some amazing friends, and… got engaged to Dave! 🙂
However, the day I graduated from college, I KNEW I would never go back to school again (at least I really, really hoped I wouldn't).
Many people I knew (including Dave) were continuing on for their Master's Degrees, and several of our friends and relatives have their Doctorate Degrees… but that was not for me.
I no longer have any interest in traditional forms of schooling for myself.
That said, I LOVE learning and would most definitely consider myself a "lifelong learner" in so many ways.
Since graduating from college, I've learned SO much about:
home maintenance
cooking
gardening (veggies, fruits, and plants)
laundry
grocery shopping, meal planning, freezer cooking, etc.
vehicle maintenance and repair
lawn mower, snowblower, and yard tool maintenance
starting and growing a business
setting up a website and blog
computers and electronics in general
social media
having babies and growing a family
motherhood and parenting
taxes, investing, and other financial matters
insurance and other legal matters
Christianity and faith
painting
electrical
online buying and selling (a.k.a. Craigslist!!)
knitting and sewing
canning, freezing, drying, and preserving food
cake decorating
volleyball officiating (I actually did have to go to some classes for this)
photography (taking pictures, editing them, formatting them, and putting them into digital books)
I could go on and on and on, but I think you get the idea!
Some of these skills and hobbies were learned out of necessity, but most of them were learned because I simply had a desire to learn and develop a new skill. And seriously, in today's "information age" I have never had a problem finding free (or very frugal) information to adequately learn how to do anything at a basic level.
If you're interested in lifelong learning but aren't really into traditional school, here are some of my favorite resources and tools that I've utilized over the years.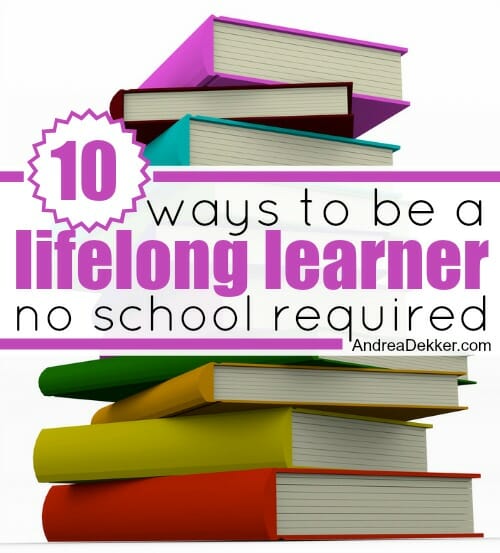 1. Watch YouTube Videos
YouTube has helped both Dave and I learn many new skills — how to "cast on" for knitting, how to install our first carseat, how to change a headlight in a car, how to install underground sprinkling, and how to make a Barbie cake to name a few!
I've looked up various cooking techniques I wasn't familiar with, Dave watched several videos on how to build a fence, and in general, almost anytime we don't know how to do something, we search for a YouTube video.
As I mentioned a couple years ago, YouTube has not only helped us gain many new skills, it has also saved us a BUNCH of money by not needing to call a professional!
2. Search Google
This one is a close tie for "first place" on my list because, hello… it's Google!
We literally use the term "Google it" as a verb around our house because it's one of the first things we do if we have a quick question about anything.
How many Tablespoons in a cup? How many liters in a gallon? What if my light fixture has 2 white wires instead of a white and a black wire? How do I cure horrible diaper rash? What are fun craft ideas for toddlers? What on earth is fondant frosting and how do I make it? Who can we contact to get rid of our bee problem?
Anything and everything about anything and everything you could want to or need to know… Google has it!
3. Read Niche Blogs
If you have a specific hobby (or even a desire to learn something more general) I can almost guarantee there are a handful of blogs that specialize in exactly what you want to learn about.
Nearly every female-dominated hobby, activity, and interest is covered somewhere in the blogosphere… and these days, there are also many male-oriented blogs geared towards kite flying, fishing, golfing, and model cars.
So, in case you missed my last hint about Google, head to your computer, open up Google and type "Blogs about ________" inserting your specific hobby or interest or desired skill into the blank.
4. Take a Community Ed Class
I don't take these classes anymore — but during the first few years of our marriage, I was a Community Ed junkie. I took all sorts of classes — cake decorating, canning, freezing, vegetable gardening, landscaping, flower arranging, sign language and even investing (this is actually how we found our Edward Jones guy).
After a couple years, I realized I had a lot to offer to my Community Ed program so I actually started teaching a bunch of different classes on organization, clutter control, time management, simplifying, meal planning, etc.
This eventually morphed into a nice side business for me as I started teaching classes several nights a week for various Community Ed programs in our area.
You might be surprised what type of Community Ed classes are offered in your area. They are usually reasonably priced, meet once a week or once a month, and can be extra fun if you go with friends or your spouse!
5. Take an Online Class or eCourse:
NO, I'm not talking about a college-level online class!
There are TONS of eCourses you can register for online for various topics — many of them are offered free or very reasonably priced and provide all the materials up-front so you can work at your own pace.
I have taken (and even helped to lead) many online classes and have never had a bad experience!
6. Visit the Library
While I haven't always been a big reader, the kids and I utilize our local library for many free resources every single week.
Magazines, books, DVD's, or even just general information about various topics have all come in handy as I've tried to learn about various topics and subjects over the years.
Our library also has lots of fun events for families and kids — so it's a great way to meet people in our neighborhood, do something fun, get out of the house, and learn something in the process.
Also, if you think your local librarian is just a person sitting behind a desk, you might be surprised to know that librarians are HIGHLY trained and almost always have a masters degree or higher — so please utilize them as a valuable resource if you're seeking information on a specific topic or trying to learn more about a certain subject matter.
7. Ask a Friend or Other Expert
I know it's not always fun asking for help — but you'd be surprised how much you can learn just by asking someone who knows more about something than you do!
When we purchased our Apple computers, we signed up for the One-to-One coaching and learned SO much about all the features of our computers, our phones, our iPad, etc. It was most definitely worth the $99 fee for the year.
I've also asked retired people for help on various projects or for more information about certain topics, and I can't even begin to tell you how excited they were to "teach" me their skills.
Several years ago, I sat down with a teacher from Dave's school who gave me a few mini-tutorials about how to use a DSLR camera. It was pretty overwhelming (and I honestly use my iPhone for every picture I take these days) but I did learn enough to form a basic understanding of aperture, exposure, shutter speed, etc. Plus, it was fun!
8. Attend a Seminar or Watch a Documentary
This doesn't have to be anything formal or expensive — it could simply be a presentation about CPR at your kid's school, a local event about community functions at the library, or a Bible study at your church.
I've attended many different seminars on various topics (most of which were free or super cheap) and I've always walked away knowing more than when I walked in.
If you live in a college town, I'm positive there are ample opportunities to go to different on-campus events and seminars on various topics. They might even offer community workshops for hands-on experience.
If you prefer the comfort of your own home, I'm positive you can find a wide range of informative documentaries and biographies on Netflix and Amazon Prime. Dave and I will often flip through the documentary section and see what's new. A few of my favorites are:
Inside McDonalds
Behind the Scenes of Chipotle
The Lincoln Assassination
Queen Elizabeth
America: The Story of Us
Walt Before Micky
The Founder (also about McDonalds)
Planet Earth (my current favorite)
9. Join a Local Group or Organization
Dave and I are not super involved in many "extra" activities at this point in our lives, but we definitely were more involved before we had kids, and I can't tell you how much I learned and grew as a person.
Dave was a member of a book club with teachers from school, he was in a men's Bible Study with guys from church, and he participated in many school activities, groups, and organization.
I was a part of many groups and committees for our church, I was involved in a local business group that met weekly, I was a member of a volleyball officials group, and I even joined a local garden club for a bit!
Dave and I were also in a couple's Bible study that met monthly and we were involved in a TON of his school's extra functions, events, etc.
That all sounds like a lot of extra "busyness" to me now, but at the time, we had significantly more free time and we really enjoyed all these experiences. Many of them were fabulous opportunities to learn more about a various topic or subject, but more than that, we learned a lot about ourselves, our marriage, etc.
10. Listen to Audio Books, Podcasts, or TedTalk
I'm a huge advocate for audio books (both for children and adults). I also really enjoy reading random internet articles, short essays, eBooks, etc. if they are on a topic I'm interested in.
There are also thousands of different podcasts available on countless topics, and TED Talks are always a hit for me when I want to learn more about various topics, ideas, concepts, etc.
As you can see, the possibilities for lifelong learning are pretty much endless, and most of them don't require spending much money, doing much studying, or attending formal classes.
One of my college professors would always say "If you stop learning, you stop living" and I fully agree. Even if you aren't a "book nerd" there is still so much joy and satisfaction that comes from learning and developing a new skill.
Plus, I know my life is much richer because of it.
How do you practice and/or encourage lifelong learning?